Hi friends! Happy humpday! Hope you're enjoying the week. 🙂 I am DRAGGING today, which is totally my fault because I stayed up way too late reading this book.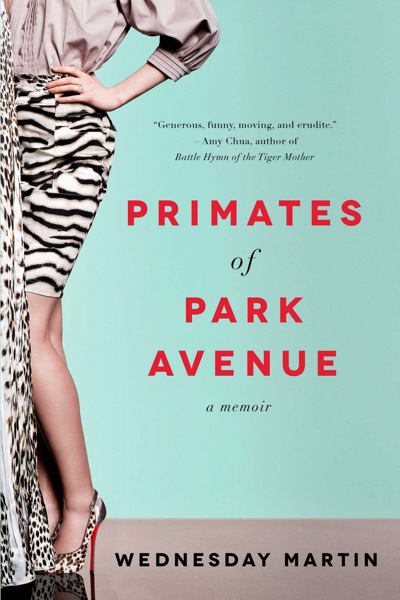 It's perfectly scandalous and intriguing; everything an end-of-summer read should be. It's also been some welcomed respite from the dry birth books I've been re-reading/skimming. I've never been into the Real Housewives of Wherever-type shows, but I find this inside look fascinating, especially since I've wondered what it would be like to raise a child in NYC. Even my first time traveling there, long before I was pregnant with Liv, I was curious about what parenting would be like in such a densely-populated and expensive city. It's one of my favorite places in the world, and is filled with culture, amazing food, and exquisite sites, but like anything, I think it would have its challenges (like navigating the subway system with an itty bitty). This book focuses on an extremely small area, the Upper East Side, so it's obviously not representative of this giant city as a whole, but it's still pretty fascinating. So far, I definitely recommend it. It's enough to keep me "one more chapter"-ing until I'm reading through my eyelids.
I wanted to share a quick and easy dinner we've enjoyed a couple of times lately: honey-lime salmon! I'm guilty of making the same salmon recipe over, and over and over -it's the maple orange one in the book– and have tried to step out of the box. I loved Julie's cashew-crusted salmon and have experimented with pesto, miso, and bbq salmon. If you have any faves, please let me know!
Anyway, here's the quick and dirty recipe, which is perfect for a weeknight.
Preheat the oven to 375 and season the salmon filets with salt, pepper and garlic powder. Drizzle honey on top and sprinkle the zest of one lime. Cut the lime into quarters and reserve.
Heat a saucepan to medium-high and add some olive oil to the pan. When the oil starts to sizzle, add the salmon to the pan and sear for about 1 minute on each side.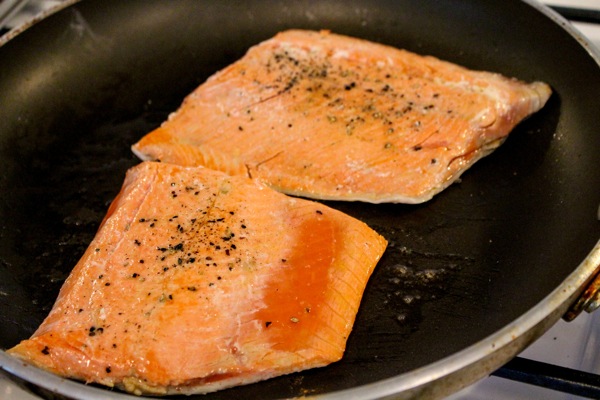 Transfer the salmon to a baking dish and bake for about 10-12 minutes (depending on the size of the filets), until it flakes easily with a fork. Squeeze fresh lime on top and enjoy!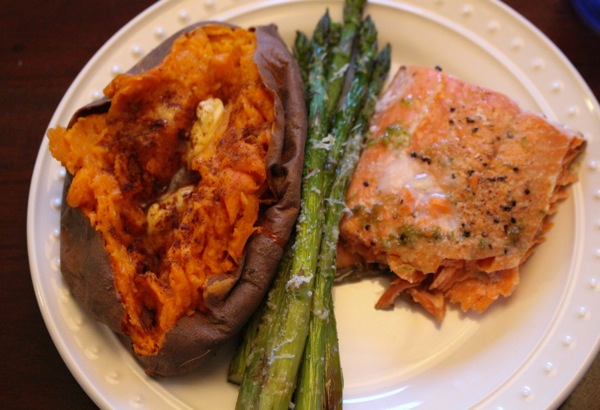 Today is acupuncture day (yesssss) and I'm debating if I'll BODYPUMP or do my own thing later. Last week, I took half a BODYPUMP workout, which ended up being the perfect amount. I was toast after the triceps track. I've also been using the TRX for strength training, which is what I'll do if I don't take a pump class. Here's a superset workout I put together a couple of weeks ago.
For supersets, you'll work opposing muscle groups back-to-back, alternating between two exercises. The idea is that while you're working one muscle, the antagonist muscle (which works as an opposing force) is "resting." This way, you can complete 3 rounds of a superset, rest for a minute or so, and continue on to the next one. (For example, if you're doing biceps curls and triceps extensions, you would alternate between those two exercises for 3 rounds before moving onto the next set of exercises.) Superset training is an efficient way to shake things up, as it keeps the heart rate consistently elevated (= higher calorie burn) and will work to full fatigue the muscles before moving on.
Here's the workout: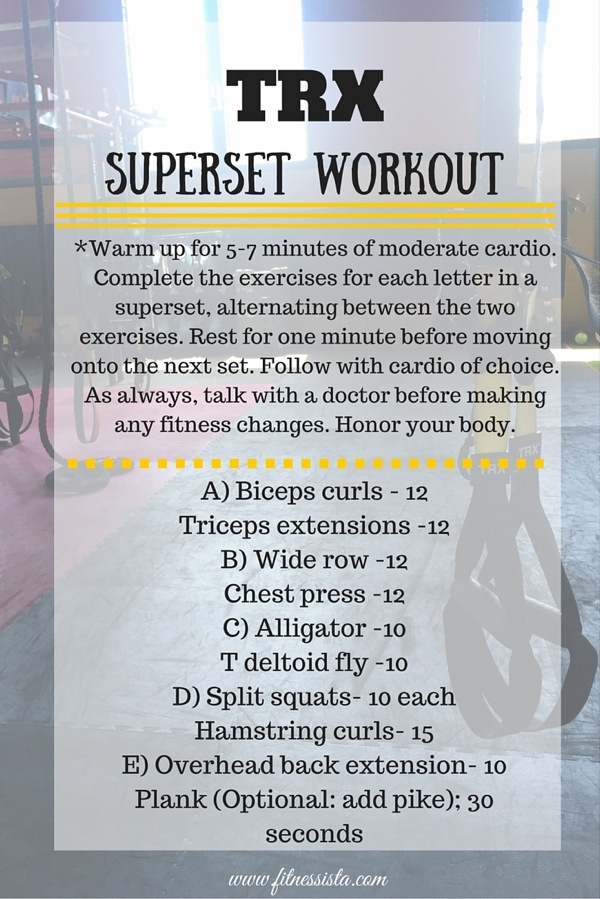 Links to exercises:
Let me know if you give it a try!! Any quick and amazing dinner recipes lately? Which book are you currently sucked into?
Have a happy Wednesday and I'll see ya later today on the Family page with a giveaway.
xoxo
Gina
More of my favorite TRX posts here, here and here.