Hey everyone! Hope you're having a great morning 😀 I'm so glad you're enjoying the why I became a personal trainer post– not gonna lie, I felt a little weird putting everything out there, but as always, was glad I did 😉
Since I had a late bfast yesterday (and ran 5.5 miles in the morning), my afternoon snack was a banana and apple with the standard almond butter, cinnamon and mesquite combo.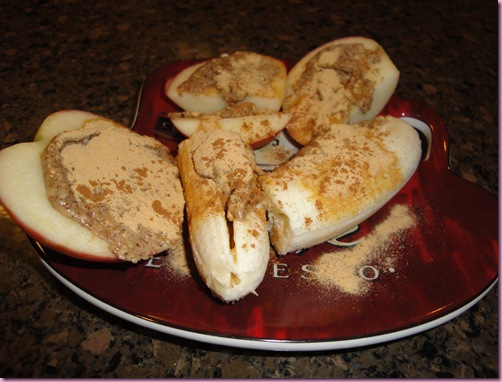 We did some stuff around the casa, the pilot worked on an icon for the new website I've been talking about, and then I met Jeni for some back, biceps and abs later in the afternoon.
| | | |
| --- | --- | --- |
| Warm up | Elliptical, level 6 | 5 minutes |
| Bent-over wide row | 8 lbs each | 3 sets of 12 |
| Hammer curls | 8 lbs each | 3 sets of 12 |
| Weighted crunch | 5 lbs | 3 sets of 12 |
| Straight bar cable curl | 30 lbs | 3 sets of 10 |
| Decline leg raises | body weight | 3 sets of 12 |
| Saxon side bend | 5 lbs each | 3 sets of 10 |
| Total time: 50 minutes | | |
When I got back to the casa, I started on dinner.
We had some guacamole (which I dipped into with quite a few Mary's Gone Crackers)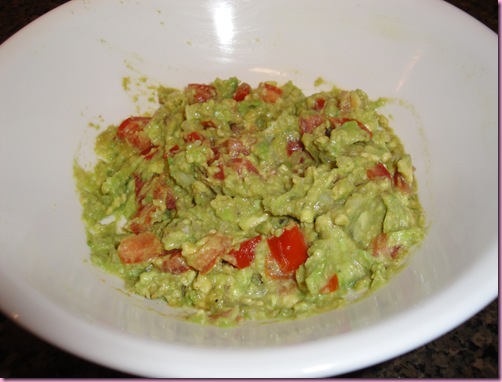 I sauteed up some shrimpies with orange bell pepper, garlic, onion, cumin, cayenne and sea salt with a little EVOO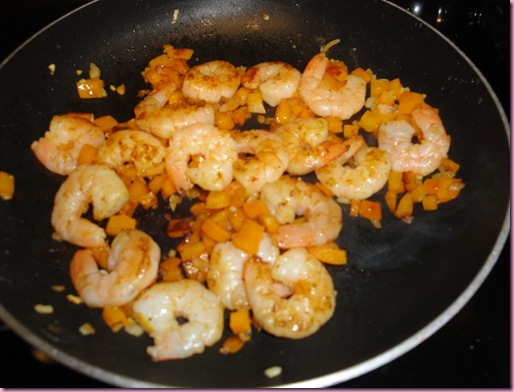 And made some black beans with sweet onion, garlic, 1/2 can diced tomatoes, cumin and coriander.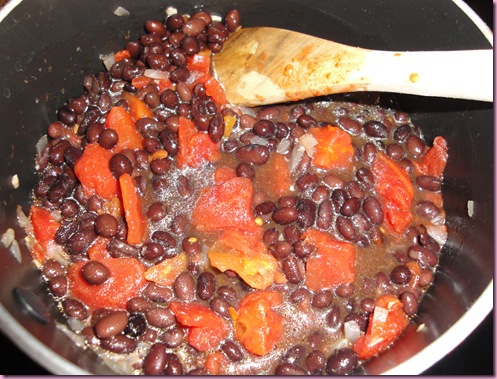 The pilot had his shrimpies quesadilla-style (I grilled them on the Foreman with some organic Mexican cheese)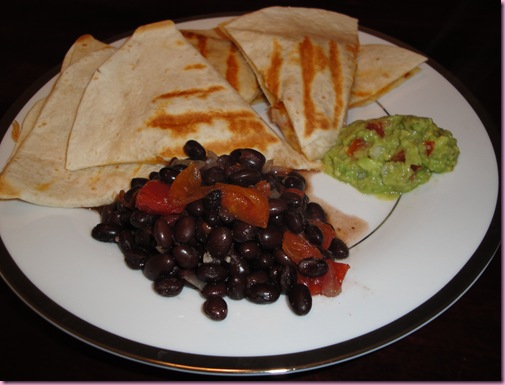 And I had mine salad beast-style (with the black beans and tomatoes, some salsa, and goat jack cheese)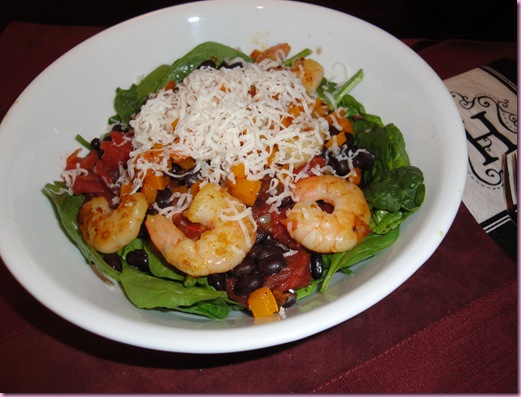 I love our little family dinners 😀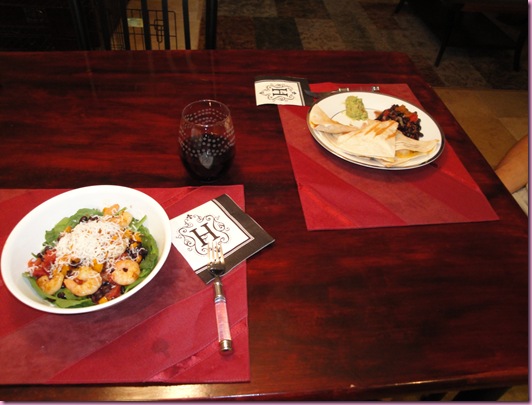 After our feast, the pilot and I washed all of the dishes by hand because our dishwasher decided to call it quits yesterday. Someone is supposed to be here to fix it later on, but suuuuuuuch a pain to wash them by hand!
Our reward was some
Raw Peach Cobbler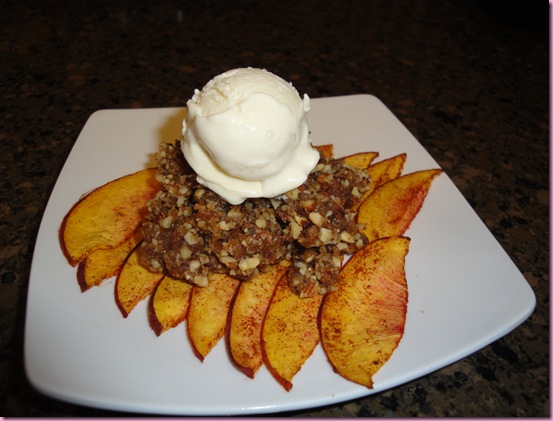 I loosely based this one off of what I remembered from the blueberry cobbler Ani made at the Live and Learn event.
-Toss one large thinly sliced peach with 1/4 T cinnamon, 1/2 t agave, sprinkle or nutmeg, a pinch of sea salt and a splash of lemon juice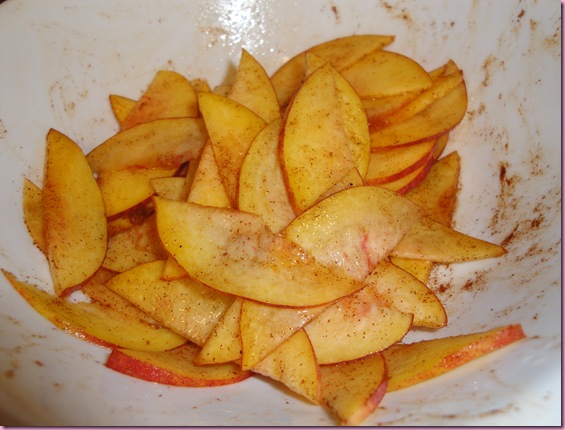 -Spread the peach slices onto a Teflexx sheet and dehydrate at 115* while you prepare the crumble (you can skip this part, but it's nice to warm it up a little in the dehydrator)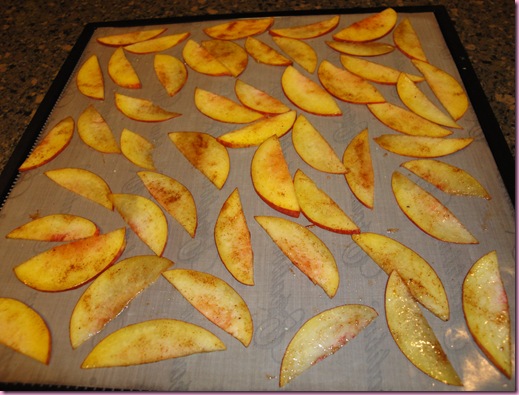 To make the crumble:
-Add 5 medjool dates, a pinch of sea salt, 1 ts vanilla extract, 1/4 C. raw walnuts and 1/3 C. raw almonds in the food processor
-Process until combined and still and a little crunchy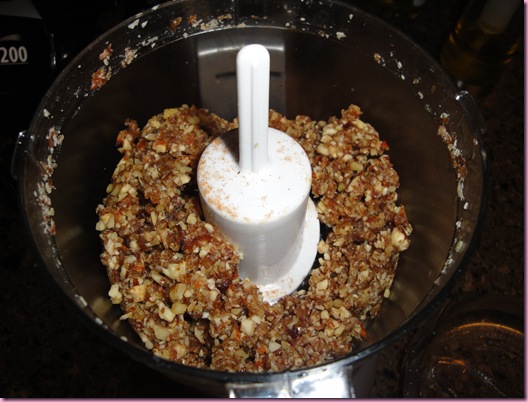 -Snack on a couple of bits of the crumble if your name is Gina, because it's pretty freaking delicious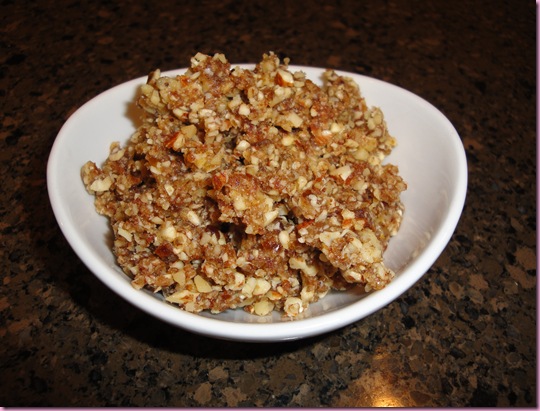 -Layer the peach slices and top with the crumble and your favorite raw vegan ice cream or in the pilot's case: Haagen Daz 😉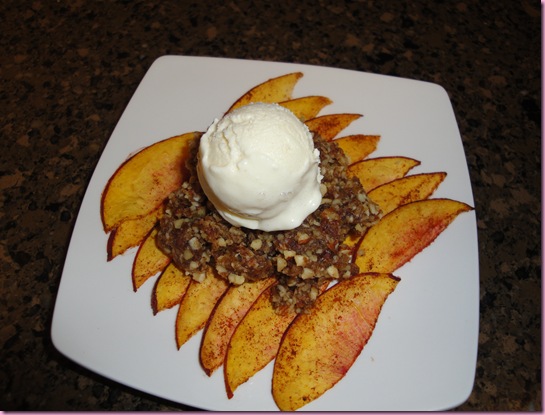 Ahhhhhmazin'.
Here's the stuff I've got going on today:
-Catch up on blogs/emails
-Yoga podcast (it's my day off, so I'm gonna take it easy)
-Make business calls
-Go to Publix for ingredients (we have a wive's coffee tonight and I'm making an appetizer.. not sure what yet)
-Walk the puppers
-Pray the mechanic can fix the dishwasher
-Work on Zumba dances and make a spin CD for tomorrow
-Make appetizer and dinner for the pilot
-Wife's meeting (I've missed the last two since I was at school, so I'm super excited)
I'm off!
Have a wonderful morning!
xoxo,
G
Something to do: Check back here around 1 EST—I'll be posting that giveaway! Hint: It's from one of my favorite companies 😀