Almond butter chocolate chip cookies
Helloooooo 😀 It's meeee again! haha. Hope your day is going well and if you haven't checked it out yet, be sure to enter the Vegalicious giveaway! You don't want to miss out on that goodness.
Today was one of those weird days where I know I did a lot, but feel like I didn't do anything! Maybe because there's so much to do? Our house still hasn't fully recovered from our trip back from OKC, and that in conjunction with getting that new thing up and running, starting to teach aerobics again and working, things have been cuhrazy over here.
And to make things even more exciting, we have two separated dogs: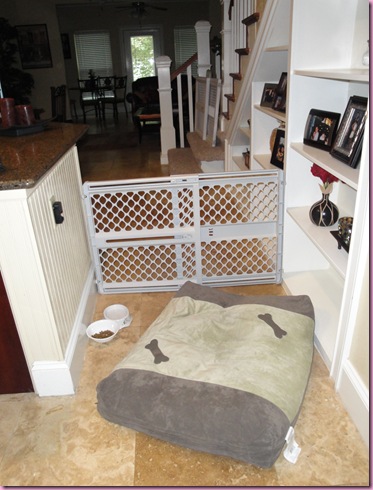 We've been keeping them apart during the day while I'm home –I can walk them together and they're fine- and then let them be together when the pilot is home from work and when we go to bed. We figured out that about 5 of the 7 times Viesa's attacked Bella have been when only I'm home and the pilot is at work. Guess I don't lay the smack down like I should 😉 So we're doing this for the time being until we can find a home for her in the family, so we'll still be able to see her. Why can't they just get along?!?
Bfast was a tropical sludge after I walked the puppers: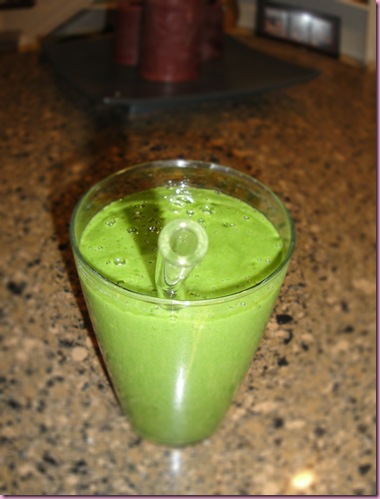 Almond milk, pineapple, mango, banana, spinach, spirulina, sea salt, stevia and foodgasms.
I started on my to-do list but got the baking itch.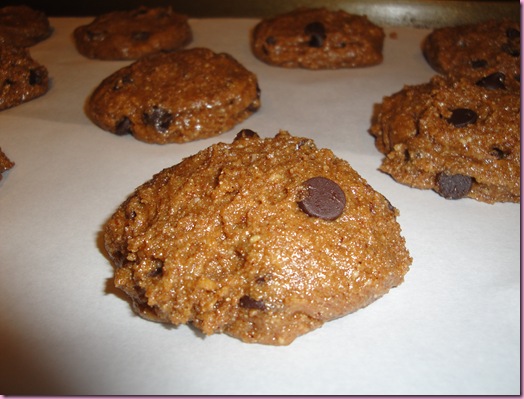 I have a surplus of almond butter and some amazing vegan chocolate chips and decided to make some cookies with an impromptu recipe. Lucky for all of us, I wrote it down 😉
Vegan Almond Butter Chocolate Chip cookies

Preheat oven to 350.

Dry ingredients:

-2 C. spelt flour

-1/2 t. sea salt

-1.5 t cinnamon

-2 t baking powder

-1/2 t baking soda

Combine all dry ingredients until thoroughly mix, and then add:

-1/2 C. vegan chocolate chips

Stir to combine.

Wet ingredients:

-1/2 C. Raw almond butter (crunchy or creamy.. I used TJs creamy)

-1.5 T vanilla extract

-1/4 C canola oil

-1 t molasses

-3/4 C pure maple syrup

Combine all of the wet ingredients in a separate bowl and add to the dry ingredients. Stir to combine but do not overmix. Put parchment paper onto a baking sheet, form ball-shaped pieces of dough into slightly flattened cookies on the baking sheet. The mix will be sticky, so do what you can 😉 Bake in a preheated 350* oven for 11 minutes, allow the cookies to remain on the baking sheet for 1 minute longer and then transfer to wire racks to cool.

-The Fitnessista ©2009
Look how FLUFFY and decadent they came out!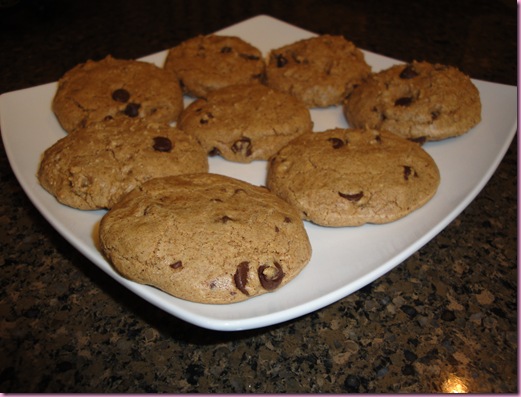 Even though I taste tested some dough, I had to try one of the finished products.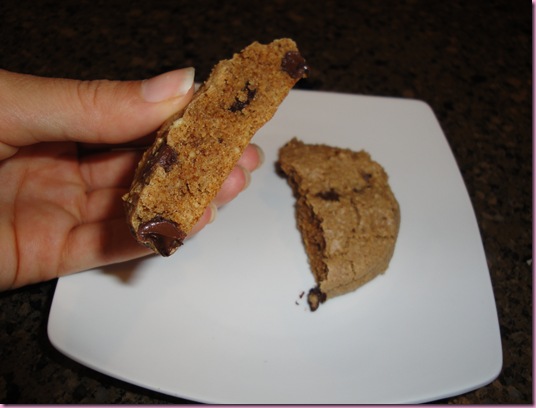 Dipped into almond milk, it was pretty much the best thing ever. Whole grain, no refined sugar, and vegan. Winner, winner, cookie dinner. Let me know if you give them a whirl– I think you will enjoy 😉
Since I ruined my appetite with dough and cookie, I went to the health food store to get a cocktail.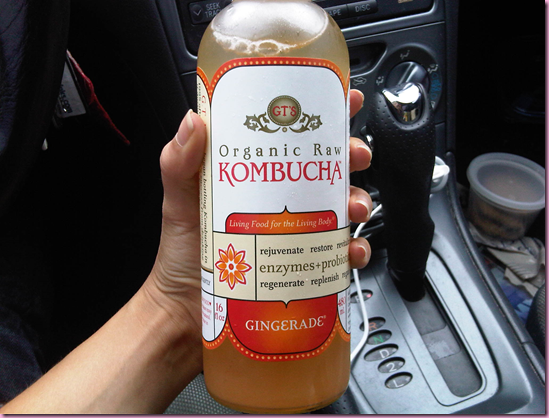 I had about half of it. It totally still gives me bitter beer face, but in the weirdest way, I love it.
Next I went to Publizzle and got ingredients for goat cheese-stuffed mushrooms for the wives coffee tonight, came home, made phone calls, did a little yoga, practiced Zumba, made the mushrooms, and realized I have a crazy amount of kale.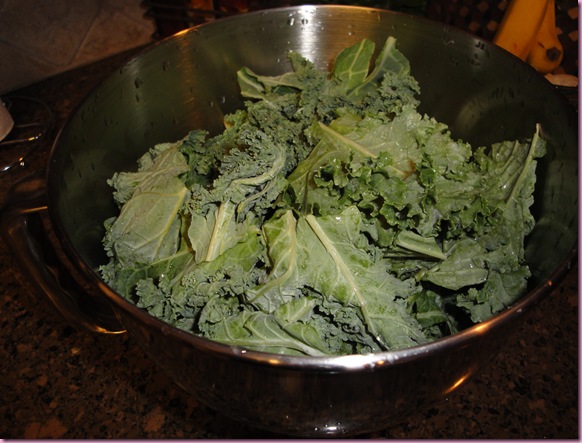 I took care of that problem pretty quickly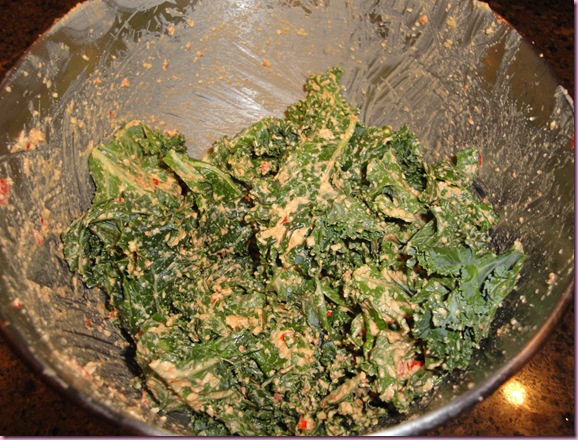 and am counting down the hours until kale chip extravaganza 2009.
It's showa time and then I'm off to the wives coffee. I'm totally looking forward to seeing everyone I've missed since I was away! I'll take lots of (sneaky) pics, since some of the wives don't know about the bloggy, and sometimes I just don't really feel like explaining it 😉
Have a great night!
xoxo,
G
Something to talk about: Do you tell people that you read blogs and/or have a blog ?? For the most part, my family and friends are beyond cool about it, but I've also been told by quite a few people that they think it's super weird. Have you encountered any blog haters??