Hi friends! Happy Monday! How was the weekend? Ours was a great one. We spent a ton of time with family and friends, got to swim, and enjoyed some beautiful desert monsoons, so no complaining over here.
Friday night, the girls and I decided to enjoy dinner out, so we went to Commoner & Co. I wrote about this recently, but my brother Kyle has taken over as partner chef for Commoner and the popular brunch restaurant, Prep & Pastry. He completely revamped the menu at Commoner, so we were excited to check out the new menu options.
Kyle surprised us with this goat cheese tart while we were waiting for our entrees.
It's a savory lemon thyme tart with fluffy brûléed goat cheese, served atop STRAWBERRY JAM. It was the perfect mix of sweet and savory… it was like my favorite bite from a cheese board (cracker, cheese, jam), completely elevated. It's probably my new favorite food ever, and served with Kyle's signature artistic presentation: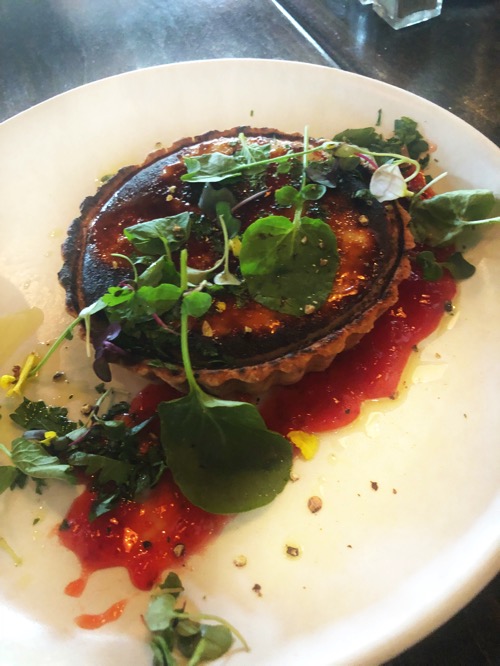 (Everything he makes looks almost too beautiful to eat)
For my entree, I rolled with the salmon, which is served on top of a bed of Spanish rice with veggies, olives, goat cheese, and Romesco.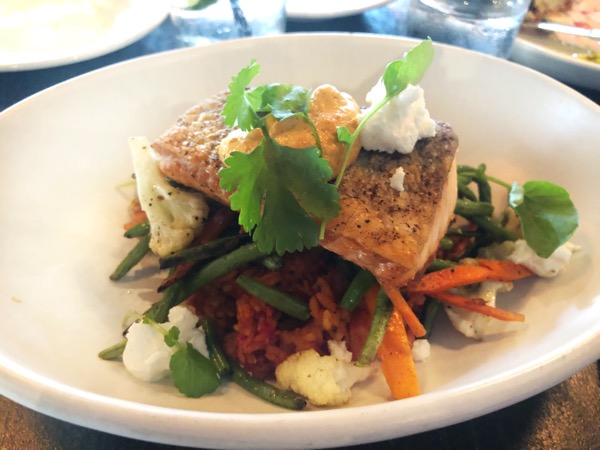 Kyle also brought out the deconstructed cake for dessert. It was bites of pistachio sponge cake, cream cheese frosting, and a bunch of other deliciousness I can't really remember because Liv and P were on either side of me and we were shoveling bites into our mouths in pure bliss. It was everything.
Commoner and Co. was one of our favorite date night spots long before Kyle took over the kitchen. But I have to say that now that he's there, it's taken everything to the next level. Our dinner was my favorite meal we've had since we've been back in Tucson, which says a lot since we've eaten at a lot of amazing spots since we've been here. We'll definitely be back soon.
After our incredible meal, we decided to head to Trail Dust Town. Like my friend Lindsay said, it's like Oregon Trail Disney World. (With way less rides, but the girls still love it.)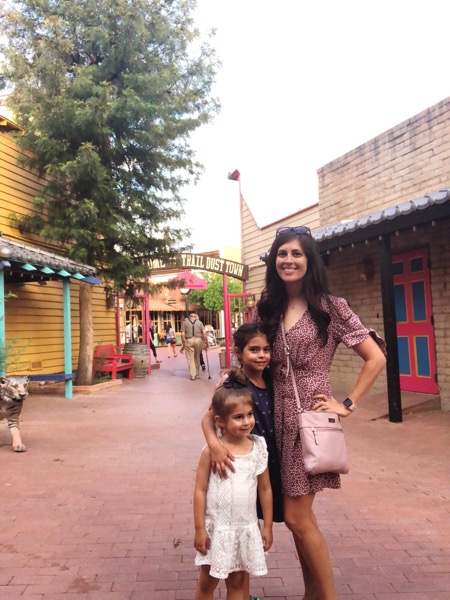 We rode the covered wagon Ferris wheel and the carousel (which is unnervingly fast haha) and then walked around for a while, my nana met us there, so it was fun to walk around with her and check out the sights.
Saturday morning, I caught a leg and HIIT workout at the gym, and then we headed to a friend's birthday party. The girls got to run around with all of their little friends and eat cupcakes, while I got to catch up with Meg and Lindy. After the party, we came home and watched the live version of Alice in Wonderland. I wouldn't recommend it for a 2-year old – I kept hoping P would fall asleep on the couch, but instead she was intently watching to see if Alice would "slay the jabberwocky" *SMH – but it was definitely good.
After the movie, we went to the park for an hour and met my dad and stepmom at Bear Canyon Pizza for dinner.
Sunday was the usual church, errands, lunch with madre, then grilling/swimming at Uncle E's.
I started reading Limelight, looking for something lighthearted and fun, and it's fit the bill. Highly recommend it so far!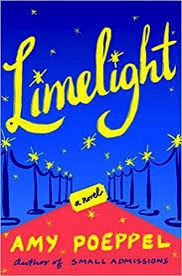 I hope you had a great weekend, too!
Today, I'm recording a podcast episode with a friend and subbing a class later this afternoon. Hope you have a happy Monday and I'll see ya in the morning.
xoxo
Gina