Hey everyone! Happy almost-Friday 😀
I thought it would be fun to give ya'll a little tour of my office…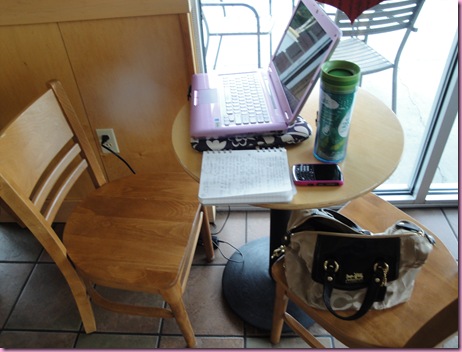 Yes, my table and chairs look remarkably like the ones at Bizzle 😉
I've spent the last two hours cranking away on some work here, with a lovely green ginger tea. It feels SO GOOD to get out of the casa and be productive.. being home distracts me sometimes because there are a million other things to do there. To be honest, I'm not in love with our Bizzle (it's kind of off the freeway which is a little shady to me), but to my delight it's been a great place to get my productivity on this morning. I might be coming here a little more often 😀
I started the day with a face-rocking bowl of protein chia pudding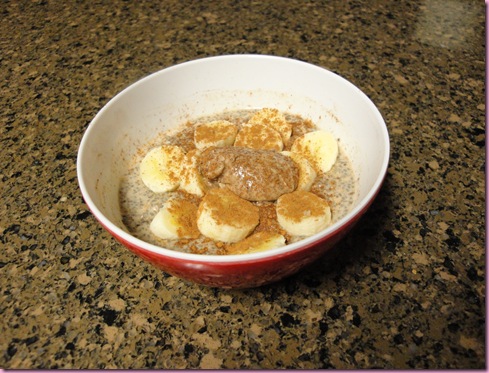 Today's mix had almond milk, Sun Warrior vanilla protein, cinnamon, Stevia, chia seeds, banana, almond butter, more cinnamon 😀
Ahhhhmazing 🙂
I dropped Bella off at the groomers this morning –so her hair will look pretty for the puppies' Santa pic this weekend- and am about to make a stop at Goodwill (come on, Ugly Christmas sweaters!) before picking her up. My stomach's growling for some lunch, too 😉
The plan for the rest of the day:
-Lunch
-Yoga
-Eye doc appt
-Run (hopefully my Garmin will finally get here this afternoon! Apparently free shipping from Amazon = dinosaur shipping, haha)
-Making calzones for dinner and (hopefully) some raw sugar cookies!
Have a wonderful day!
xoxo,
Gina
Something to do: Don't forget to enter the Juice Beauty giveaway if you haven't done so already- winner will be announced tomorrow AM!
What's your favorite holiday song? I love "Santa Baby" and "Carol of the Bells" 😀