While you were BodyPumping…
Hi guys!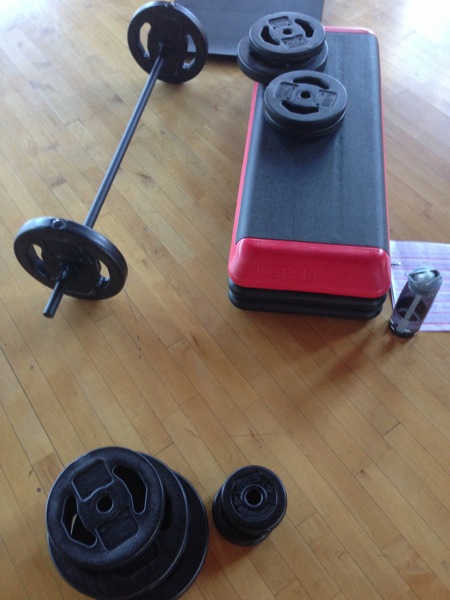 It hurts to type this. I'm finishing up BodyPump instructor training this weekend and every muscle in my body is crying (tears of happiness, of course). 😉 I'll post a full recap when the training is over for those of you who have been considering certification, but I will say that it has been an amazing weekend and experience so far. Just with our full day of training yesterday, I've learned many new form cues and motivational techniques. Our trainer is a POWERHOUSE and I've enjoyed learning from her this weekend.
It felt good to come back home to the family last night: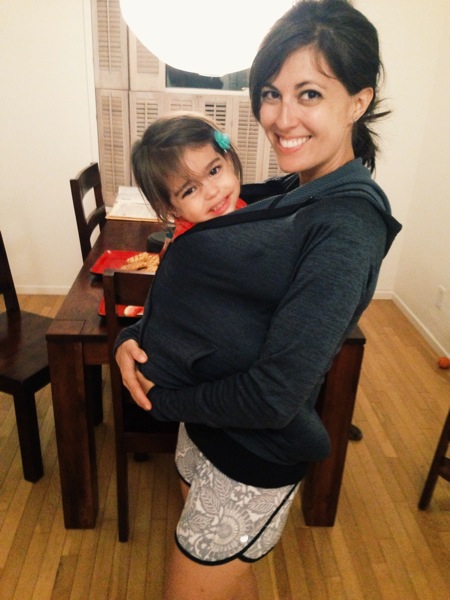 (If I'm wearing a hoodie, Liv asks me to "kangaroo" her and zip her up with me. The best… also the closest thing we get to a Moby wrap these days)
While I've been at instructor training, the Pilot and Liv have had a great daddy-daughter weekend. They went to the beach yesterday, we all enjoyed a grilled dinner and watermelon last night, and who knows what adventures they'll get into today 🙂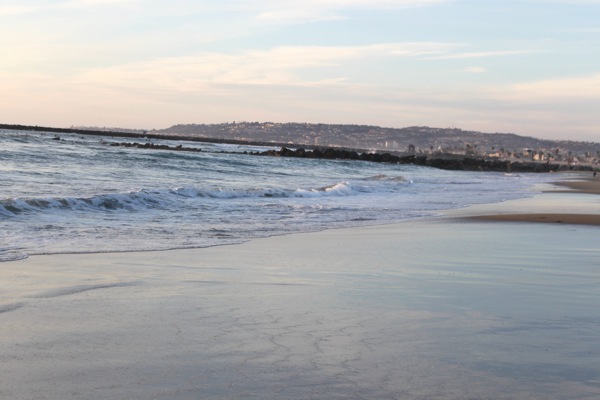 This week will include my last round of recipe testing (wahoo!), a fun dinner party here at the house, and excitement for my mom and nana to visit. They'll be here in two weeks and I can't wait to see them.
Here's what's on the tentative plan for the week:
Sunday: BODYPUMP all the day
Monday: OFF
Tuesday: Teach Zumba (!!!)
Wednesday: Barre3
Thursday: Runday
Friday: Orange Theory
Saturday: OFF
Dinner and plan/prep ideas:
–Cinco de Mayo! (<– my favorite Mexi-meals are in this post) Chicken enchiladas, rice, beans and margaritas are happening over here
-Dinner party: classic salmon, Greek chopped salad, stuffed grape leaves, pizookies and ice cream for dessert
–Turkey joes, roasted veggies and sweet potato fries
-Make amazeballs
-Chop veggies for salad
-Make homemade Ranch
-Make cauliflower rice
Are you planning and prepping today? Any fun Cinco de Mayo plans??
Hope you have a very happy Sunday <3
Off to squat press my little heart out.
xoxo
Gina
*The winners of the Reebok giveaway will be up tonight!