Almost a year with my favorite little thing. How did I live without her for so long?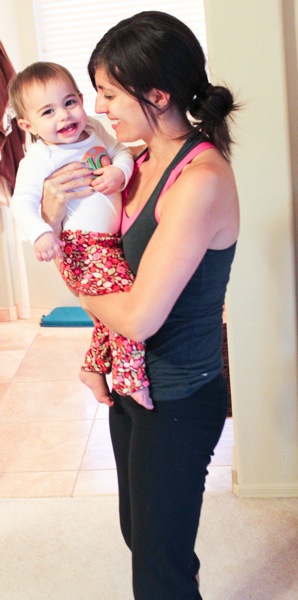 Here are 10 things about 10 months:
1) Teeth! Two more just popped out last weekend, bringing her grand total to 6. Part of me misses her little newborn gummy smile, but I love her little teeth even more. I clean them with a washcloth about twice a day, and will probably be making the switch to a toothbrush very soon. Both Tom and I have been bit, so cleaning her teeth a la washcloth has become a bit of a gamble.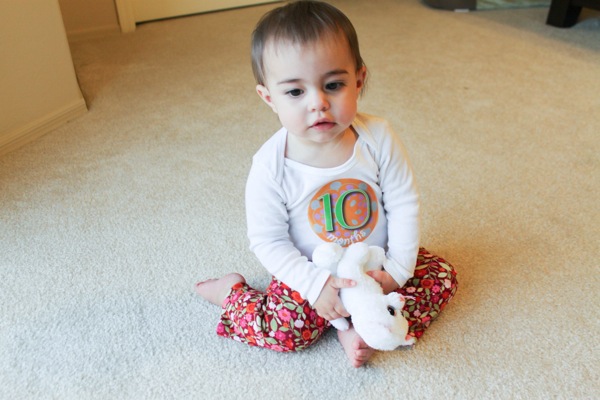 2) Whenever I write that she's "just about to" do something, it usually happens within the next 24 hours. For example, she figured out her pusher thing after the last time I wrote, and since then has taken 3 STEPS without any assistance or the pusher. 3 is her current record, but since I just typed that, she'll probably do 4 tomorrow 😉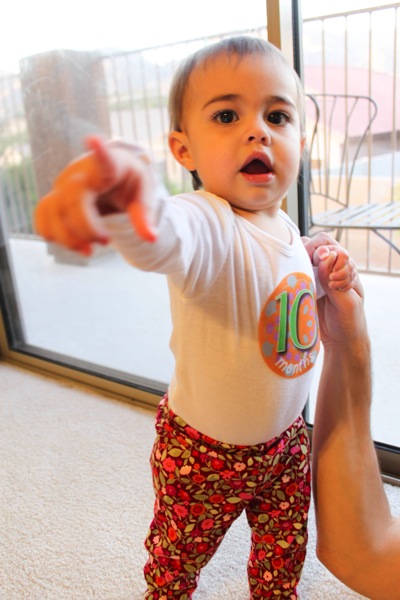 3) Liv's first real words will go down in history as "eye" and "up." They're the first words that she's consistently said and pointed towards. In any book, you can ask her where the eye is and she'll point to the person or animal's eye, and she points up at lights and says "up."
4) She is AMAZING at replicating sounds and animal noises- it's so much fun. You can ask her what sound an owl, horse, tiger and dog make, and sometimes I'll sing little notes to her and she'll copy the general pitches of what I'm doing. It's a lot of fun to communicate like this, and every day it seems like she's learning how to tell us more about what she's thinking, which blows me away. Right now, we're working on "gobble, gobble."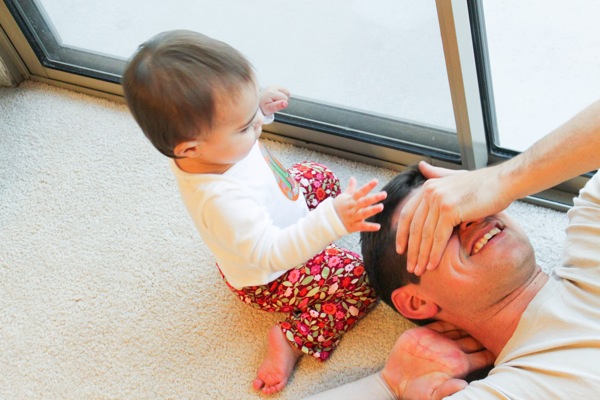 5) I don't like to say anything about sleep because I don't want to jinx anything, but I'm very thankful. I get a lot of emails asking when I have time to do extra things, like create recipes or blog posts and it all happens during nap time. When she's awake, we play, eat together, go on adventures and/or meet up with friends.
6) Comfy things! She's finally found that certain things feel good, like laying on a pillow. So in the middle of playing, she'll plop a couch pillow down -we use them to block the hard edges of the TV stand- and put her head down.
7) Dolly is finally allowed in the crib and we'll probably introduce a blanket since it's starting to get colder. Tom is pretty intense on sticking with Babycenter guidelines, but may let me give her one a month early since it's been colder. For now, I've just been using warmer pajamas (the fleece-type material) and putting the heater on during cold nights. If anyone has tips for introducing a blanket, I'd love to hear them. From what I've read, it's important to keep it tucked in at the bottom and around the sides.
8) Fresh juices are a fave. Whenever I pour myself a fruit and veggie juice, I give her a tiny bit in her small glass. She GULPS it down! Carrot, apple, beet and kale is the standard.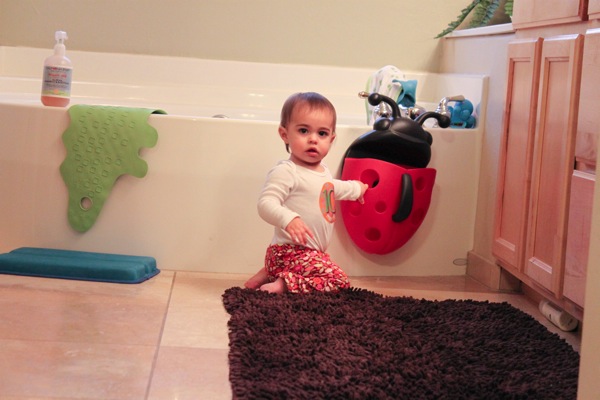 9) I'm really excited to start our own holiday traditions as a family, especially since Tom is home this year. I'd like to make her a felt tree to decorate (like this one) and do Elf on a Shelf. If you have any fun holiday traditions to share, I'd love to hear them!
10) Current likes:
-dollies
-the TV remote (I just take the batteries out and let her play with it) and talking on her play phone
-animals
-baths
-wearing shoes
-shaking her head "no" to every question we ask her (apparently "yes" takes longer to learn… especially when you're taught backwards. When I was little, my silly uncle taught me to shake my head for "yes" and nod for "no.")
-giving kisses and waving, mostly to Bella
dislikes:
-being told "no, thank you" (when I tell her to stop doing something)
-diaper changes (the only way to make it happen is to give her something to hold and distract her)
-wearing sunglasses
-yogurt
Past updates: