Cranberry Quinoa "Stuffing"
Why must turkey be the official Thanksgiving mascot?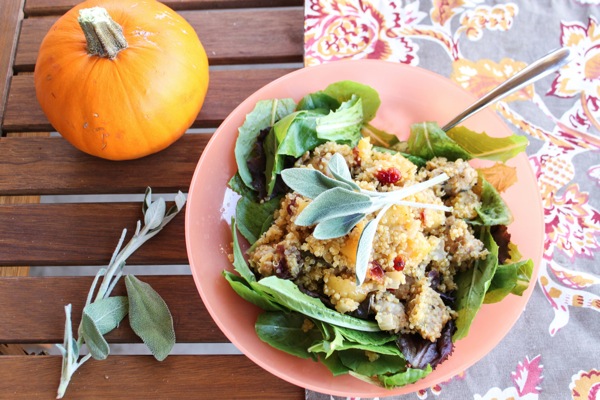 It makes me sad because I know so much work goes into preparing an entire turkey, but to me, the meal could do without it. This is also coming from the girl who prefers deli meat over roasted.
*Hides head in shame*
We were at Eclectic Cafe and on a whim, I ordered a turkey omelet, even though I tend to stick to veg and fish dishes at restaurants. When they brought it out, I immediately starting picking around the turkey.
The Pilot: "Don't you like your omelet?"
Me: "Um.. it's ok. I didn't think it was this kind of turkey. This is like Thanksgiving turkey… I like the other stuff."
Pilot: "You mean the processed stuff?!"
We couldn't help but laugh because here I am, preferring whole foods, local foods, organic foods… and I like the deli meat. I haven't been purchasing it much because it's hard (and expensive) to find organic, but it's good stuff, especially on omelets and salads.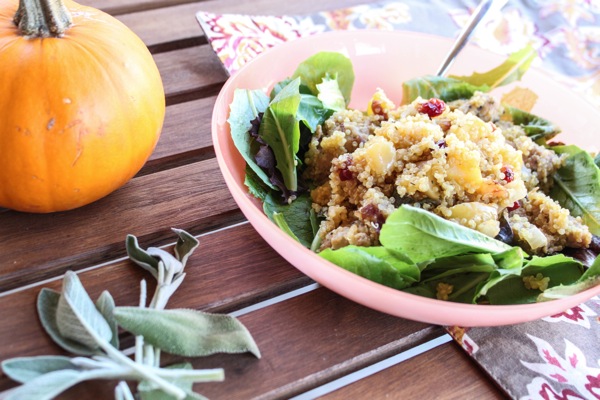 Anywayyyyy…
For a long time, I was a vegetarian (here's when I started eating chicken again), but even after that point, I didn't go back to Thanksgiving turkey. I should be happy about a sprinkle of protein in the carb and sugar party, but really, it was all about the side dishes: stuffing, potatoes, sweet potato, green beans and the grand finale of happiness… dessert.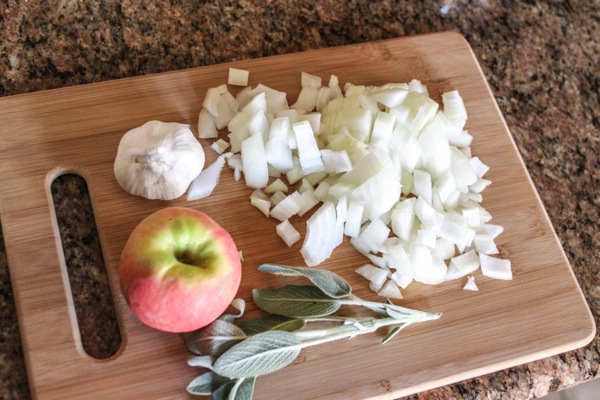 Oh, the stuffing- my favorite part of the Thanksgiving meal. How would that be for a Thanksgiving mascot? A lovely brown blob with a smiley face. "Happy Thanksgiving!"
I've made it so many different ways: with Ezekiel bread, cornbread, traditional, from the box (which is pretty dang delicious, not gonna lie) and most recently, without the bread.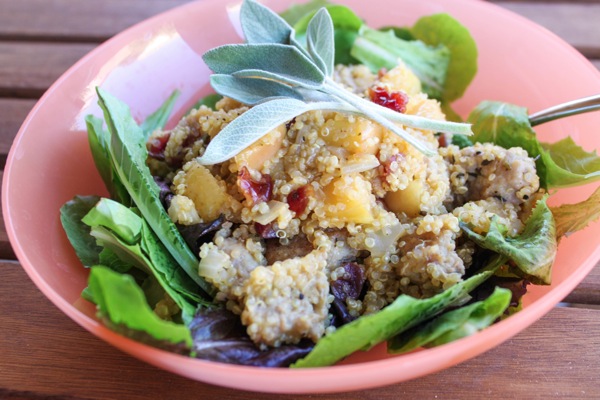 I know, I know.
Stuffing is about the bread, but I thought it would be fun to make a quinoa twist on my favorite Thanksgiving side dish. Even more protein in the carb and sugar party, with all of the classic stuffing flavors.
Hope you enjoy <3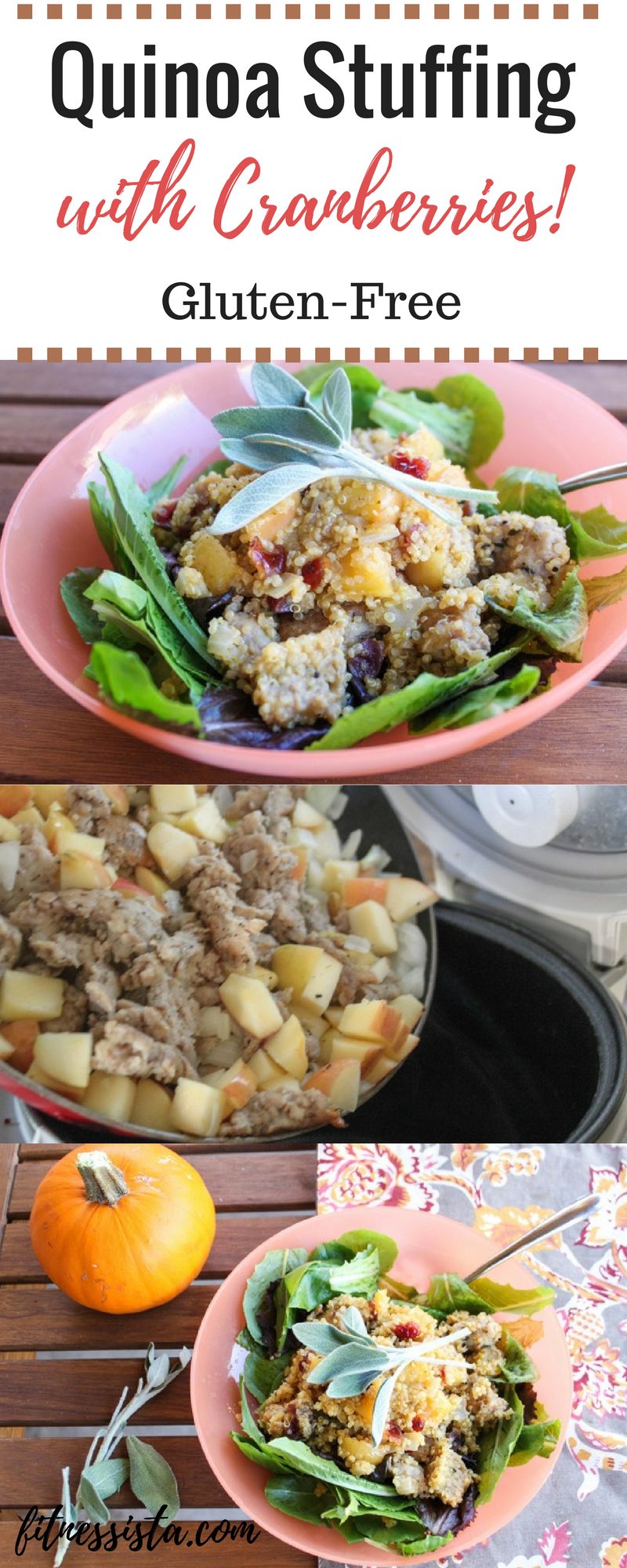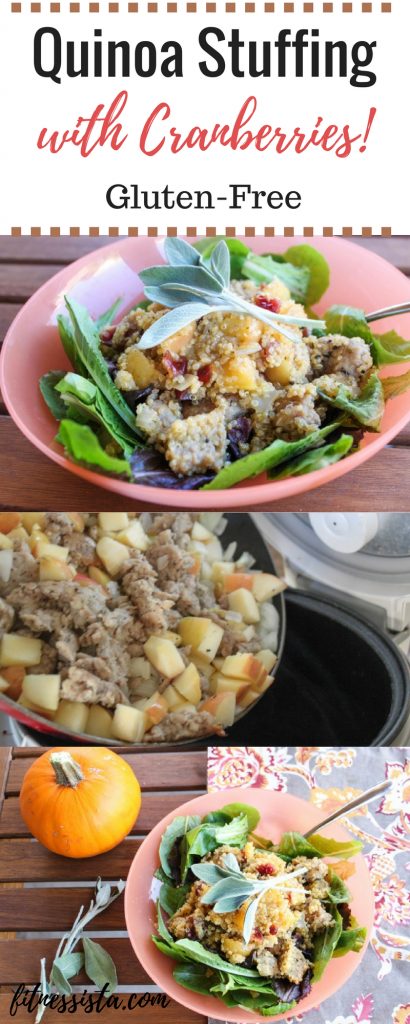 Quinoa Stuffing with Cranberries
gluten-free, easy to veganize
3

chicken sausages (I used sweet apple organic, but any vegetarian sub or tempeh would be great too)

1

medium onion, chopped

2

large apples, chopped

1

–

2

cloves garlic

1.5

C quinoa, rinsed and drained

3

C veggie or chicken broth

1

heaping TBSP chopped fresh sage

1/2 tsp

dried thyme

1/2

C dried cranberries
Instructions
In a large pan over medium heat, sautée the sausage, onion and apple in a little olive oil until soft, about 10 minutes. Add the garlic and season well with salt and pepper.
Transfer to the rice cooker (or if you want to cook it on the stovetop, a large pot)
Add the quinoa, cranberries, sage, thyme and broth.
Cook on the "brown rice" setting, or until light and fluffy (stovetop, cover and simmer for about 25 minutes)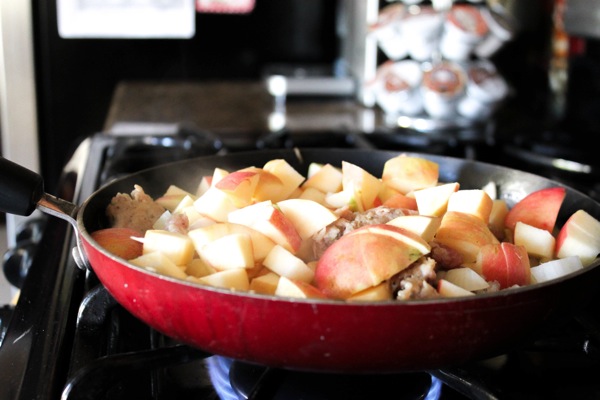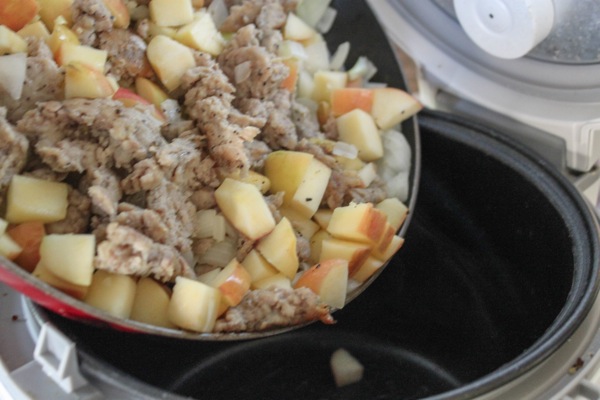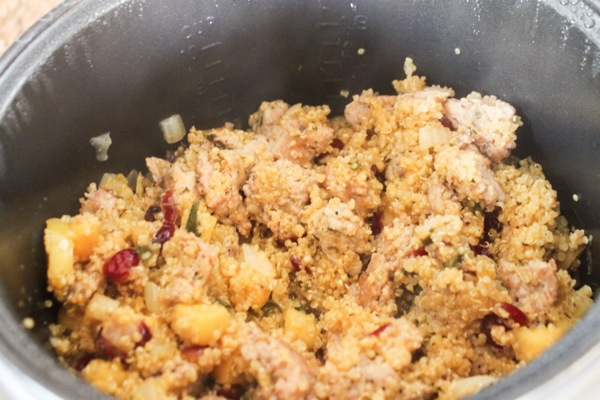 It's a perfect lunch staple: on top of salad, or in a day-after-Thanksgiving style wrap with lettuce and cranberry goat cheese.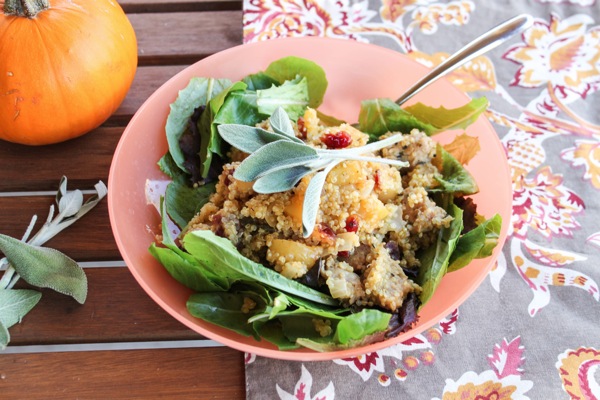 Happy early Thanksgiving <3
xoxo
Gina
What are you making for Thanksgiving this year? Absolute favorite part of the meal??