2 month P-D-B (Post Delivery Body)
It's still crazy to believe it's been 2 months already… everyone says that time flies, and it really does.
I was thinking that by my 2 month post-delivery body update, I'd be able to show you all a swimsuit pic with things 100% back to normal, but not quite there yet 😉
Here's what my body looks like 2 months after delivery:
And here are the "before" pics- I was 4 weeks pregnant, but I'll count it as a before 😉
I gained 34 lbs while I was pregnant,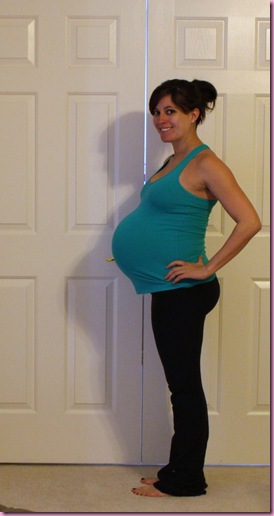 and was about 5 lbs above my usual weight when we conceived.
Even though I'm not back to where I was pre-pregnancy, I feel good. The delivery itself helped me drop most of the weight (I lost 24 lbs in 4 days) and can attribute the rest of the weight loss to eating well and breastfeeding. I'm not back in a full fitness routine, and when I workout, I still take it pretty easy. It's more of unwinding time, so I'm not sure that it's had a huge effect on how I've recovered. Binding also helped.
You may think I'm crazy, but for the past 8 weeks during the day (I take them off in the early evening), I've been wearing a Belly Bandit and Hip Shrinker. I didn't know if they'd be a scam, but figured it was worth a whirl. The Belly Bandit helps the uterus contract more quickly and the hip shrinker takes advantage of the relaxin in the body to encourage hips to go back into place. My hips are more narrow than they were, and I truly believe that the Belly Bandit helped my waist come back a little. If anything, it helped me remember how to keep my core engaged –I was used to letting everything hang out for 9 months. Binding is actually very common and something that many women would do after childbirth back in the day. While I was still pregnant, I asked my nana what she thought about binding and she said "everyone used to do that after childbirth." She made it seem like no big deal, so I went for it and was glad I did.
Here are some of the misconceptions I had about bouncing back post delivery:
Diet changes: Pre-pregnancy, I thought that losing weight after a baby would be fairly simple- I'd just do what I originally did to lose weight back in the day: watch my portion sizes and choose healthy options. While I was pregnant, I learned that it isn't the case when you're breastfeeding- your body isn't your own and still belongs to the baby, so I was prepared to get in extra calories and healthy fats to help build and maintain my milk supply. To me, nothing is worth decreasing milk supply –especially when you only have one working boob- so I often eat more than I did while I was pregnant.
Breastfeeding: Many people will say that breastfeeding helped the pounds melt off, but others will tell you that they can't lose the last 5-10 el bees until they finish breastfeeding. I can definitely see how breastfeeding makes the body store excess fat. While most of my clothes fit, I still feel smushier, and even though I'm close to my pre-preg weight –haven't weighed myself in a few weeks and we don't own a scale- my muscle density is much lower.
Fitness: Taking care of a newborn is a workout in itself (!) but I've been really excited to be able to make it back to the gym. I definitely wasn't able to jump back into my old routine- I've had to take it easy and am building my endurance back up. Once a week nana will come over so I can go to training at work for an hour, and at night, Tom will stay home with snoozing Livi so I can get a little workout in. I'm still not into a routine (some weeks I'll do two workouts, others I'll get in four or five) and most of the time I make it to the gym, I'll use it as unwinding time. I'll be back to my high energy ways soon enough, and most days are very snuggly and lazy over here.
Some post-birth souvenirs:
-The stretch marks on my belly, which I mentioned in the last post. They're there, I don't know if they'll go away, and I'm proud of them. I look down at them and they remind me that I was able to carry and deliver a healthy baby, which makes my heart soar.
-Linea nigra: the dark line still runs down my stomach and is even darker now. I just tell myself it looks like a shadow from crazy ab definition 😉
-I'm sufficiently lopsided. Will it go back to normal when I'm done breastfeeding? Or do I need to invest in a chicken cutlet for my bra? Haha
Before we considered having children, I always wondered if I'd be anxious about losing the baby weight, especially since I lost a significant amount of weight in the past and had been in maintenance mode for so long. When the time came, I was thrilled with everything I gained during pregnancy –it meant Livi was growing- and after the birth, getting my body back was so low on the priority list- enjoying and getting to know my baby was #1. I figured that by eating well and working out throughout my pregnancy, my body would do what it needed to do, and I was right.
After Liv was born, I said I didn't have a plan to get back in shape. This didn't mean I was going to throw my healthy lifestyle to the wayside, but rather keep up with my healthy eats and fitness to the best of my ability and let my body go back into place. I figured that going back to work would be the last little boost I needed and I'd soak up my maternity leave with Livi instead of at the gym.
The entire process of being pregnant and having a baby gave me a different outlook on my body. I used to be really hard on myself, and look back on pictures and think I should have given myself a break. So for now, I'm going to keep doing what I'm doing: eating well, working out when I get the chance, and loving on my baby <3
More:
-How my workouts changed in the first, second and third trimesters
–Changing eats and third trimester eats