I've heard it said that babies will usually want to eat what the parents are eating. It made a lot of sense, but I got a glimpse the first time Liv made a grab for my salmon salad. Like the swiftest salad ninja, one second I was taking a bite, and the next, my plate was rapidly sliding towards us. I didn't give her any, as she was only a few months old at the time, but she watched intently as each bite went onto my fork and into my mouth. From then on, I felt rude eating with her sitting on my lap, since I couldn't share the goods.
A similar event occurred recently when I was drinking a carrot karma Jamba Juice. She kept grabbing at my straw and fussing. Finally, I plugged the end of the straw and gave her a small taste. She looked up at me wide-eyed. Why had I been holding out?!
I hadn't thought about making her a baby-friendly smoothie until that point, as the smoothies I drink at home aren't anything I would give her. Almond milk, protein powder, cocoa powder, Stevia- all things she won't have until she's older.
Baby, I made this one just for you: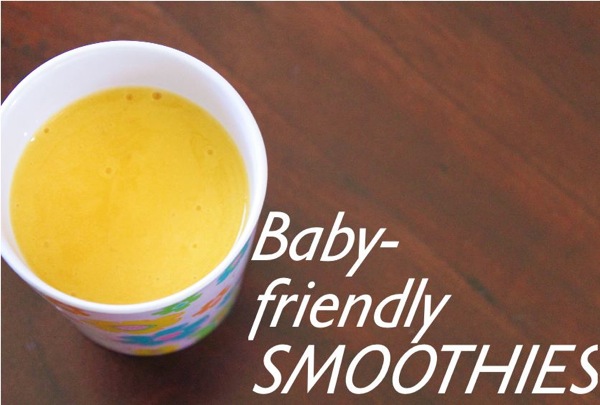 My friend Jeni told me that would make her son smoothies using water instead of milk when he was already enjoying fruits and veggies. I decided to give it a whirl, using fruits that I knew Liv was used to and already loved.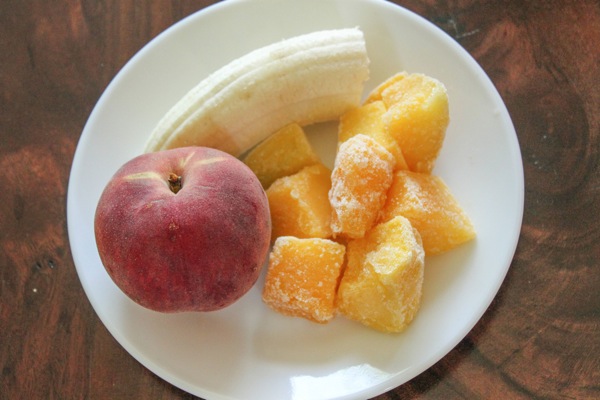 Sweet Peach Smoothie:
-1/2 banana
-1 C frozen mango
-1 peach, peeled and diced
-1 C filtered water
Age at the time: 7 1/2 months
I even poured a glass for myself to drink…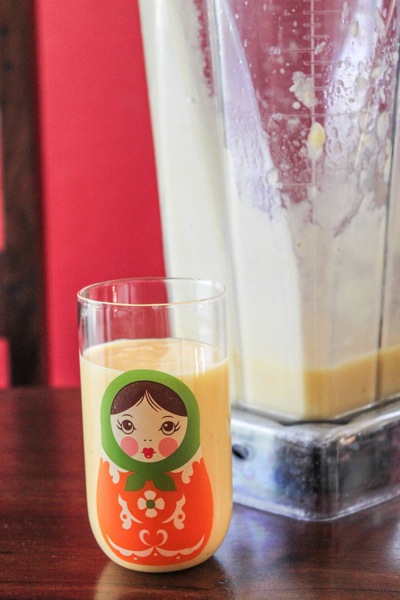 But here's the pic of the ultimate taste-tester: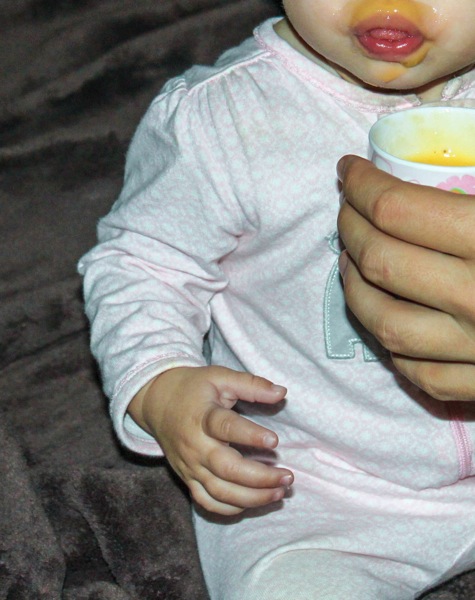 My husband said she couldn't slurp it down fast enough- she went crazy for it! I also took some to work for a friend who has a baby Livi's age, and apparently he cried when he was done drinking it.. he wanted more! Who knew that something so simple could be so delicious and exciting?
Baby smoothies are especially fantastic because they can be frozen in popsicle molds,
stirred into oatmeal or morning hot cereal,
as a cool snack for teething babies,
and great little nutrient boost.
***Every time I make Liv a new smoothie, I'll post the recipe on this page to share. I'll be sure to include her age with the recipe, but as always, use your pediatrician's advice before introducing any new fruits or veggies to your baby <3
Bottoms up, beeb <3