Hi friends! How are you? We're back from an amazing girls' weekend to NYC. Liv has been asking us to take her for years and since I had a companion pass that expired in January, we decided to go for it. 🙂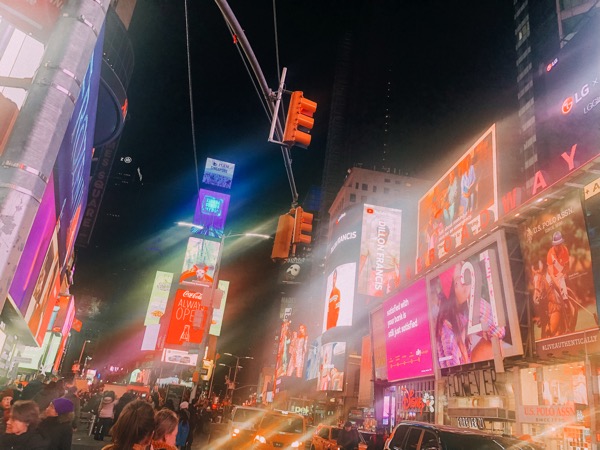 We left Friday morning and got into LGA around 10pm. We were both hangry so we literally had a midnight snack at the hotel: avocado toast for her and a turkey burger with sweet potato fries for me.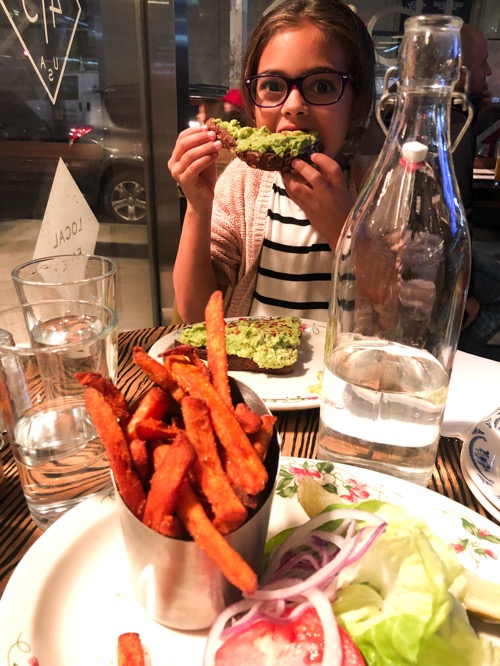 We stayed at the Hyatt Centric in Times Square. I did a little bit of hotel research and chose this one because it had awesome reviews, a great location, and wasn't bananas expensive. It's close to lots of shops, restaurants, Times Square (obvs) and the theatres. We got an AMEX platinum card earlier this year – we use a few different cards for miles and points – and wish we would have enrolled sooner. It is AMAZING. You get awesome perks and benefits (like free entrance into many airport lounges for yourself and 2-3 guests) and the travel benefits. I booked our hotel through AMEX travel and the rates on the site were much lower than the other rates I found online. You also get free hotel upgrades upon arrival (they upgraded us to a bigger room on a higher floor), early check-in, late checkout, and hotel credit at certain hotels. We got a $100 credit, so room service twice was free. I'm not affiliated with AMEX in any way, but if you've been scoping out the platinum card, my referral link is here. We loooooove it.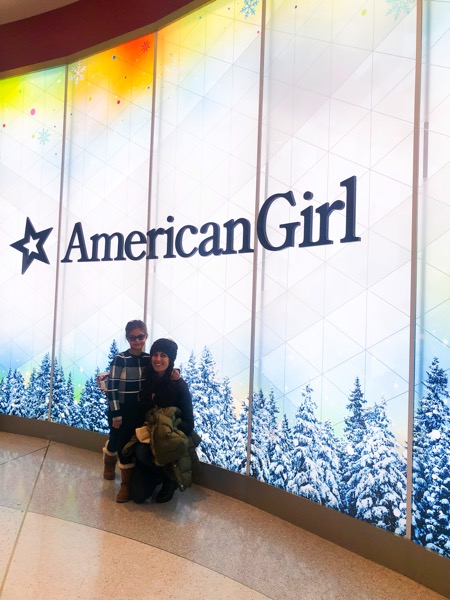 After our midnight snack, we crawled into bed and woke up the next morning ready for a full day of adventure. After a quick breakfast, we spent some time walking around Rockefeller Plaza, hitting up the enormous American Girl store, LEGO, and FAO Schwartz. We walked over to the New Amsterdam theatre for our first show: Aladdin.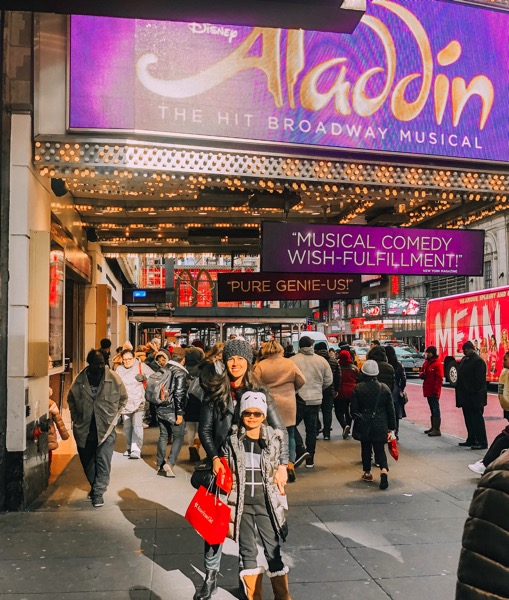 TBH I didn't have super high hopes for Aladdin. We've seen the animated version at least a thousand times, the live-action version a handful of times, and while I love Disney and LOVE Broadway, I didn't know if I'd be thrilled with it. (I was just trying to find some kid-friendly shows that Liv would enjoy so she'd fall in love with Broadway forever.) I was thrilled with it. It was so different from the animated version and the cast was insane. The genie. You guys, the genie is a pure masterpiece of a human. He's hilarious and incredibly talented. Friend Like Me was maybe 15 minutes long and I never wanted it to end!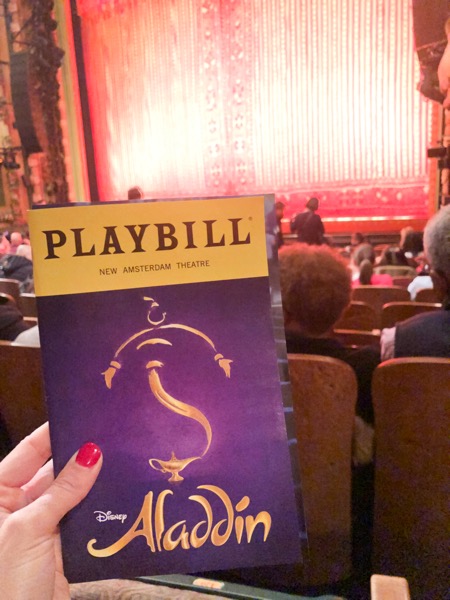 Interesting fact: the man who played Jafar is the SAME GUY who voiced the animated character. He was also brilliant. The whole cast was wonderful and I loved that they made it a little different (and way more entertaining) than the animated version.
After Aladdin and our lunch of popcorn, M&Ms and skittles, we dropped all of our shopping goodies off at the hotel, added some layers (beanies, tights under our pants, and gloves), then walked over to Bryant Park to spend the rest of the night ice skating and exploring the Christmas shops.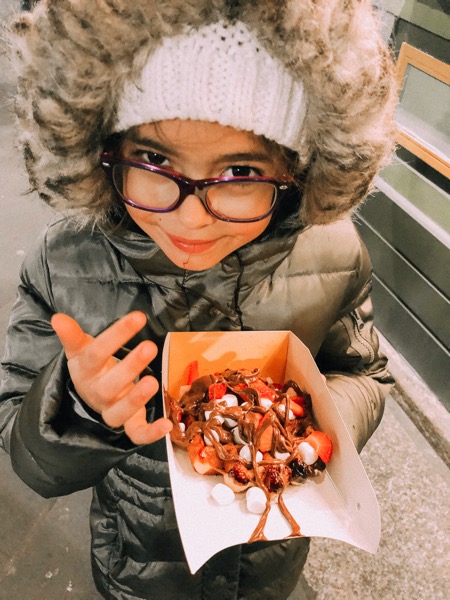 (That's a waffle with Nutella, marshmallows and strawberries)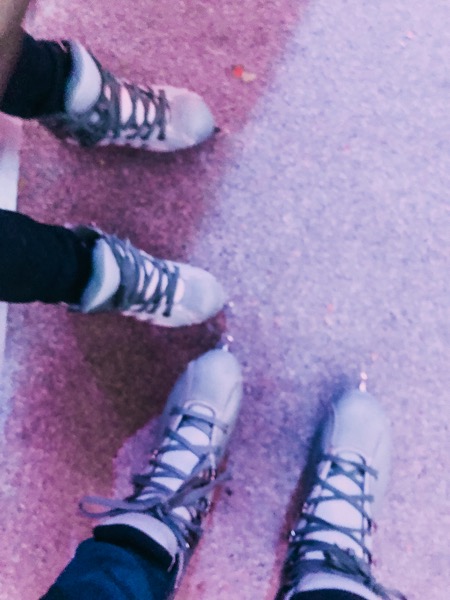 Bryant Park is one of the many things that makes me want to live in NYC. During the holidays, it's magical. There are little shops and food stops surrounding the ice skating rink. (Pro tip: get your ice skating tickets online so you can book a skate time in advance and avoid the giant line.) We had dinner at Fever-Tree because it was heated – it was chilly! – and then skated for 2 hours. Liv was a bit apprehensive at first, but within 20 minutes, she was skate-RUNNING around the rink and I was chasing to catch up with her haha. Let it be known that I managed to avoid falling by some stroke of luck.
Saturday morning, we had hotel room service while we got ready: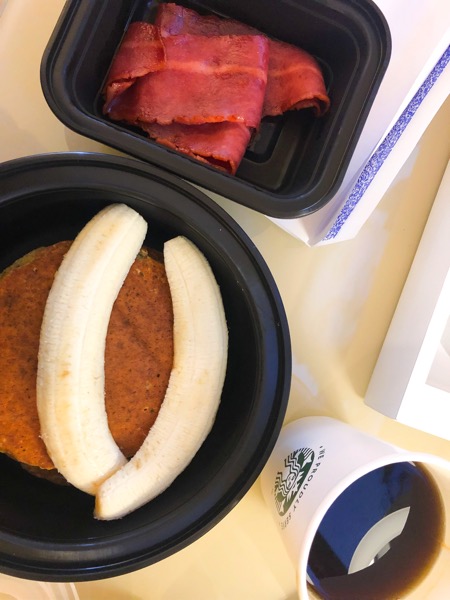 (they had banana almond meal pancakes that were fantastic)
and then caught a cab to the Museum of Natural History. This was my first time at this museum and I was blown away by the exhibits. The animals and dinosaurs were massive and we walked around for 2 hours, jaws on the floor pretty much the entire time. It was really cool to explain some parts of history to Liv that she hasn't learned about in school yet, and I learned a lot of new facts surrounding cultures, animals, and their habitats. I'd definitely pop it in the "must-do" list for NYC with kids. (Note: I bought our tickets online in the cab on the way there and it was another easy way to skip out on the giant line to get in.)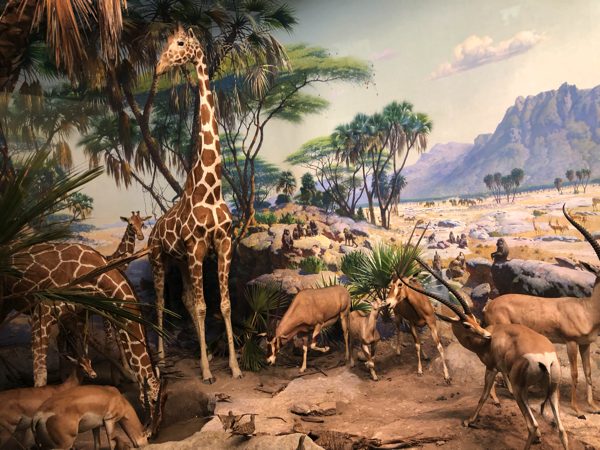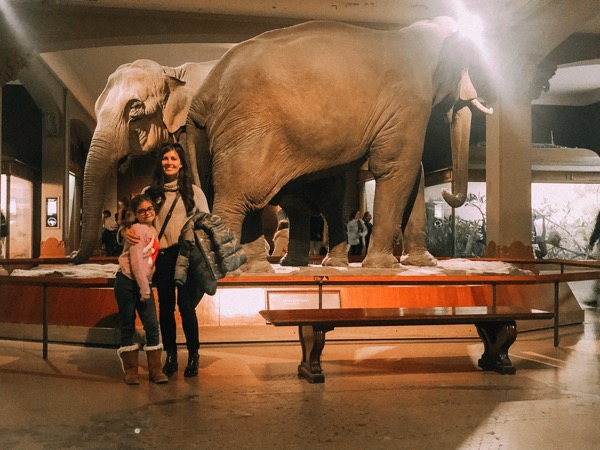 We walked around in Central Park for a little while, and then caught a cab to the Gershin Theatre for Wicked.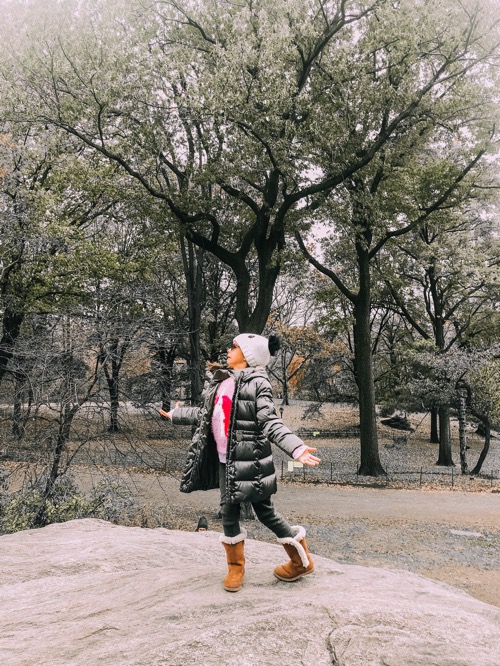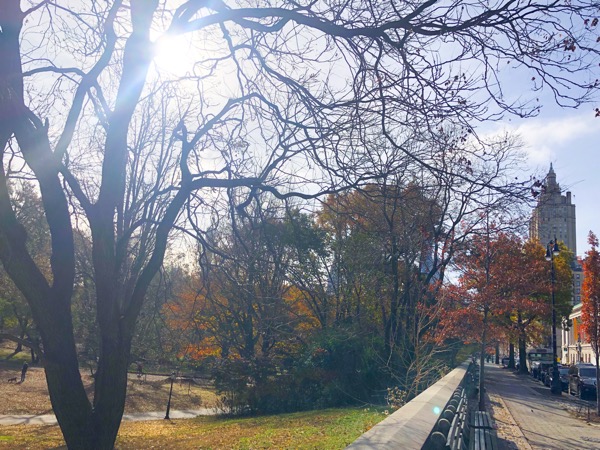 Wicked is one of my favorite musicals of all-time and I was really hoping that Liv would love it. As soon as it ended, she told me she wanted to see it again. I've seen it maybe 8 times now and don't ever think I'll be sick of the story or the music, and I think that this Elphaba was my favorite one.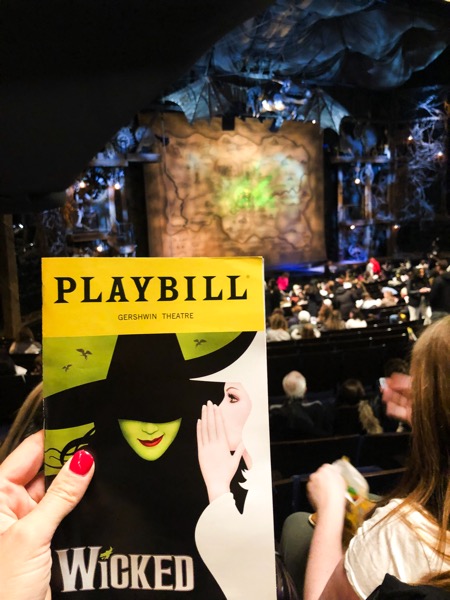 Here's a little video of her singing for morning enjoyment. 🙂
(Fun Broadway tidbit: I went to high school with Ben who's the phantom on Broadway and was in a couple of shows with Sean who's starring in Beetlejuice. He was Captain Hook when we did Peter Pan and I was a male pirate— a glimpse into the future for how our respective acting careers would transpire lol.)
After Wicked, we were ready for dinner, so we walked over to Don Antonio's for the best pizza of our lives. They make legit Napoli-style wood-fired pizza, and the gluten-free pizza was like REAL PIZZA: doughy and briny and perfect.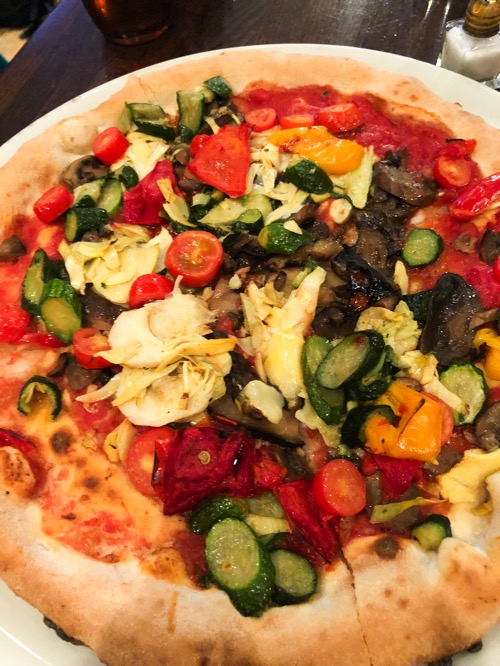 Liv loved the margherita pizza and we also shared a fresh salad with arugula, balsamic, and tomatoes.
During dinner, we talked about how much we loved the show and both agreed we wanted to see another one. So, we ran down to TKTS and got cheap 5th-row seats for Frozen. I felt very similarly about Frozen as I did to Aladdin (not on my personal "must watch" list but really wanted to pick shows Liv would be into) and ended up loving it. They also had some small twists to the story and the cast was fantastic.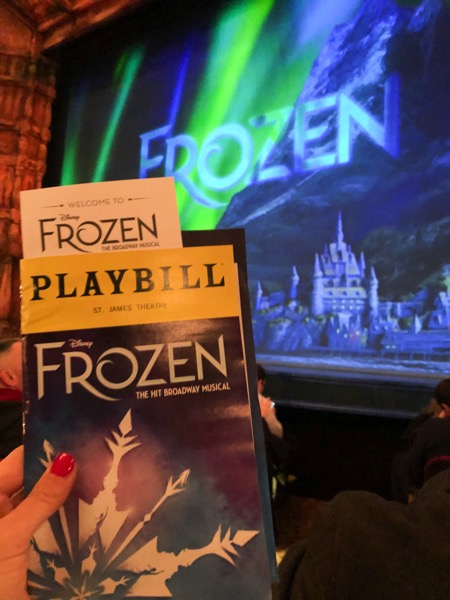 We walked around Times Square, enjoying the commotion and the lights, and came back to the hotel around 11.
Monday morning, we caught our flight back to Tucson! It was a whirlwind of a trip – and we really only had two full days there! – but I think we absolutely lived it up. The best part: Liv is already begging the Pilot to let us move out there. 😉 It would be pretty easy for him to fly out of LGA or JFK, just sayin'.
I thought I'd share two things that made this trip way easier:
– This inflatable booster seat. While I wouldn't use this for daily transportation, it's perfect for traveling. Let it be known that I'm the person that sucks at blowing up balloons (it takes me like 20 years), but I could inflate this in 20 seconds. It gave Liv the perfect little boost in the taxi to and from the airport and also to and from the museum on Sunday. Since I had it with us, it also made the perfect booster seat for our shows on Sunday. (They offer boosters to the kiddos but they go quickly for matinees. It was convenient to have our own!) It folds up and fits in your backpack, and I just carried it in our shopping bag that day.
– These boots. (Most similar one is here!) Easy Spirit reached out to see if I'd like a pair of shoes. I usually delete or decline free product offers because I feel like it's wasteful and sometimes brands request multiple posts about their $20 salad spinner or whatever and I'd rather just buy and share what I like… but I thought these were cute for winter. Most of my boots aren't very comfortable for all-day walking, are too fancy, or too high. I ended up wearing these every day we were there, fresh out of the box, and no breaking them in. (Yes, a risky move.) I liked that they were cute enough to wear to a show, but comfortable enough to walk around in all day, and didn't give me a single blister. Wins all around.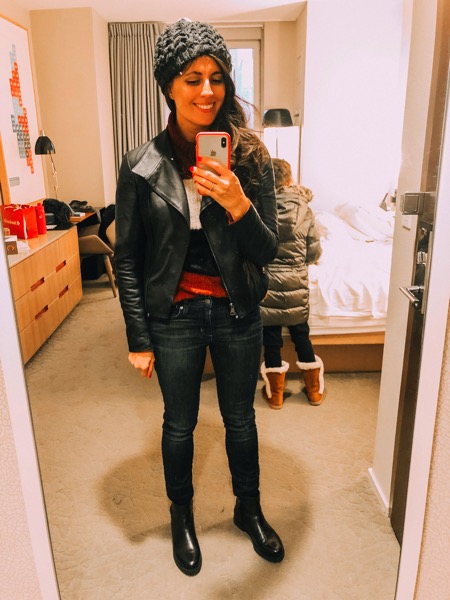 (with these jeans, this jacket <— on sale, and this sweater)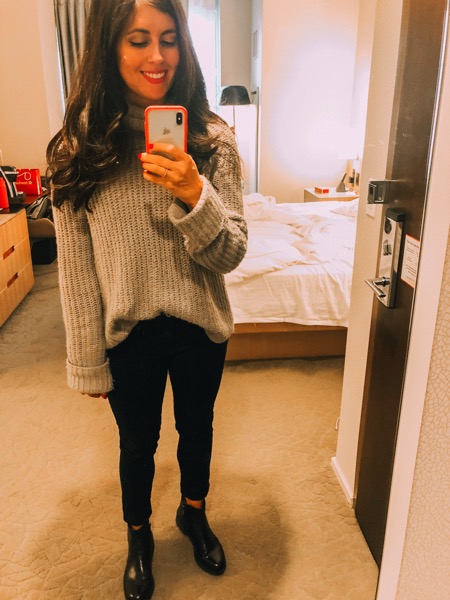 (with these jeans and similar sweater)
I really enjoyed a special weekend with Liv and had such a wonderful time with her; something I'll always remember. I think NYC is still a bit too much walking for P and the shows might have been a tad long for her. Also, since her eardrum ruptured she can't fly again for a couple more weeks. 🙁 She had the best weekend with the Pilot and it was fun that they got to spend some time together. He took her to Chuck E Cheese, jumping at Get Air, to a birthday party, and to Friendsgiving at Kyle and Meg's house. I missed that little goose so much!!
Now we're back in town with the fam and I'm starting to get pumped for Thanksgiving. This morning, I'm off to tackle my exploding inbox and get some work stuff done before a fun crafting party with friends.
Have a wonderful day and I'll see ya soon!
xo
Gina