It was quite a whirlwind of a weekend,
which ended with the best little thing possible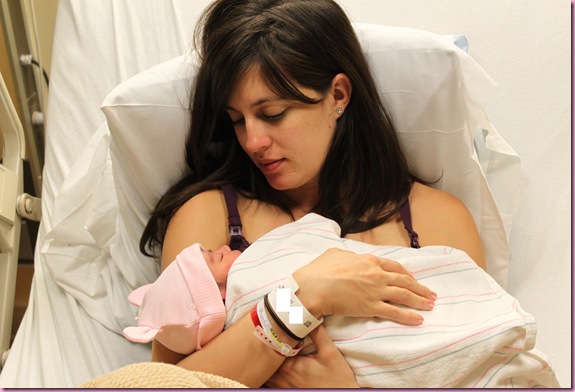 and a new little family starting to get in the swing of things.
Thank you again to everyone for all of the congratulations and love- we've loved reading your amazing comments and tweets, and the the realness of everything didn't hit me until Tom was putting Baby's carseat into the car to drive home. Major waterworks over here… I feel very blessed and thankful <3
I'm really excited to get the hang of things now that we're back home and can't wait to share the birth story with you guys. For today, here's a very special guest post my good friend Heather:
Hi, I'm Heather from Heather Eats Almond Butter. Many thanks to Gina for inviting me to share guest post on her blog, one of the first I ever read. Gina, I'm honored! I wrote this post several weeks before Gina's little one was due to arrive, but by now she should be cradling her beautiful baby girl in her arms. Gina, many congrats to you and The Pilot. I could not be more happy and excited for the both of you, and I know you're going to make amazing and wonderful parents! I became a first-time mom myself in November of 2010, and I thought I'd share a few things about motherhood that surprised me.
8 months pregnant and eagerly awaiting the arrival of our baby girl.
First off, I never thought I would be one of those women who loved being pregnant, but once the nausea wore off around week 14 or 15, I truly enjoyed the rest of my pregnancy, and I don't think I have ever felt so comfortable in my own body. Still miss feeling those little kicks and hiccups!
As far as labor and delivery goes, of course I planned and planned which everyone told me not to do. We hired a doula. I was going to have a natural birth. The baby would enter into a calm, quiet environment smelling of peppermint and lavender essential oils while my favorite music played in the background. Um, yeah, not quite. Our daughter arrived happy and healthy, but there was pitocin, crying, and an epidural involved. Now I'm of the mindset of get the baby here. A healthy baby is what matters most.
I never realized how sore I'd be the days following birth. There were stitches involved, and let's just say that for a few days, my husband didn't realize my Boppy pillow was for breastfeeding. He thought it was some type of donut cushion for me to use when I sat on hard surfaces. All I can say to any woman about to give birth: stock up on the ice packs at the hospital and take lots of sitz baths when you get home!
Breastfeeding – I had big dreams. I'd read all the books. I had my nursing bras and pads all ready. I figured we might have trouble with getting a good latch at first or I might be sore, but I'd never thought I'd have to deal with a low milk supply. However, I did, and after 6 months of trying just about everything, I stopped breastfeeding and returned my rented pump to the hospital. I learned never ever judge a mom for giving her baby formula as sometimes it's the best option available. Again, do what you have to do to keep your baby happy and healthy even if things don't go according to plan.
I had no idea how much sleep babies truly need. Of course I was going to be the hip mom wearing my little one all over the place. She would sleep on my chest and life would go on as usual. There would be lots of walks, hiking, and coffee dates with my friends. Again, so much for planning! We do take plenty of walks, and I meet my friends for coffee all the time…just not during nap time. We plan our lives around the nap schedule, and although it's challenging at times, everyone is much happier when baby gets all the sleep she needs.
There are many more lessons I could share with you, but I'll close with probably the most important one learned over the first year of our daughter's life: Things don't always go according to plan when it comes to a baby, but that's okay. They're totally worth it. She is so very worth it!
Our daughter on her 1st Birthday.
_______________________________________________________________________________________________
Thank you so much to Heather for the guest post <3
What's the #1 piece of advice you'd give to a new mom?