One of the most challenging things in the first couple of weeks was having no idea what the cries meant. All I knew was that they broke my heart, and I immediately wanted to figure out what was wrong and what we needed to do to fix it.
A Facebook friend left this video on my page:
Extremely fascinating, and pretty darn accurate.
According to Priscilla Dunstan, babies have 5 words that the use to describe their needs. These words (or sounds, rather) are universal- so a child across the world would use the same sound to indicate hunger as one in the US might.
The video thoroughly explains each sound and is definitely worth a watch.
There's also a DVD, which I haven't seen, but think would be awesome to watch during pregnancy: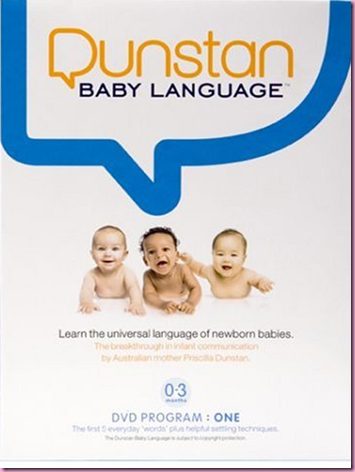 Source
Even though Livi's sounds aren't exactly the same as the ones she describes, the indicators and body language are. For example, her "hungry" cry doesn't sound like the "neh" in the video, but she brings her tongue to the roof of her mouth. The "burp me" and "gassy" sounds are dead-on, and while we sometimes still have to use process of elimination over here, it was a very helpful hint into what her cries mean.
How long did it take you to decipher your baby's cries?
Friends sans kids: what's the worst place you've been stuck next to a crying baby, or the worst tantrum you've witnessed? I'll never forget when I was at Target in Valdosta and a small girl in the cart reached up and slapped her mom across the face, hard. The mom picked up the girl and said " You hurt me, so we're going home and not buying any of these toys." The girl shrieked her face off and the mom impressed me so much with how calm she was.