Hi friends! Happy Monday! I hope your morning is off to a wonderful start.
What a weekend. Betsy and her fam spent a few days in Tucson with us, and we spent time together at the pool, checking out some of our favorite spots, and eating all the good stuff.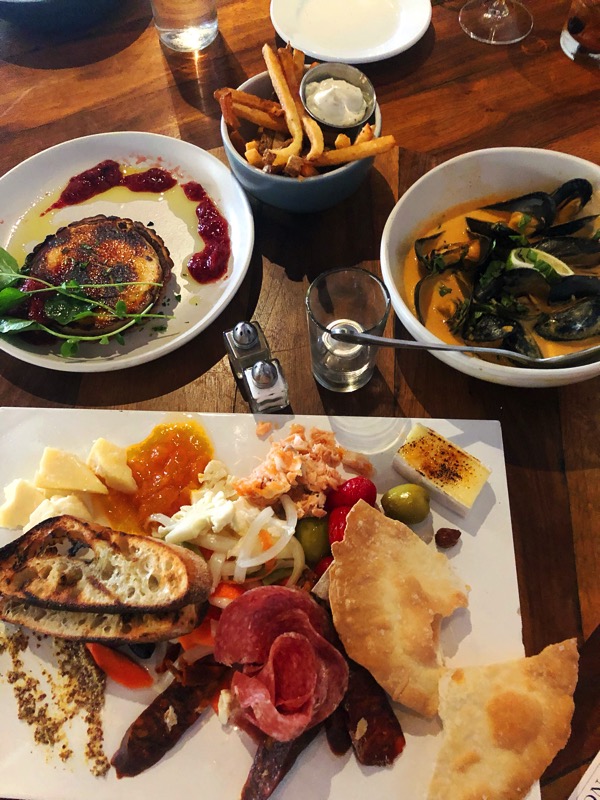 Friday morning, we hit the hotel pool bright and early. The kiddos played and splashed around for 3 hours (!) while the adults chatted, drank prickly pear margaritas, and we all snacked on nachos and quesadillas. It feels like summer is officially here, and after a full day of swimming, we came back home for nap time and quiet time.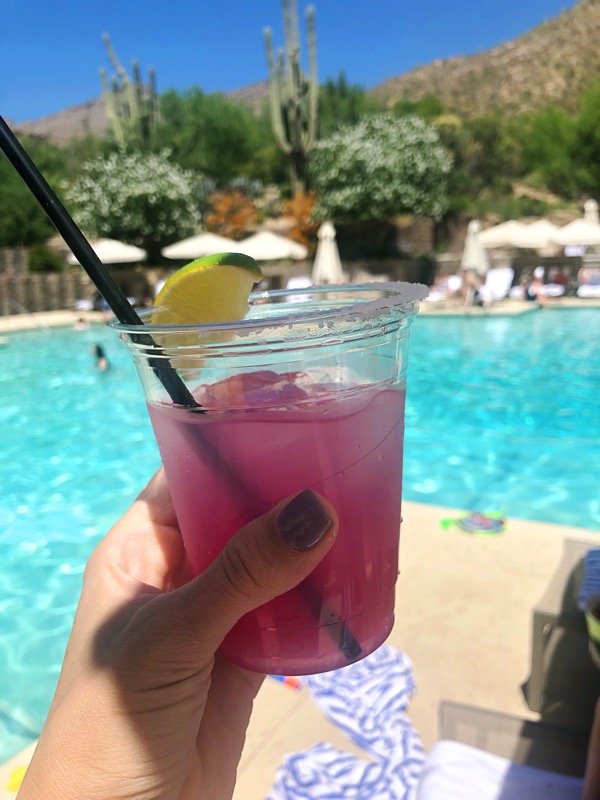 Later that evening, we had a get-together with the neighbors from our street. I wish I would have gotten a pic of the entire spread, but it was a legit feast. Our contribution: Uncle Eric's famous pasta salad (you need this in your life!), some brownies with peanut butter frosting, and a cooler of LaCriox. There was also an entire smoked turkey, BBQ ribs, beef with green chilies and homemade tortillas, three different types of salads, chopped fresh fruit, potato salad, handmade pork dumplings and mochi (!!!!), cucumbers in a red chili sauce that were out of this world, pies, cakes, and cookies. It was crazy!! We sat in one of the neighbor's driveways, eating and talking, while the kiddos played tag in the cul-de-sac.
Needless to say, we've moved around A LOT, and we haven't experienced anything like our neighbors in Tucson. I can't even tell you guys how many times different people on our street saved the day while Tom was gone. One changed the lightbulbs on our porch with his enormous ladder, another put a fresh battery in my garage clicker when he saw me standing outside trying to get our garage to open, and we were constantly surprised by baked goodies and treats while he was away. It's not unusual for me to get out of the car with the girls and a neighbor to run over with Fudgesicles for each of them. We try to share the love whenever I make fresh bread or enchiladas. 🙂
After our street party, we'd promised the girls we'd meet up with Betsy and the kiddos at Trail Dust Town, but by that point, they had headed back to the hotel, totally exhausted from a full day. We ended up taking the girls anyway to ride a couple of rides, and then back home for them to crash into bed!
Our Saturday adventures included an Orangetheory class,
miniature golf and bumper boats at Golf n' Stuff,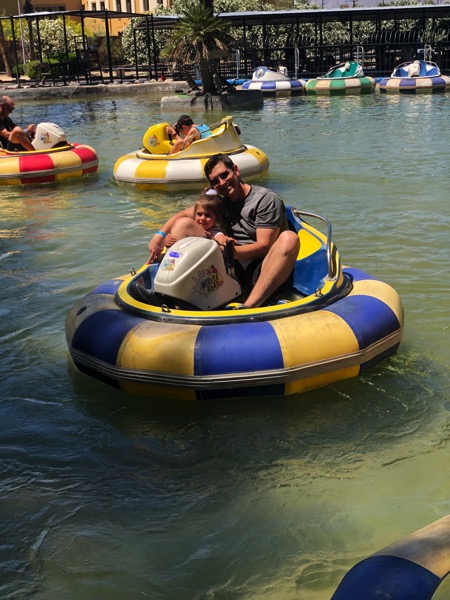 and dinner at Commoner & Co. Of course, we got the Chef's Tile and Goat Cheese Tart, the mussels,
and for my entree, I got the usual salmon. It has creamy mushroom risotto, crispy kale chips, and a lemon gremolata. I hope they never take it off the menu.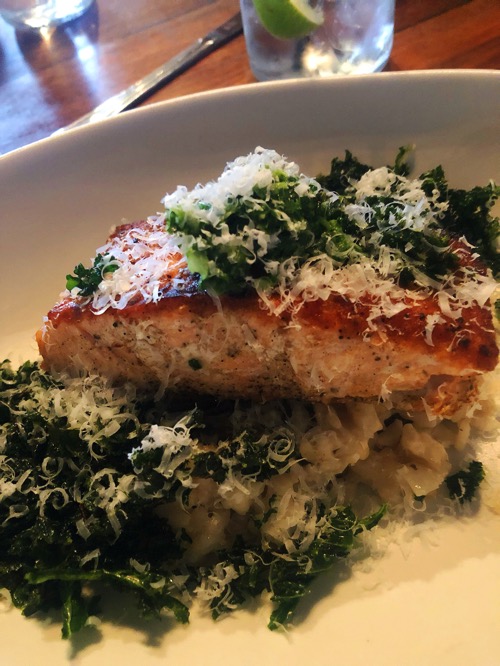 Even though we were pretty stuffed at this point, we headed across the street to Blue Ice for gelato. We enjoyed it outside on the patio, while the kids all danced around to the live music. It was perfect. <3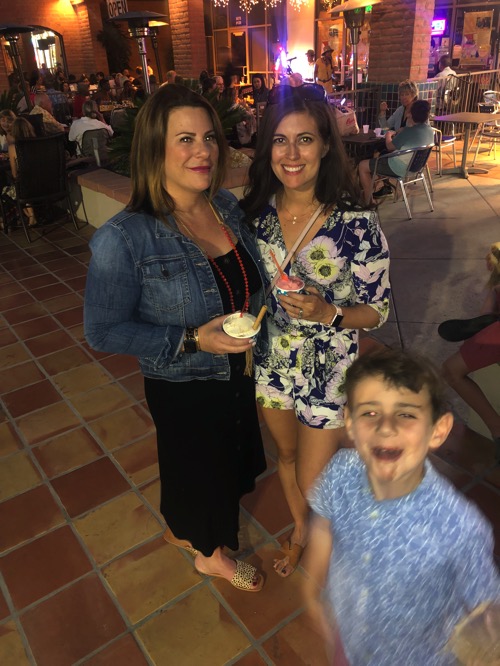 (Wy really wanted to photobomb us hahah)
The kids: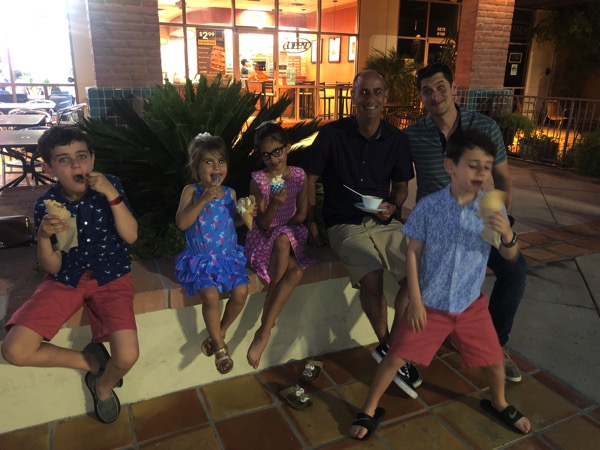 Sunday morning, Betsy and I caught an early barre3 class,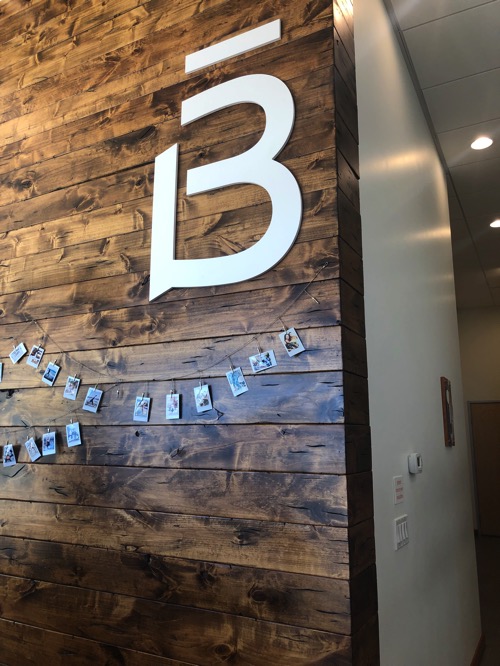 grabbed a green juice,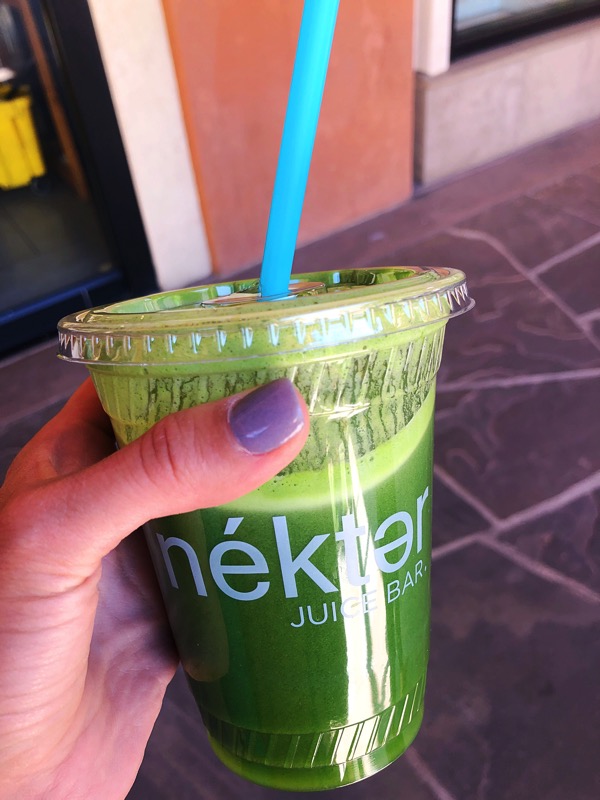 and then got ready to head to Ventana for their famous Blues, Brews & BBQ Sunday brunch. If you even visit Tucson over a weekend, this is a must-do. Just make sure to get reservations in advance. The spread includes the usual breakfast buffet fare (salads, omelet station, potatoes, Benedict, waffles, pastries, breakfast meats, etc), but they also have an outdoor BBQ with grilled fruits and veggies, mac n' cheese, Sonoran hot dogs, cornbread, and mashed potatoes. Inside, there's a full cold bars with shrimp, oysters, and sushi, and they have a giant dessert table with a chocolate fountain and any type of baked treat you could wish for.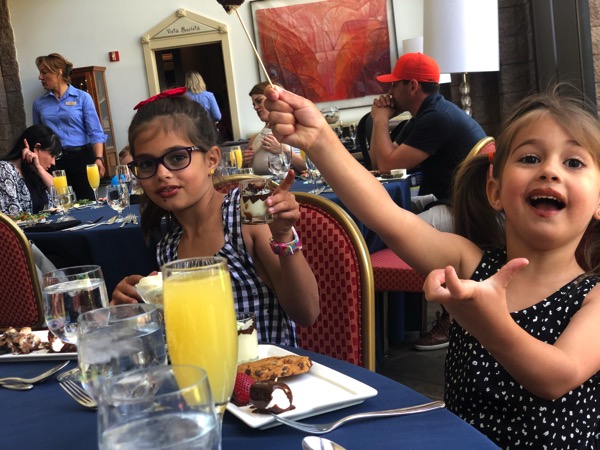 (Living their very best lives all weekend)
My first plate usually looks something like this: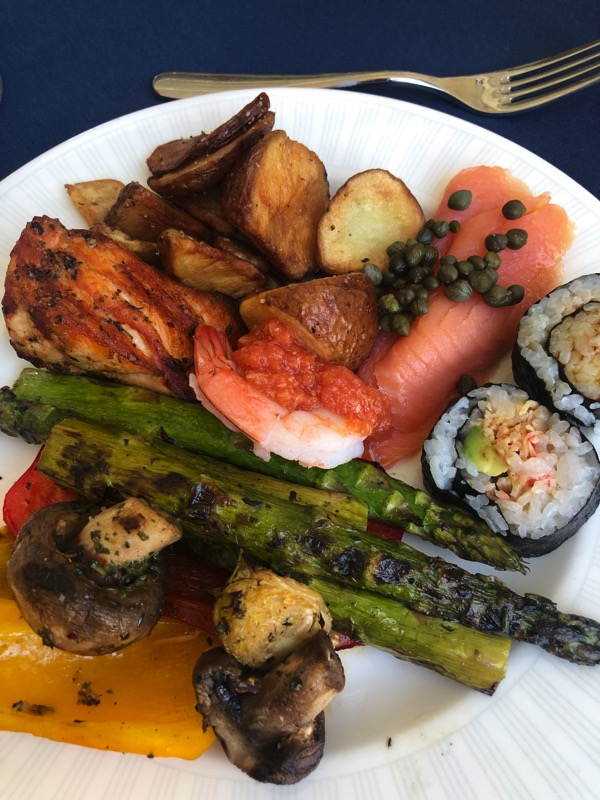 They also have endless mimosas, Bloody Marys, beer, and coffee.
After brunch, we went to the pool the spend the rest of the day swimming. The water was too cold for me and P – we're more hot tub kinda girls – so she napped on my lap in the shade. I could have spent the entire day out there, watching Livi swim like a mermaid, and the weather was absolutely perfect.
It was a great weekend with wonderful friends, and I'm pretty pumped that we get to see then again in a few weeks for our cruise!
For now, it's back to work for this girl. I'm starting to get everything together for Summer Shape Up and can't wait to share it with you in June.
Happy Monday, friends!
xo
Gina
Looking for a workout? I've got you, boo.