Awkward Pregnancy Moments
This whole gluten-free bun baking is awesome. 100% amazeballs, and 100% better now that the ill feeling has gone away (for the most part). I love thinking about the little nugget growing inside of me, researching baby items, getting together nursery ideas, skimming through the books I've read for more info and talking to other moms and soon-to-be-moms about their experiences.
Bonus points for:
-the ever-growing girls. Amazing.
-the fact that my clothes still fit (for now) – all of my lululemon tanks are looking a little strange, though
-hair! My hair has always been SUPER thick – now it's even thicker and the shiniest and healthiest it's ever been
-no "monthly visitor" for another 5 months or so
-extra foot massages and TLC from my incredible hubby
-ultrasounds and the fact that we *might* find out if it's a boy or a girl this Friday
As fantastic as it's all been, there have definitely been a couple of interesting moments in there too.
Awkward pregnancy moments:
1. Being asked if I'm pregnant in the least tactful ways ever.
To the people that know me well, it's pretty obvious that I have a baby bump. To strangers, I'm probably still in the "is she, or isn't she?" limbo phase, where they don't really feel like asking to avoid an awkward moment. That is, unless they're a guest at the resort I teach at and feel like asking anyway.
After Zumba on Saturday –which was AWESOME- a frequent resort guest came up to me and said "is there a baby in there or are you just gaining weight?" Of course I was pleasant to her and talked about it, but it was the second time it happened to me last week. When I told one lady that yes, I was pregnant, she said "good. I was worried that you'd been eating too many 4th of July cupcakes." Wow!! Thank goodness I AM pregnant, or I would have been a little offended. Or a thousand times worse: what if I lost the baby and had to answer that question?
I'm pretty sure the only tactful way to ask is during conversation, when you can say: "So, do you have any kids?" and the pregnant mom-to-be can say "yes, one on the way" or the non-pregnant woman, who wouldn't be offended in the least, can answer the question with whether or not she has children.
I've been making more of a point to mention it in the classes I teach –especially stretch since I can't lay on my back or stomach- but maybe until it's 100% my-belly-might-knock-you-over obvious, maybe I need one of these shirts?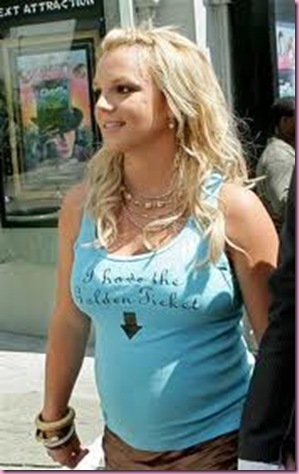 Bahaha.
2. The people at Maloney's on Saturday night who thought I was a pregnant lush.
My favorite mocktail looks deceptively like a real thing: club soda, splash of cranberry and a lime. It's pretty much the only thing I've been ordering to drink when we go out because the bubbles calm my stomach and the bit of cranberry and lime are super refreshing. The only way you can tell it isn't a real cocktail is because they serve it in a large soda glass instead of the short cocktail glasses.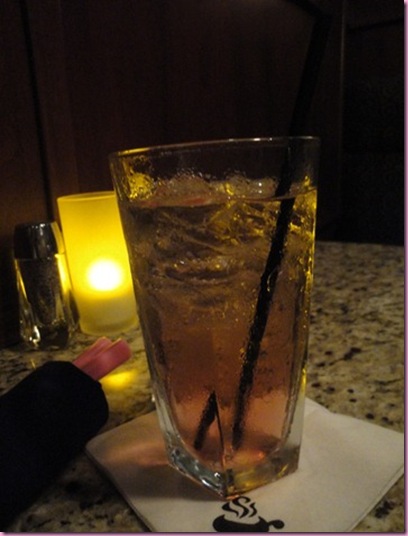 On Saturday night, we were walking to sit down on the patio, and as I walked past a group of people, belly protruding from under my maxi dress and mocktail in hand, they totally stared as I walked by. The judgment was… awkward… and I almost wanted to go tell them that it wasn't the real thing, but if they're ever looking for a good mocktail, it really is a great choice.
3. The spontaneous munchies.
It's funny because I've been snacking pretty much all day, which helps keep nausea at bay, but suddenly, I'll get hit in the face with a crazy hunger. It was snacktime and I was picking up some groceries at Sunflower Market today and the place was a madhouse. I was standing in a very long line, and started to get ridiculously, insanely hungry.. and a little dizzy. I looked into my cart and did something I don't think I've done since I was little- I ate something that I had yet to pay for. I dug into these brown rice chips like a savage beast.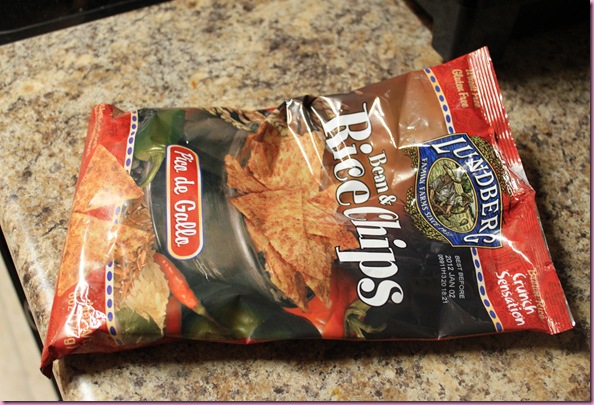 When I got up to the register and handed the cashier my half-empty bag of chips, she scanned it, glanced down at my belly and I *think* she understood.
I'm sure there will be many more awkward moments to come…