I haven't been able to feel the little lady kick and move as much as I'd *like* to.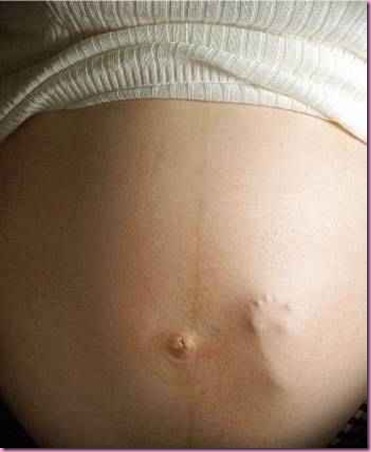 Source
[CRAZY pic!!]
It may take more time (? I'm almost 22 weeks), but everyone keeps asking me, "Are you feeling lots of kicks?!"
"Yes! I love it!"
Ehh, not really.
I'll feel little butterflies and pops, especially after having a little sugar. I ate a mango yesterday and she went ccrrrraazzzyyyy. But, I've been anxiously awaiting the time where I could be walking around and get kicked in the ribs. That's what I want.
So the other night, I was resting and went upstairs to the bedroom to lay down and read. I put my hand on my belly, and focused, trying to feel the baby kick.
Right where my hand was, I felt a solid PUNCH.
And that was it.
As if to say "I AM in here, you punk. Now stop freaking out."
_________________________________________________________
Since the baby can hear outside voices and sounds, we've been talking to her a lot more and I'd like to start reading books soon.
We have a song that I play for her almost every time we're in the car
[this is where the post gets mushy]
"Haven't Met You Yet" by Michael Buble.
He performed the song on Ellen and sang it to a pregnant woman's belly – the episode aired during one of the Pilot's many times away. And cried. I wanted him there with me and I wanted to be pregnant so badly.
It still makes me cry, but for very happy reasons <3