Homemade Baby Nibble Bars
When I first started to make meals for myself and the Pilot (I had no idea how to cook, and there were some legendary snafus), I finally got an idea of what it felt like to show love through food.
Cooking a meal for someone else is such a great way to show them you care about them, and the cooking process made me even more mindful and thankful for all of the care my mom put into our homemade lunches and dinners growing up. Every day, she made our breakfast and packed up a beautiful lunch to take to school.
Since I finally did learn to cook -it was a slow process, but practice makes better- it's been one of my favorite things to bake and cook dinners for other people. I live for dinner parties, taking appetizers and desserts to events, and now, cooking for Liv. I put so much love into everything I make for her, whether it's a simple scrambled egg yolk, or something more labor-intensive, like her favorite turkey lentil muffins.
And now, these little nibble bars.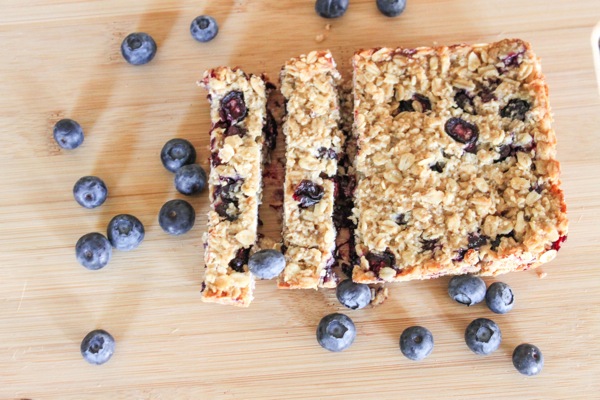 Homemade Nibble Bars
Before I try to recreate something at home, we'll try the store-bought version first. My friend Jeni taught me this trick, and it's a great one, because you can see if your baby likes something before making a ton to have on hand. Many of the combos I pureed at home were similar to those from store-bought pouches, and then I replicated them (for way less $$$!). It didn't take much time at all, and just like feeding the rest of the family, all you need is a little planning.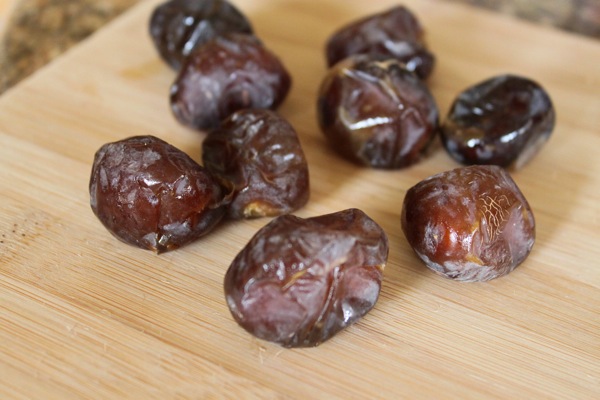 She tried a store-bought version of these a couple of months ago, when she didn't have quite as many teeth, so I just picked the raisins out of them. She seemed to really like them, but for the cost, it didn't seem worth it to keep buying them, since she'd eat about half and the rest would be saved, only to turn into a stale, crumbly mess and into the trash can. I ate the other half of a bar once and wasn't a huge fan. It was bland and dry- I figured it would be worth a shot to make my own version.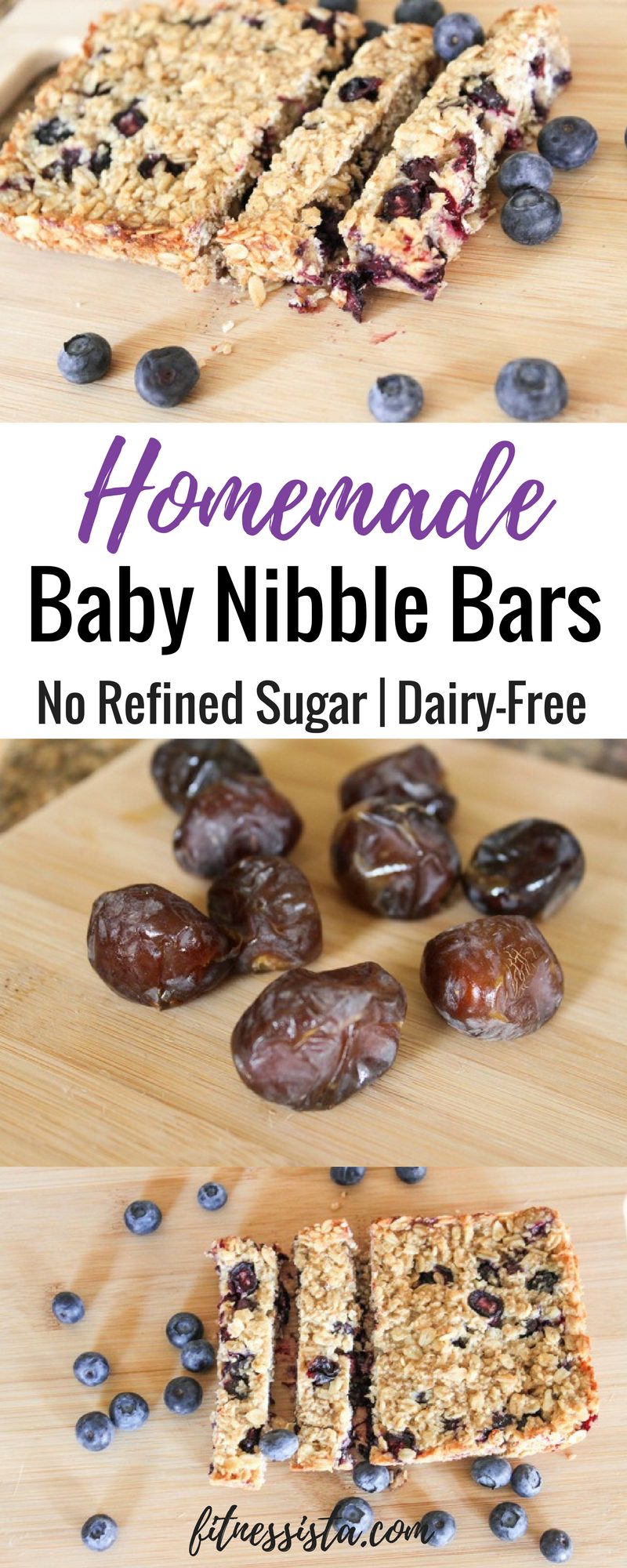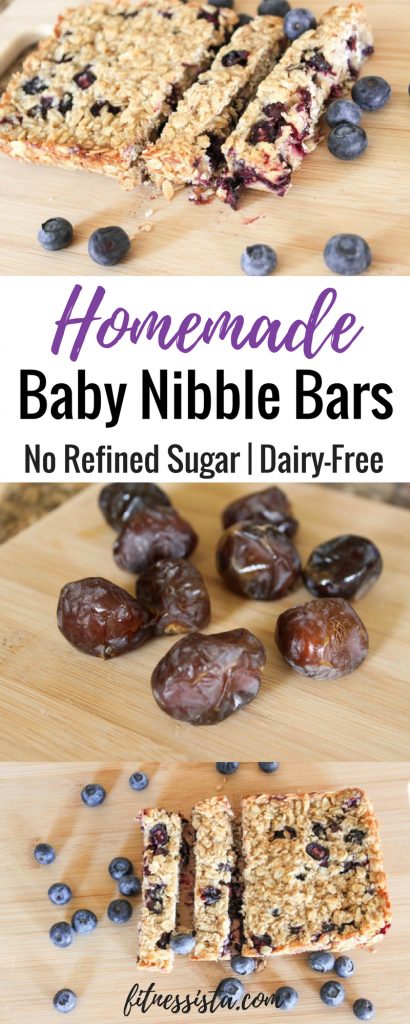 So, I experimented with a homemade version, with blueberries, one of her absolute favorite fruits. She recently learned how to say "blueberry" (it sounds like "Blue beh"), too 🙂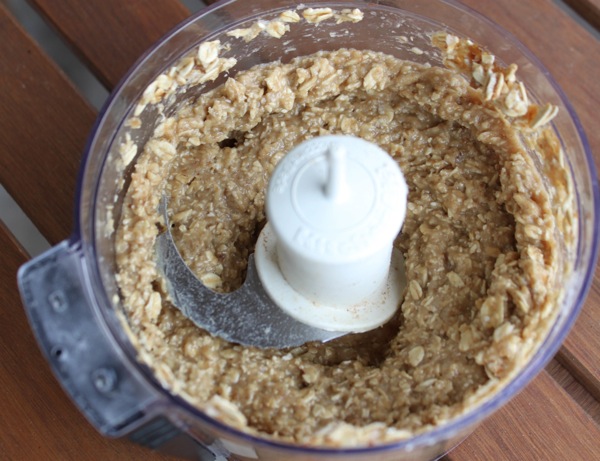 We had all of the ingredients on hand, and the food critic and I have been enjoying them immensely. Just slice and store, covered in the fridge.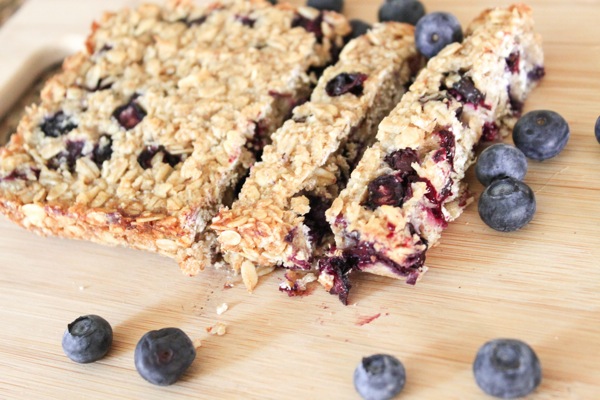 Here's the recipe for ya! I gave these to Liv at 12 months- as always, check with your pediatrician before introducing new foods for your baby. Adjust the recipe as you like to suit your family's preferences.
Homemade Baby Nibble Bars
Gluten-free, dairy free, refined sugar free
1 1/2

C oats (old-fashioned)

1/2

C pitted dates (I used a supersoft variety, but if you're using medjool, soak them in water for

1

–

2

hours first)

2

T coconut oil (butter would work well, too)

2

T water

1/4

t cinnamon
pinch salt (optional- a tiny pinch brings out the sweet flavors of the fruit)

1/2

C fresh or dried berries of choice (we used blueberries -I chopped the large ones in half- but chopped apple, pear, dried cranberry or raisins would be lovely, too)
Instructions
Preheat the oven to 350* and spray a loaf pan with olive oil. You can also grease it with a little butter or coconut oil.
In a small food processor, add 1 C of the oats, the dates, oil/butter, water, cinnamon and salt. Pulse well to fully combine the mixture and thoroughly chop the dates.
Transfer the mixture to a medium bowl.
Stir in the remaining 1/2 C oats, the berries and press into the loaf pan.
Bake for 35-40 minutes at 350, until golden.
Let cool completely (this is the tough part!), then transfer to the fridge to harden. After the mixture has chilled, it's easily cut into long strips to be stored in the fridge. The bars are a little crumbly (storing in the fridge helps them retain their shape), but extremely delicious.
Hope you and your family enjoy!
xoxo