Baby Whisperer to the rescue (again)
When Livi was an itty bitty baby, "Secrets of the Baby Whisperer" was one of my bibles. (Here are some of my favorite childbirth books and newborn books.) It helped us learn to recognize her cues, respect her needs and get us on a solid routine. I highly, highly recommend it.
Of course, you get to a certain point where the same strategies don't really apply. Like, when your child decides they really like the word "No."
"Livi, time to change your diaper."
"NO! I nice and clean."
"You need a fresh one. I can tell! Come here."
"No. No. No. No" (running away)
While some things are still super easy and fun, some basic things have become a battle, and I've hated to hear myself negotiating and rationalizing with her. ("Come here for a fresh diaper, or we can't get dressed and go anywhere. We'll be stuck here at day and can't go play with your cousins.")
We're officially in the land of "Terrific Twos" and I've found myself stumped lately when the "no" parties begin.
Once again, baby whisperer to the rescue. I just started reading this last night, and have found some lovely tips that I've used today (and have worked!).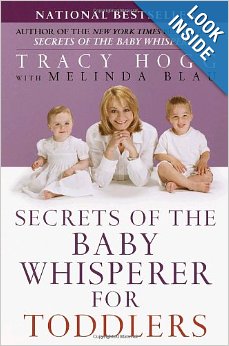 I appreciate the fact that the author adamantly discourages spanking and encourages respecting the child while teaching them to behave well, especially when it comes to social situations and other kids.
Livi likes to stand on the couch, and we have to tell her to sit down on her bottom every time -one thing I've known with kiddos is that you have to be consistent about everything, or they learn they can get away with it- and today, using Tracy Hogg's tip, I said, "If you can't sit on your bottom, you can't be on the couch." She sat down. It was amazing.
I'm already sucked in and can't wait to finish it. Have you read any amazing toddler parenting books? I like to read as many as possible and pick and choose which pieces to implement.
We had a few hilarious quotes this week, but here is the only one I can remember, because it made me laugh so hard:
Livi (looking at my mom's Christmas tree: Look! Mama, it's an angel.
Me: Who do we know that's an angel?
Livi: ELVIS.
What?!