Back in the Swing of Things
Hi guys! How's your day been? Hope it's been bueno

Loved reading about the best parts of your weekend!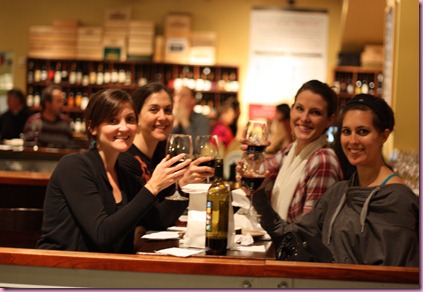 (Drinking vino at a wine bar with the girls was of the many weekend highlights!)
Michelle and I woke up before the sun to make it to the airport to catch our flights home. It was such an incredible festival, but it always feels good to go home and get back in the swing of things.
On my first flight, I munched a baggie of Pure2Raw flatbreads.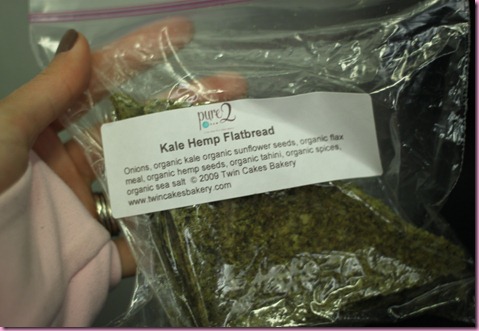 (Side note: thumbholes on jackets are awesome)
These flatbreads are SO good. The original plan was to have one flatbread and save the other two for lunch tomorrow but it didn't work out so well

I make my own raw flatbreads, but they aren't the same… and things always taste better when someone else makes it, too

I proceeded to put my eye mask on, and crash out for the entire flight to Denver
On my Denver to Orlando flight, I munched the other half of last night's Café Gratitude dinner– a macrobiotic bowl with shredded kale, almonds, quinoa, a tahini dressing, sea vegetables and kim chee. It was my first time trying kim chee and I LOVED it- very similar to sauerkraut. Fermented veggies are always ok with me

The original work out art: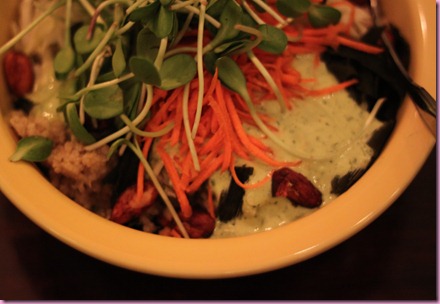 The do-agains were topped with half an avocado that Michelle bought at Saturday's farmer's market for us to share. It was HUGE- so creamy and buttery. I die.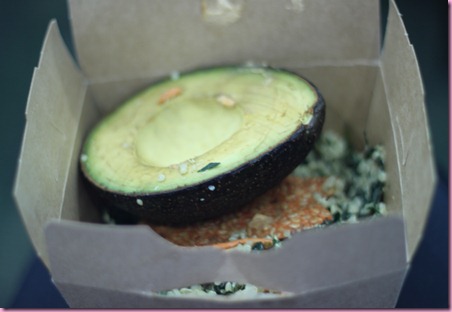 The second flight was pretty uneventful, but I spent my time planning meals (and new recipes!) for this week, chatting with my airplane seatmates, workout post ideas, and writing my goals down for work.
We're displaying our framed goals in the store, and I've had the hardest time narrowing them down!
I feel like my life wants to take me in a thousand different directions, and trying to prioritize them is so challenging- especially with not-so-minor details like the fact that I have no clue where we'll be living this time next year

Here are some of the things that made it on the list:

-Work to make my little blog more fun and informative, thus increasing readership

-Sign a book contract (still!!! Need to get my new proposal finished and sent out to the world)

-Meditate 30 minutes a day (For now, I've been using yoga as my meditation time)

-Open a Dance Trance studio (I'd like to do this the next place we live!)

-Become a Key Leader at work (I'm hoping this one happens supersoon)

-Have a baby (Not supersoon though… you need two people for that game, haha)
Well I'm off to unpack and do laundry and then grocery shop. So excited to COOK again!

See ya in the morning <3
xoxo
Gina
Something to do: Ab burner!
Frog crunch (15)
Bicycle crunch (12 on each side)
Feet up in the air, touch your toes (15)
Hands underneath your hips, lower your legs towards to floor for 10 seconds, up for 5 seconds, down for 8 seconds, up for 3 seconds, down for 4, up for 1 (repeat this 3 times)
Flip over onto your belly and come up into dolphin plank- hold 30 seconds
>:)