Barre HIIT workout you can do anywhere
Hi friends! How's the week going? I hope that you have an enjoyable week ahead and those who will be traveling enjoy safe and seamless travels. We're on the way to Tucson this morning and I CAN'T WAIT to see everyone! It's going to be the best ever.
For today, I have an all-new workout for you! This is a combo of my two workout loves: barre and HIIT! Barre will give your muscles a burn unlike anything else, and HIIT is an effective way to blast calories, strengthen your heart and improve performance. Cheers all around. You can do this workout anywhere! You don't even need a barre; just a sturdy piece of furniture or the back of a couch. Here I am using a random bike rack in downtown Valdosta. Just do what you need to do!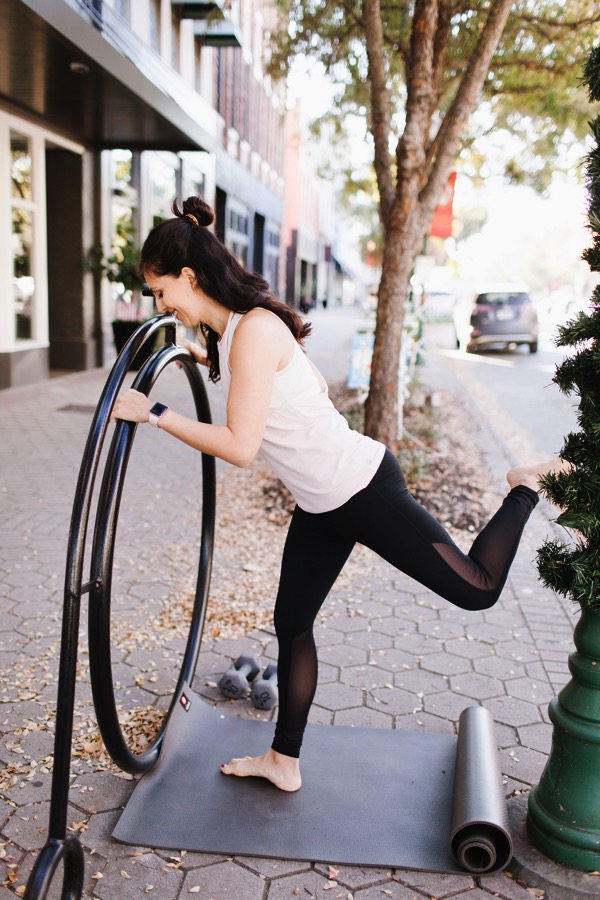 (Fabletics Polly leggings and Ciara tank)
As always, talk with a doctor before making any fitness changes and modify as needed.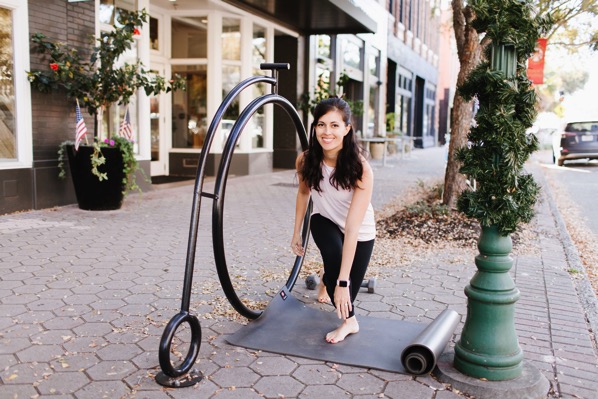 Here's what the workout looks like.
Barre and HIIT combo workout:

Form cues and tips:
Curtsy lunge (and pulse): Cross one leg back and behind the other, and come down into a curtsy lunge. The front foot stays flat on the ground and the back foot has the heel raised off the floor.
Heel taps: Stay in your curtsy lunge and bring your weight into your front foot. Lift the back foot off the floor to tap your front heel and tap back to your cursty lunge position.
Pulse on 1 leg: Bring your weight into your front leg and take a deep bend with that leg as you hinge forward and lift your back foot off the floor. (Keep the back leg bent.) Pulse your front leg by bending deeper and exhale to lift.
Skaters: Start with one leg forward, and toes angled out 45 degrees. Step your other foot totally back behind the front, so that your foot is behind the opposite shoulder. Sink low into a curtsy lunge, rise, and then step to repeat on the opposite side.
Plie squat with heel raises: Step your feet out at least shoulder-width and sink your hips down into a squat. Try to get your thighs parallel to the floor, and touch the floor. As you lift and lower your hips with control, lift one heel off the floor. Repeat on the opposite side.
Plie squat jumps: Step your feet out at least shoulder-width and sink your hips down into a squat. Try to get your thighs parallel to the floor, and touch the floor. Exhale to jump up, and land in a soft squat.
Barre burpees: Sit into your low pile squat and bring both hands to the floor, firmly planting your entire hand. Walk or hop back to a plank position (push-up here optional), walk or hop your feet back to a plie squat, and jump vertically, raising your arms overhead.
Lunge tap the floor alternating legs: Get into a low runner's lunge position and touch the floor. Keep your abs engaged and chest lifted. Powering through your heels, spring up to switch sides. Repeat.
Donkey kick: Start on all fours, with your knees under your hips and hands directly under your shoulders. Keep your core pulled in. Keeping your leg bent, lift it off the floor, pressing your heel towards the ceiling (keep that hip pointing down towards the floor). Lower down with control to repeat. Make sure to gaze towards the floor so your spine remains neutral.
Mountain climbers: Get in plank position with your wrists under your shoulders. Bring one knee towards the elbow on the same side. Move back to plank and switch to the opposite side. For more of a challenge, move as quickly as possible.
Chest press with leg raise: Start on your back with legs bent and feet flat on the floor. Hold the weights out to your sides at 90 degrees. Squeeze your glutes to lift your hips, keeping your upper back pressing into the floor and hips parallel to the floor. As your hips lift, press the weights in front of your chest, performing a chest press. Lower down towards the floor and exhale to rise back up.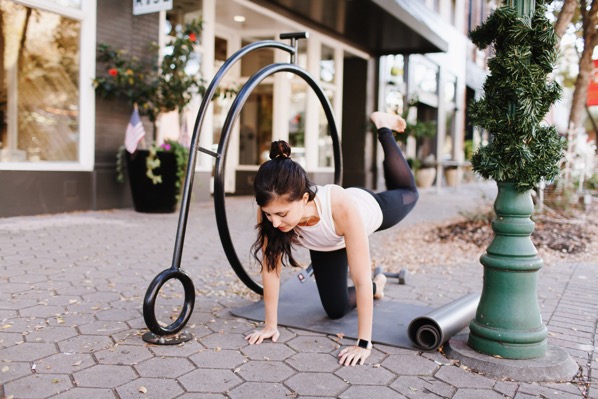 Please let me know if you give it a try!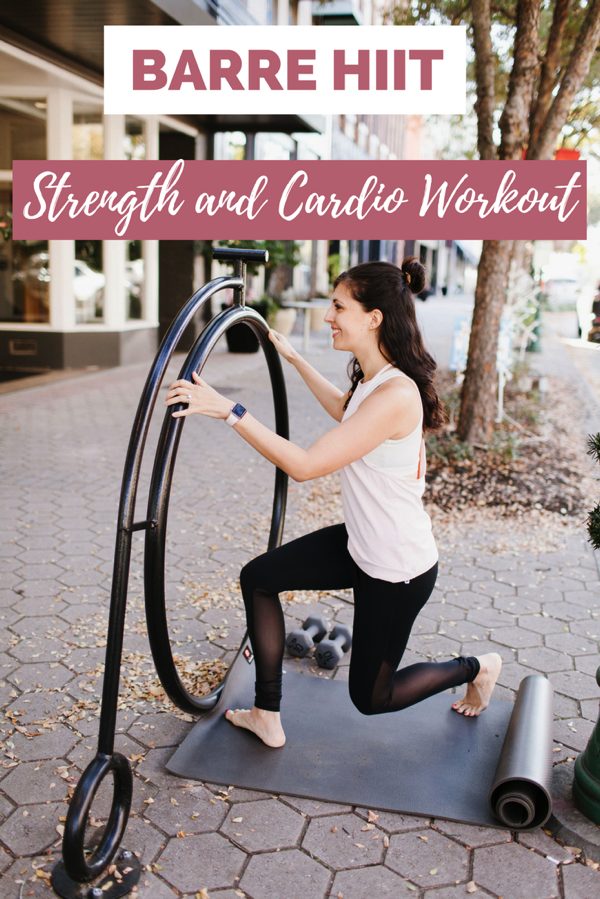 What's your workout plan of attack this week? Will you be traveling and exploring, taking classes, or sticking with the usual routine at home?
I'm pumped to catch Orangetheory, (r)evolve spin and barre classes while we're in T-town. (When I'm not catching up with the fam and face-diving into the tamales.)
xoxo
Gina
Wearing Fabletics Polly leggings and Ciara tank
Photos: Lindsay Colson