Hi friends! Happy Thursday! New post up here on the PBB site for my postpartum mamas.
How's the day going so far? We're just hanging out, enjoying the awesome weather, and I'm excited to take a barre class later today.
This morning, I have a new workout for you!! This leg workout is barre-based, which is one of my favorite ways to train. This workout focuses on muscular endurance, so it's higher reps, low weight, and is a great way to build strength and increase muscle without lifting super heavy weights. It's also a fun way to challenge your legs in an entirely different way. If you're used to more traditional strength training, barre burns in the best way possible. 😉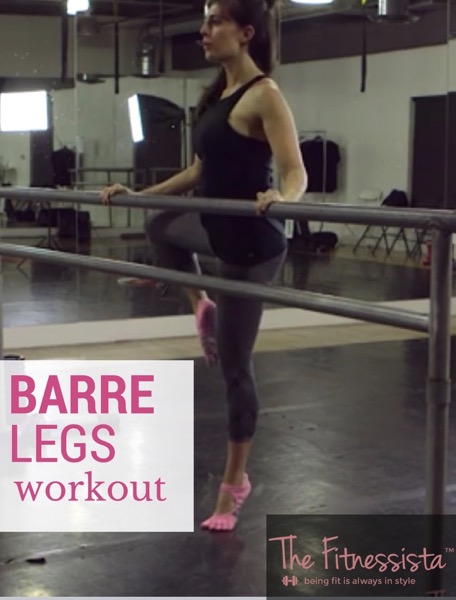 The workout:

Form cues and tips:
Curtsy lunge: Cross one leg back and behind the other, and come down into a curtsy lunge. The front foot stays flat on the ground and the back foot has the heel raised off the floor. For the next set, you'll keep this position and raise the heel of the front foot. You can choose to remain here for the next set, or layer on with the passe option.
Plie squat and passe: For this squat variation, you'll take a SUPER wide stance and turn your toes out. As you sink down, keep your chest lifted and endeavor to get your thighs parallel to the floor. Make sure your knees extend towards your toes but not past your toes. As you rise from the squat, perform a passe at the top, bending the top leg.
Skaters with ballerina arms: Start with one leg forward, and toes angled out 45 degrees. Step your other foot totally back behind the front, so that your foot is behind the opposite shoulder. Sink low into a curtsy lunge, rise, and then step to repeat on the opposite side. Option: add "ballerina" arms in second (out to the side as you step out) and high 5th (overhead as you curtsy lunge).
Plie squat jumps: Get into a squat plie squat position (feet wide and booty LOW), and touch the floor. Keep your abs engaged and chest lifted. Powering through your heels, spring up, reaching your arms towards the ceiling. Land with a soft knee. Repeat.
Calf raise with balance option: Bring your feet into 1st position, glueing the heels together and toes pointing out at an angle. Lift your heels off the ground. Lower the to the ground,but don't let them touch the floor between lifts. For the grand finale, hold the highest point, grounding into your big toes, squeezing your glutes, and extending your arms overhead (keep your shoulders relaxed).
Quick video tutorial:
Please let me know if you give it a try!!
What's your favorite leg exercise?? Any barre accessories you're loving lately. I want to get a couple more pairs of sticky socks since I can only find one of each set… :/
Happy Thursday, friends.
xoxo
Gina
More of my favorite barre workouts here, here, here, here and here.
Video: Grant Hunker
Location: BreakOut Studios
Wearing: Lorna Jane tights, gapfit tank, Toe Soxx