It's been a crazy week over here.
-Tom flying nights (again- oh how I loathe night flights. When he gets home in the middle of the night, he calls me to wake me up so I can take Bella downstairs and hold her when he comes in. If she hears the door open from upstairs, she'll go insane and wake up the little one)
-teaching intense classes after two nights of no sleep. Livi has been sleeping through the night like a rockstar, then suddenly decided she missed her 3am feeding time, but added a 1am, 2am, 4am and 5am snuggle sesh in there, too
-and while I'm having a blast being back at teaching, my brain has failed me a couple of times. I forgot a merengue on Satuday and made it up on the spot- I'm pretty sure no one could tell, but they could definitely tell when I forgot my friend Melissa's name when we team-taught Zumba today. "Thank you so much for coming- you did an amazing job! My name is Gina and this is Mar… ma huh… uhhh….. Melissa!" I've taught with Melissa many times before and have known her forever.. and almost called her Marisa. WTH?! I felt like a goober, but we just laughed about it.
I don't mean to complain, but it's definitely been a more challenging week than we've had in a while. With everything going on, I've still been trying (and failing) to stay present and in the moment. It's definitely easier said than done.
It kind of gave me a reality check this afternoon. I was playing with Livi and while she was looking at the animals in her activity gym,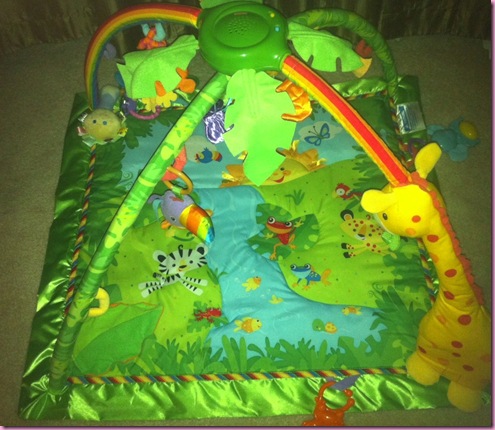 I ran to fill up my water bottle. As I was filling up my water bottle, I was making a mental list of the groceries we're out of and the stuff we need from Target, behind the scenes blog stuff I'd been neglecting, my overflowing inbox, what the heck we're going to have for dinner, etc.
When I came back, she had flipped onto her stomach and was looking around. It just made me think about how quickly she's growing, and in the grand scheme of things, all of the to-dos don't really matter.
I rolled her back over to her back, while cheering and smiling at her and said "can you do it again?"
She scrunched up her eyebrows like "watch this, mama," kicked her leg over, arched her back and rolled back onto her stomach.
She had rolled over a few times before, but not without some serious grunting. Now, she's flipping like a pro.
They say that babies grow quickly, and while I've believed it this entire time, it hit me pretty hard today.
So for now, I'm making a promise to myself to write things down instead of thinking about them,
every time I feel stressed out, counter that by focusing on something I'm thankful for
and ordering pizza for dinner tonight 😉