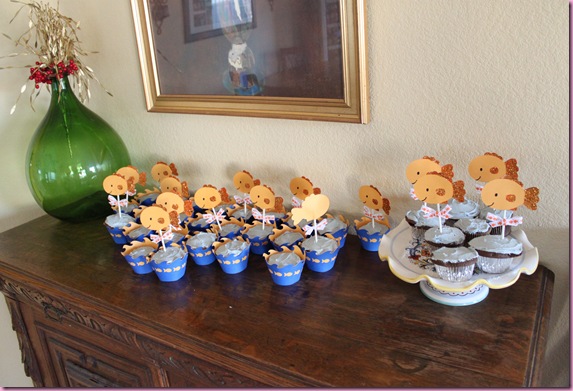 Baby's first birthday is a popular event in our squadron 🙂
It's a lot of fun because all of the kids can play together, the girls can chat and the guys can hang out.
It's funny because every time we all get together -pretty much every weekend- the talk ends up turning to how weird/crazy it is to see everyone with kids and the wild single guys who are now settled down and married.
We were very fortunate to come to Tucson, not only because I'm from Tucson and many of my friends and family are still here, but also because a lot of our original squadron family is stationed here. There was a group of us that initially went to Fayetteville, NC (then down to Valdosta, GA). Many of them moved to Tucson a year or two before we left –we got held in Valdosta an extra two lovely years- but we were reunited when we moved here last summer. We were blessed with an AWESOME assignment; 100% due to the fact that Tom worked his booty off to become an instructor.
Anyway, today we were talking about the shenanigans that went down at Carolina Lakes while we were in Fayetteville. There may or may not have been one occasion where I ended up wearing one of those rented sumo wrestling outfits. I have no idea who won. It was a time of partying on the weekends, but now everyone (including the single guys who used to drink bully me) is settled down, most with little kids running around.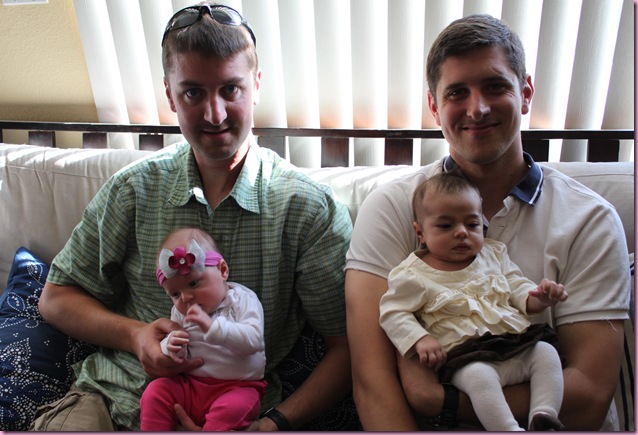 It's been really amazing to see our friends, and now ourselves, make the transition into parenthood. It's also been amazing to have a group of resources who know the military lifestyle and that I can always count on for honest opinions, advice and tips. At the same time, it's crazy to think about where we were and what we were doing 5 years ago.
This time 5 years ago, Tom was just getting back from his first of three deployments to Afghanistan. He stayed with me in Tucson for a month (I was finishing up school) then he went back to Fayetteville until I graduated the following May when I went to spend the summer with him. I was fresh out of college. It would be my first time meeting everyone else (who already knew so much about what being married or what being attached to the military was like), and I was really, really nervous about the Stepford wives stereotype I had in my brain. I thought they'd be snobby. I thought they might not like me. I didn't know if I'd find someone that shared my interests, but I ended up meeting girls that have been great friends ever since.
When I flew into Fayetteville, I rented a car and stayed two nights in a hotel waiting for the guys to get home. One of the wives was my contact point and kept me updated on their status, and I ended up staying awake the entire second night because I was so nervous and excited to see Tom again after all the time apart. When one of the wives offered to pick me up and drive me to base to welcome the guys, I was blown away by her kindness. She picked me up with her four kids, and we all chatted the entire drive the base… and when we got there, the other wives were quick to introduce themselves and make me feel welcomed. It ended up being the tip of the iceberg, and I had no idea how supportive and incredible the fellow wives in our squadron would be.
We had a lot of fun that summer. Everyone in our circle of squadron friends was either a single guy, engaged, or newly married at the time. The deployment was over, and the days were filled with fitness classes with my friends, swimming, and BBQs at night, partying at the lake over the weekend. And now, we fast forward in time 5 years and we're all changing diapers and talking about breastfeeding. The guys are still drinking beers, but it's a little more mellow 😉
The military lifestyle is extremely challenging, I'm hoping that it will help Livi foster independence, adaptability and the ability to make friends quickly that I've seen in other military children. Wherever we end up next, she'll be surrounded by kids she'll be able to relate to, and already has quite a few friends her age to hang out with.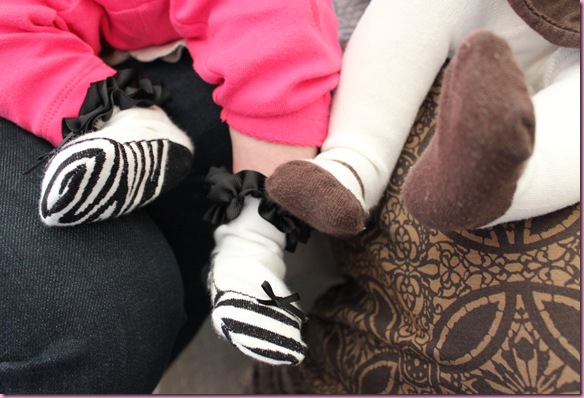 Rewind 5 years: where were you?