I'm obsessed with birth stories.
I love reading them, learning the details of such a significant day in someone's life, and am especially intrigued because everyone's birth story is so different.
I only know some of the details about the day I was born. Of course, I was late (a trait that has stayed with me for my entire life. Just the other night, I told Tom "Hurry! I told Mom we were going to be there early!" to which he replied " 'Early' is a word that I think you should never use. Ever"), and the whole shebang ended with my mom getting an epidural –which gave her the shakes- and a C-section since I refused to leave my water bed. My mom has told me what she remembers –she's had 3 kids- but there's something different and so special about reading about the sequence of events and emotions during labor and birth, written while the memories are still fresh.
This is one of the reasons I've read Ina May's book "Natural Guide to Childbirth" more than twice: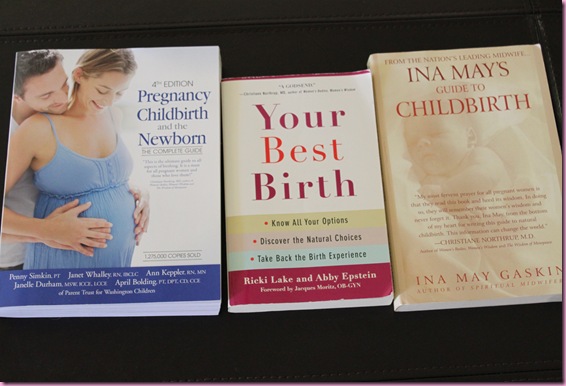 The first half of the book consists of entirely birth stories. Some of them are a little *out there*, but most of them made me cry happy tears. Every now and again, I'll pick a random page and read a birth story.
It's funny because when I first read Ina May's book a year and a half ago, the stories were interesting to read, but filled me with anxiety. I would start to read, and immediately get nervous. I still was getting over the fact that the baby actually does, indeed, have to come out from your body, and it freaked me out a little. Now, when I read the stories in Ina May's book, it fills me with excitement to know that our baby's birth story will be written within a couple of months. [And yes, it does still freak me out that the baby has to come out of your body, but I've found comfort in the fact that our bodies are designed for that. Once Tom said "It's going to be like pushing a watermelon out of your nose!" and I told him that noses aren't designed for watermelon pushing]
I've also really enjoyed reading all of the birth stories I can find online from blog friends and people whom I've never met.
Friends sans kids, do you enjoy reading birth stories, or do they creep you out?
Moms out there, did you write out your birth story? What's the most vivid memory of the day your child was born?