Blog survey results + Post Baby Bod is on the way
Hi friends 🙂 How is the morning going? I'm finishing up the touches on a recipe -it will be up this afternoon!- and going to get in a little cardio before I teach barre tonight.
So remember when you all helped me out with the blogiversary survey during giveaway week? I just wanted to say thank you again so much for all of your amazing feedback. Since I always love to see the results of similar surveys, I thought I'd share them here on the blog in case you were curious.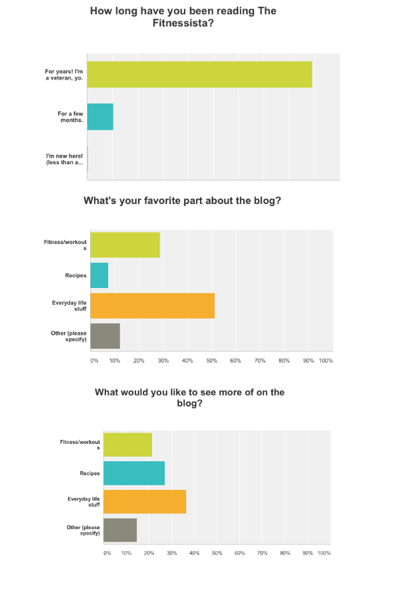 Thank you so much to those of you who have been reading for so long. <3 Many of you seemed to prefer more everyday life type stuff (which I had scaled back over the years, but am getting back into), in addition to the fitness/recipes/random mix of things I put up here. As far as what you'd like to see more of on the blog, fitness and recipes went back and forth in second place from everyday life stuff. They're my main focus, so I'll keep cranking away on putting together as many clean and delicious recipes as I can, in addition to sweaty, diverse workout options and calendars.
Next, I asked if there was anything in particular you'd like to see in the upcoming year. There were requests to revive some old features, and there were quite a few popular suggestions (like more fitness videos, WIAW, fashion/beauty posts, Livi-isms, posts about a healthy living mindset, balancing work/life/motherhood, strength training, Focus On posts, and holistic wellness). An overwhelmingly popular theme was pre- and postnatal fitness, which made me so excited to see because that's exactly the project I've been working on. I'm putting together a resource for pregnancy workouts and tips, and also a plan for new mamas who want to get back in the fitness game safely and effectively. I've been cranking away finishing everything up, and our test group will be starting the plan in July. Everything will be available this fall.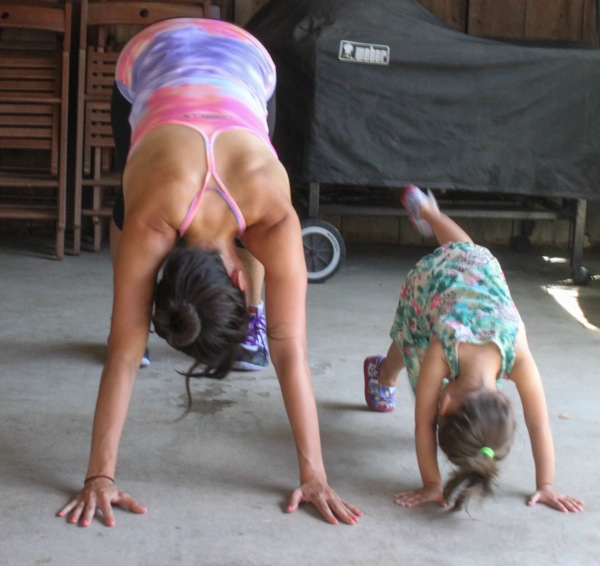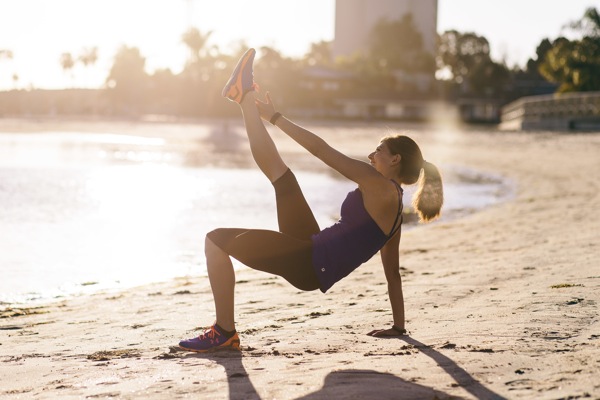 (Photo: Danny Chan)
I'm only going to release a limited amount of postnatal plans, because I want to be as active as possible on our closed Facebook page and allow time for potential Google hangouts or Skype seasons as needed.
If you're interested in getting first dibs (or have an expecting friend who may be interested, please pass this along!) please sign up below:
I'll send out all of the info when everything is ready to go! Pre- and postnatal fitness has become a huge passion of mine over the past few years, and I'm excited to share what I've learned and have created over the past year.
After our survey, I have pages of inspiration and content requests for 2015, and am so thankful to those of you who shared your feedback. This blog is OUR space, so it's important for me to include the stuff you want to see. As a way to show my gratitude, I asked what you would prefer…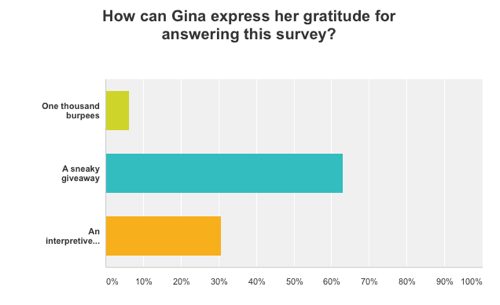 Even though I did start choreographing my interpretive dance, a sneaky giveaway it is. Enter here. 🙂
xoxo
Gina