Hi friends <3 It's our last day here in San Diego so we're off to explore before hitting the road! I'll be back with a fun re-cap tomorrow. In the meantime, here is another guest post from a wonderful friend, Anne. She recently set up her own RD practice if you're looking for some nutrition help. Hope you enjoy her post with awesome breakfast options 🙂
xoxo
________________________________________________________________
Hey, Fitnessista readers! I'm Anne, a Washington D.C. area Registered Dietitian and health/fitness blogger over at fANNEtastic food. A big thank you to my friend Gina for having me today.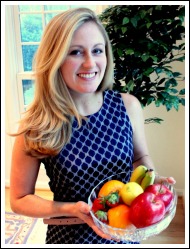 So – let's talk breakfast. No matter how busy I get, I always make time for breakfast. That said, sometimes (okay, almost always) I just don't have time to make a long winded elaborate feast – because let's be honest, the last thing we all want in the morning is a sink full of dirty pots and pans.
Each of these breakfasts is quick and easy to make, requiring only a few minutes of time and a microwave at most, and incorporates a healthy carbohydrate (fiber), healthy fat, and some protein. Having a mix of the three nutrients will keep you going strong until lunch time, so you can focus on your to-do list instead of your growling tummy.
—
1) PB&B – Peanut Butter & Banana Sandwich
This is one of my all-time favorite breakfasts. Insanely easy to make, very portable if you need to eat it in the car or once you get to work, and satisfying, too. Make sure the bread is toasted!
For my fellow runners, this is also a fabulous pre-long run breakfast – just make sure you either eat it early enough that you have a little time to digest, or only have one piece of toast if you're tight on time. For the bread, I recommend Ezekiel's sprouted cinnamon raisin bread – delicious, nutritious, and a little more protein than usual bread, too. It's usually found in the frozen foods aisle of places like Whole Foods.
Not a big peanut butter fan? Try it with a different nut butter – another favorite of mine is almond butter. Just make sure when you're buying a nut butter that the only ingredients are the nuts and maybe a little salt. Avoid any nut butters that have "hydrogenated" or "partially hydrogenated" on the ingredients list – that means trans fat, which is not good for you.
——
2) Egg, Avocado, Tomato & Spinach English Muffin Sandwich
I know what you're thinking – that sounds time consuming. But did you know you can actually microwave eggs if you're in a rush? Simply toast up an English muffin, and while it's toasting, spray a microwave safe bowl with cooking spray, crack two whole eggs into it and whisk, then pop it into the microwave for about a minute. Check on it to make sure it's fully cooked and give it more time if necessary. It should be nice and fluffy and easy to take out of the bowl and put on your sandwich! Top it with 1/4 of an avocado, a sliced tomato, and a handful of baby spinach. Add a little salt and pepper on there, too, and if you want, a dash of hot sauce.
Wrap it up in tin foil and eat it on the go or at work – or enjoy it at home if you have the time.
—-
3) Homemade Microwave Oatmeal
Microwave oatmeal can be awesome if you make it properly, and it's seriously just as easy to make your own homemade microwave oatmeal as it is to open one of those packets of oatmeal. I never recommend the pre-packaged oatmeal packets because they're full of sugar, low in fiber, and you'll be hungry again a few minutes later. My version of microwave oatmeal is just as fast and way more delicious! Eat it at home or put all the ingredients into a to-go container and heat it up when you get to work.
For a full recipe, check out my Perfect Microwave Banana Oatmeal (if you want more toppings and less oatmeal, use 1/3 cup each oats and milk instead of 1/2 cup each). The banana is the key – that and using milk (or a non-dairy alternative) instead of water to give it a nice flavor, and to add a little protein.
Want to amp up the protein content even more? Throw an egg in there, too! Whisk it in with the rest of the ingredients and microwave as normal. Another option is to top the oatmeal (once cooked) with 1/4 cup of cottage cheese or Greek yogurt – these will both add protein as well. The other topping variations are endless, but my favorite is some fresh blueberries or slivered almonds.
Another variation to try is my Pumpkin Pie Oatmeal – also microwavable and delicious!
—
4) Yogurt/Cottage Cheese Mess
The simplest breakfast of all – simply throw a bunch of stuff into a tupperware and race off to work. Or eat it at home before you rush out the door – either way!
In a bowl, simply mix 1/2 cup plain Greek yogurt (Greek yogurt has more protein than regular yogurt) or cottage cheese (or a mixture of both), 1/4 cup raw oats, cereal, or granola, 1 to 2 tablespoons of chopped nuts (I like slivered almonds), and then whatever fruit you like – I love sliced banana and berries, but anything will work. For a banana-free variation, check out my Cinnamon Yogurt and Cottage Cheese Mess.
—
So there you have it! Four of my favorite quick, healthy, and portable breakfasts. You officially have no excuse for skipping breakfast.
What's your favorite quick, healthy, and portable breakfast? Let's share some new ideas!
—
p.s. If you have a little more time in the morning (or time to bake over the weekend), check out a few of my other favorite breakfast-worthy recipes: