cheers to the v-day weekend
Hiiiii 🙂 How's the day going? Hope that those of you who are off work today are enjoying the holiday! I taught BODYPUMP this am, Liv had her gymnastic class, and I'm hoping we can make a little beach stop. We can never stay away for too long.
Valentine's weekend was filled with the good stuff.
I made a quick stop at Whole Foods and meandered around the roses,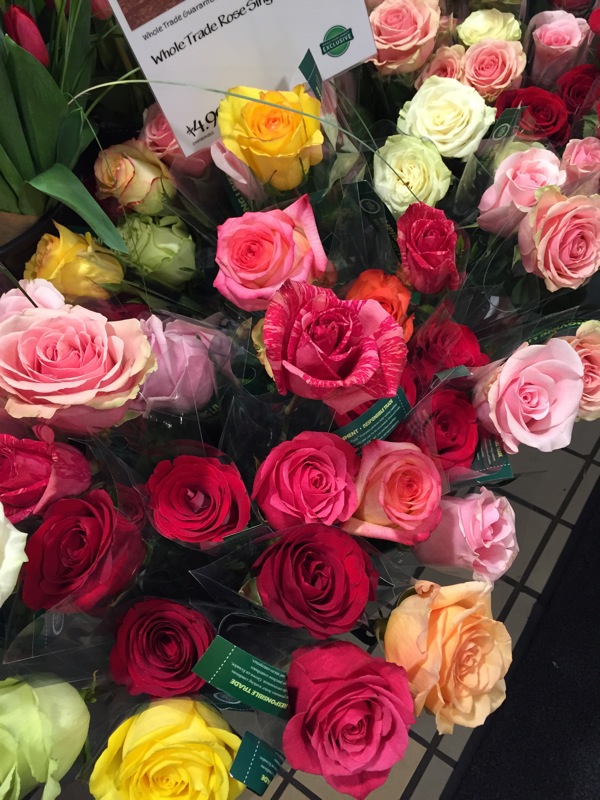 and dessert case.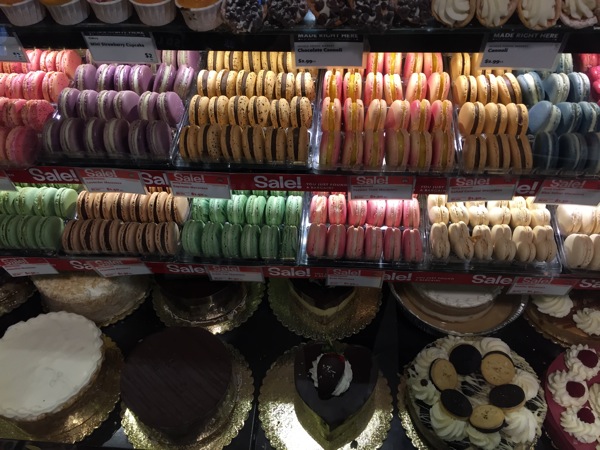 (Heart macarons were very necessary)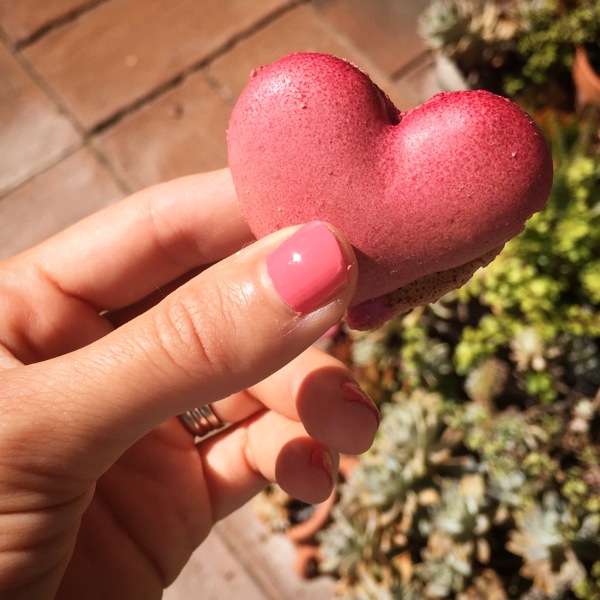 Friday night we had a date night with friends at Juniper & Ivy, Richard Blais' restaurant outside of Little Italy. We loved the atmosphere -modern/warehouse vibe with massive wood tables and a wraparound bar, which serves the full menu- and the food was fantastic. For my entree, I rolled with the chicken.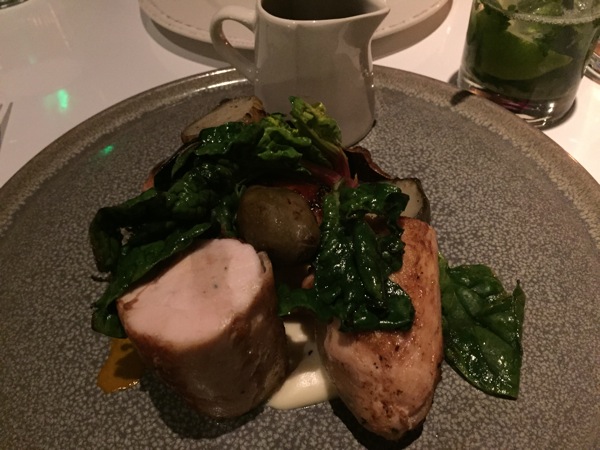 Dessert was the best part: we shared a chocolate mousse which was served with a perfectly salty caramel sauce and crispy meringues, and it was our first encounter with a yodel (chefs everywhere will die when I say this, but it's kind of like a fancypants Swiss Miss roll? haha). This particular one included freeze-dried berries, a cake and chocolate shell, and they poured a hot chocolate liquid on top, which melted said shell. Just think about melted chocolate, warm cake, and crispy berries. That is all.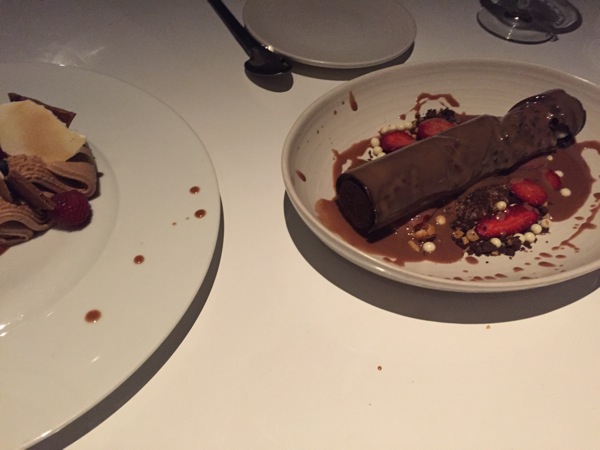 On V-day, Livi and I each woke up to bouquets of flowers and cards,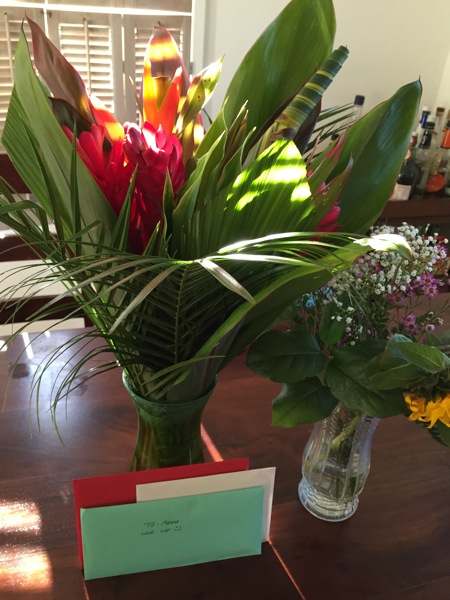 (mine was a tropical arrangement with birds of paradise. loveeeee)
and we took her to Build-A-Bear for the first time since she'd been asking to go and I thought it would be a fun Valentine's Day treat. I had the same ideas as about 16253 other parents, and teenagers creating stuffed animals for their boyfriends and girlfriends. It was kind of a madhouse! We had a good strategy, though: Liv and I stood in line to create her animal, while the Pilot waited in line to pay. After she'd finished her bear, the Pilot was just getting to the front of the line. Teamwork FTW.
She loves her Elsa bear wearing a Sofia dress 🙂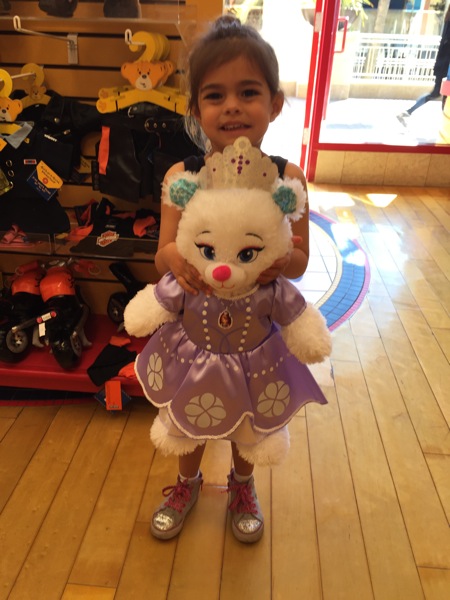 Saturday evening we kept it low-key around the house. I made some dinner based off of a recipe in this old beloved cookbook. It's a shrimp pasta dish, which is delightfully easy and perfect for company, since it's quick to put together. Ours had turkey bacon and shallot sautéed in olive oil (I just wrote "love oil." What?), garlic, wild shrimp, salt and pepper. When the quinoa noodles were done cooking, I added them to the shrimp pan with butter, grated manchego, fresh basil and chopped tomatoes.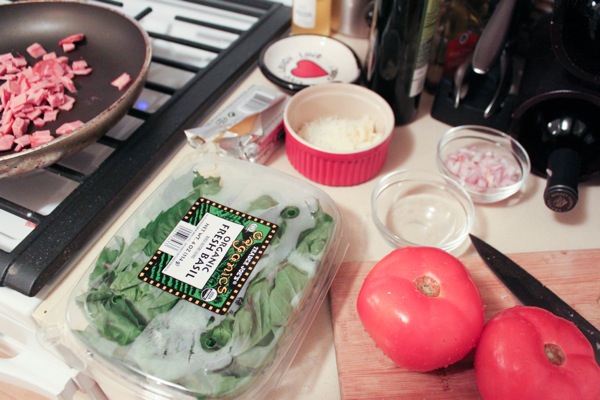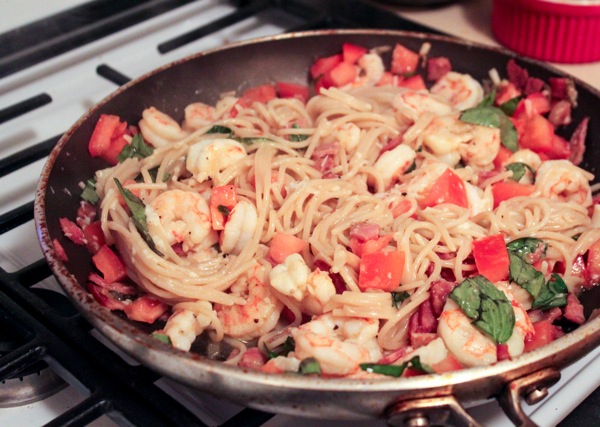 Vino, chokes: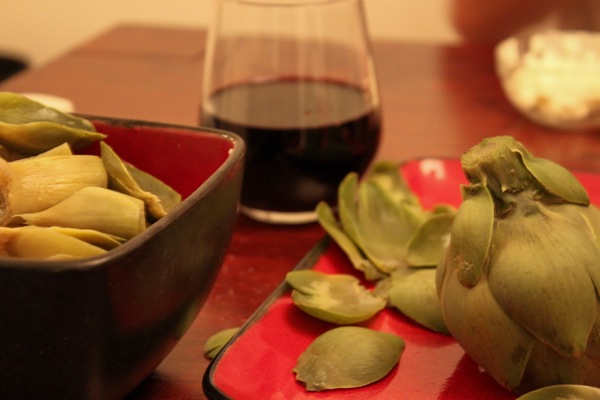 It was a lovely day with our little family. <3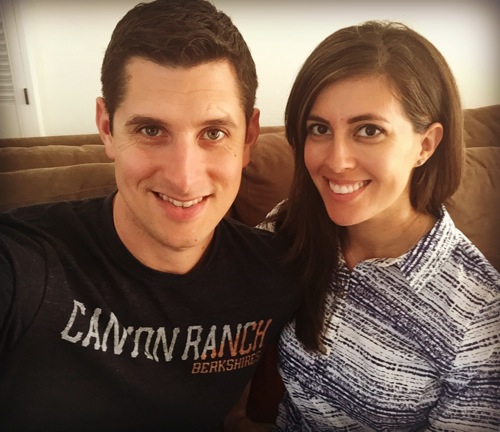 And now, MADRE IS HERE!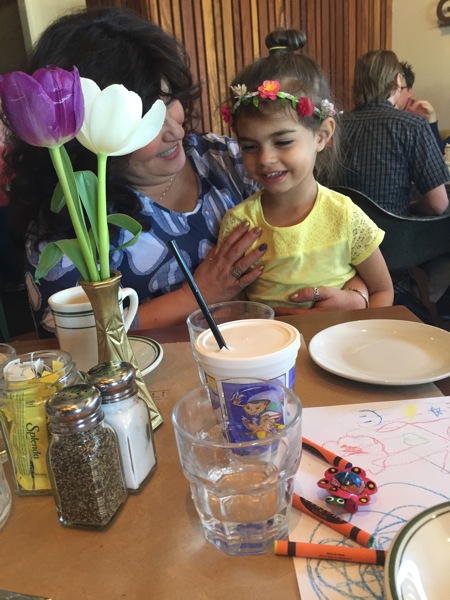 We're off to enjoy some adventures. 🙂
Hope you have a great night!
xoxo
Gina
Don't forget to check in for today's workout here!