Chocolate Coconut Truffles
Hey guys! How are ya? Hope you've had a lovely day.
Thank you for all of the tips and advice (and horror stories haha) about flying a pet as cargo. I forgot to mention a couple of critical details when I told ya'll the situation- sorry about that! Viesa is taking a one-way trip to Tucson. That's why she's coming with me, otherwise I'd just kennel her or ask my auntie to watch her. I haven't written about it much on the blog, but the dog situation has been a little rough in Orlando. You guys know that Viesa attacked Bella a year ago and injured her. Well, since then we've been casually looking for another family to adopt Vies. We love her like crazy, and it sucks, and I'm getting teary writing this, but she needs to be with a family where she's the only pet. She attacked my aunt's dog a few weeks ago –I jumped in and he got scratched up, but not seriously hurt- and since then she's been staying in the kitchen, away from the other dogs. When I take the dogs out, I take Vies, and then the little dogs. It's been a lot of work, and very stressful to keep everyone separated.
A great family friend and her fiance have been wanting a Shiba Inu for a while, and we know they'll be a perfect home for her. We wanted her to go to someone we know, so we'd still get to see her. So that's why she's coming with me to Tucson…
I'm going to look into buying her a seat on the plane next to me– if they let me do it, I know she'll curl up and sleep the whole time. She's a good girl.
Anyways……..
Let's talk about chocolate.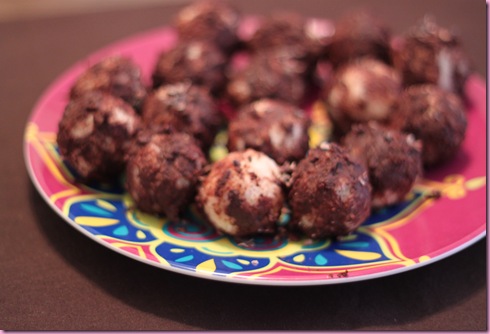 Better yet, chocolate coconut balls 🙂
As you guys know, I ate a lot of legendary desserts in San Francisco this past weekend.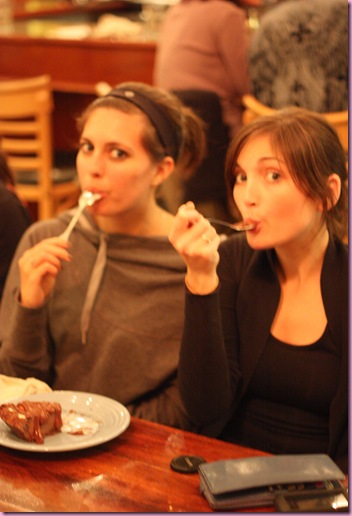 Out of the sweets euphoria, one of the most notable was the almond joy truffle I enjoyed at Cafe Gratitude.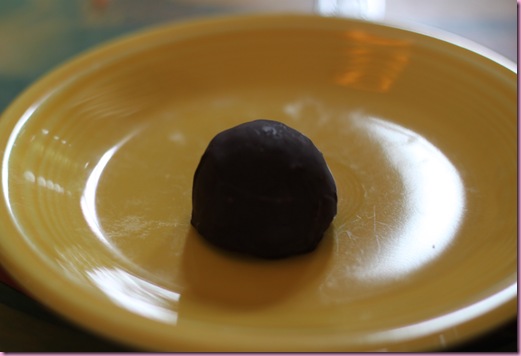 I was so excited to create a version at home. This one is sans almonds, so it's more like a Mounds truffle 🙂
Chocolate Coconut Truffles

1. In a bowl, add one bag of unsweetened coconut (2 1/2 C), 1/2 C pure maple syrup (or 1/3 C agave), a hefty sprinkle of cinnamon, 1/3-1/2 C coconut oil, 1/8 t sea salt

2. Mix well.

3. Using a melon ball scooper (or a tablespoon) and your hands, roll mixture into several balls of uniform size.

4. Wash your hands. Or just one, so you can photograph the other 😉

5. Let the balls chill in the fridge for at least 30 minutes. In the meantime, pack up your dinner to take to work:

A salmon salad, with arugula, spinach, tomatoes, goat cheese, garlic gold, grilled salmon, lemon and olive oil

+ steamed brussels sprouts with organic butter and sea salt

Take the dogs for a little walk 🙂

6. Next, make the ganache. In a double boiler (or a pot that's cooking the millet you're going to eat for lunch, topped with a glass bowl), add a bar of superdark chocolate + 1/4 C almond milk

In order for the recipe to come out accurately, a piece of chocolate is recommended;)

Stir frequently, and dip each ball into the warmed chocolate to coat.

At first, I started to coat these so they were smooth and pretty, but kind of liked them messy better. Fun garnish choices are cacao nibs (which I used), extra coconut or ground almond.

Quality control 😉
I hope you like the recipe! Let me know if ya try it.
I'm back to work but I hope you have a great night! <3
See ya tomorrow with the final week of Bridal Bootcamp. How have the workouts been going??
xoxo,
Gina