Hi guys 😀 How's your Monday treating ya?? Hope you're having a great day so far- LOVED reading your thoughts on Skinny Bitch this morning.
I know ya'll don't usually hear from me again this early in the day, but for this recipe… I had to do it 😀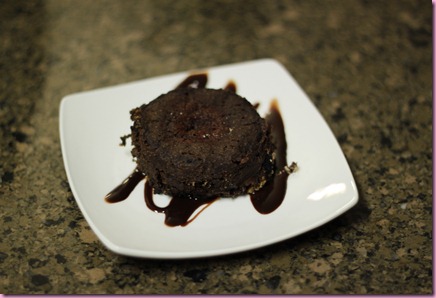 I spent a lot of my morning sitting at the dining room table, working on the Pilot's pages for the squadron scrapbook.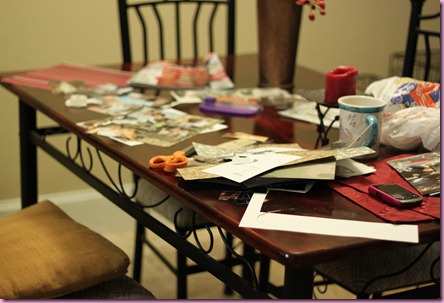 (I have to sit on a cushion at the table.. it's my booster seat, haha)
I have so much admiration for those who scrapbook willingly and enjoy it. I can't stand it because I'm a busy body, but really needed to get these pages done because they were due on Friday (slacker). While I was working away, I kept thinking that some chocolate would make the task a little more bearable 😉
So.. I took a 5 minute break and was rewarded with this beauty.
Vegan Chocolate Mug Cake

Serves: 1

Ingredients:

-2 T flour of choice (I used spelt, but whole wheat or gluten-free would be lovely)

-1 T protein powder (chocolate or Vanilla; I rolled with vanilla Nutribiotic brown rice protein)

-1 T raw cacao powder (1/2 T of cooked cacao powder, since the flavor is stronger)

-1/4 t baking soda

-pinch of sea salt

-1 flax egg (1 T milled flax seed mixed with 3 T water)

-2 T almond milk (or milk of choice)

-1 T chocolate chips

-1/2 T oil, yogurt or applesauce (optional: will make the cake more moist, but I made mine without)

-1/2 t vanilla extract

-cinnamon and Stevia, to taste

1. Spray the inside of a microwave-safe coffee mug with nonstick spray

2. Add the dry ingredients (flour, protein, cacao, baking soda and salt), and stir well to combine

3. Add the wet ingredients and mix with a spoon until mixture resembles a thin cake batter –make sure there are no flour chunks in there

4. Taste the mixture and add Stevia and cinnamon to your liking – I used about 6 drops of liquid Stevia and a hefty shake of cinnamon. Stir in chocolate chips.

5. Microwave on high for 2 1/2 – 3 minutes, until the cake is cooked on top and around the edges.

6. Using a spoon, loosen the edges and plop onto a plate. Drizzle with chocolate syrup (Ahlaska! is fabulous) or almond butter, if you'd like.

7. Prepare for foodgasmic glory.
The nutritional stats (not including oil, since I didn't use any):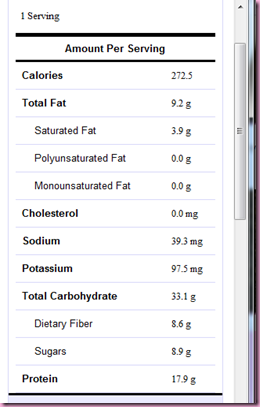 I'm not really one to toot my own horn….
but…
toot toot 😉
Please let me know if any of you try this recipe!
See ya tonight! <3
xoxo,
Gina