Chopped chicken salad with basil lemon vinaigrette
It was the perfect weather yesterday afternoon for a little patio picnic.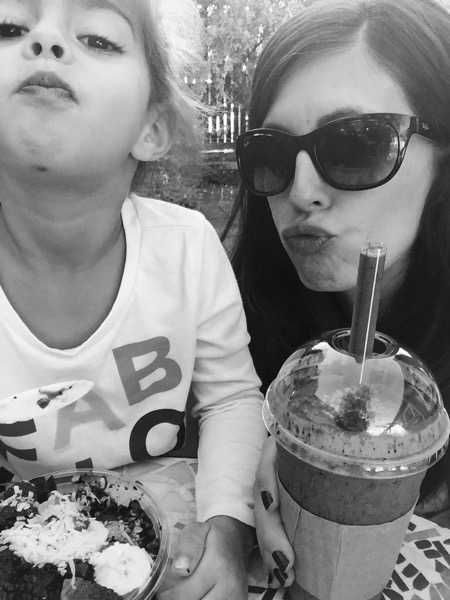 (Liv chose the face we made haha)
Liv, P and I made a little Tiki Port stop and enjoyed it outside before heading on the daily scooter walk.
Acai bowl for the little lady, peanut butter supreme smoothie + berries for me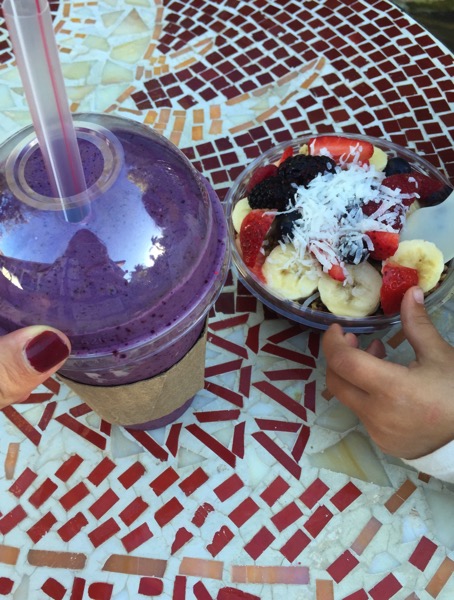 (with almond milk, chia, peanut butter, banana, cinnamon and honey)
I've been trying to ask Liv what she wants for Christmas, and she rarely asks for toys, so it's been interesting to figure out what she might like. (I'm a big fan of the "something they want, something they need, something to wear and something to read" mentality for Xmas.)
"Hey Liv, is there anything you'd like for Christmas?"
"An ornament."
This is after her Rapunzel ornament was broken.
"Livi have you thought about what you'd like Santa to bring?"
"Hmmm. This book."
This book = the one that she's holding in her hands, that she already owns.
I know I should just appreciate the fact that she isn't asking for a thousand things like my brothers and I used to do. I was thinking about a bike since she loves her scooter so much, but I think she may be too old for a balance bike? Do I go to a regular one with training wheels? Halp me. It's going to be here before I know it, and despite the fact that I've been curating gift guides on the blog, I've been a fail with our personal shopping this year. I really just want to spend the holidays with family, so if we can go home for Christmas, it will be the best gift all around. Even if we end up staying here, it will be another new tradition and I'm sure it will be wonderful. If that's the case, I need to actually plan and ship things so there ya go.
What we've been up to lately:
-Watching copious amounts of The Voice (I hope Jordan wins!!!) and Shark Tank re-runs
-Daily walks and light stretching for the soul. Stoked to follow Post Baby Bod starting next week!
-The Pilot and I have been working together to swoop in where we're needed. Having two kids is definitely orchestrated chaos, and since we're on man defense, one of us always has a kiddo. That is, unless we're doing a chore, and then we collapse at the end of the night. I'm thankful that we make a good dinner prep/cook team: this week, we've had baked salmon and veggies, chicken and sweet potatoes with salad, and headed out to True Food last night.
Here's a quick and delicious lunch salad from yesterday: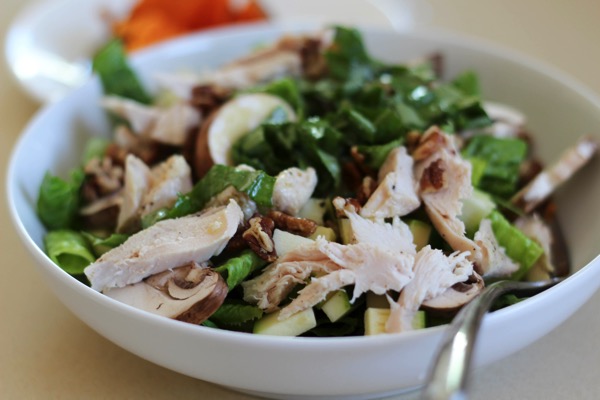 Chopped cucumber
Zucchini
Mushrooms
Romaine
Chicken
Walnuts
Basil lemon vinaigrette: juice of 1/2 lemon, drizzle of olive oil, salt, pepper, 2 tablespoons chopped basil, 1/2 teaspoon Dijon and a drizzle of honey
It was such a simple combo, and totally delicious with a sweet potato on the side. The best part: everything was already chopped from the other night, so I just assembled, made the dressing, and boom.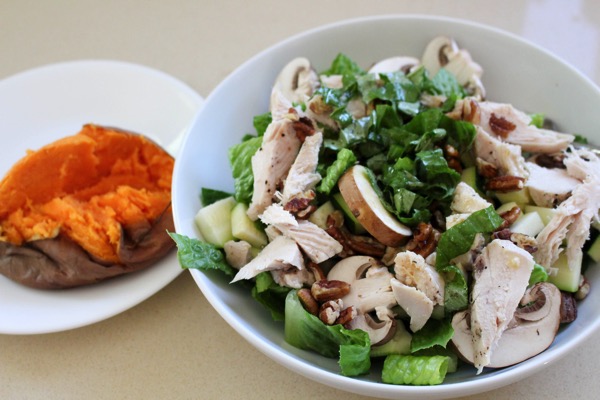 Hope you have a great morning and I'll see you later.
xoxo
Gina
Penelope's 1-month update is on the Family page <3
Something to do:
Holiday HIIT workout! It's 5 minutes. That's right, 5 MINUTES. No excuses 😉 Let me know if you give it a whirl!