Thank you so much for your wonderful comments on this morning's post. It's not too often that I'll go out on a limb, but it always warms my heart when you join me out there- thanks for not leaving me dangling 😉
So things are pretty much "back to normal." It feels good.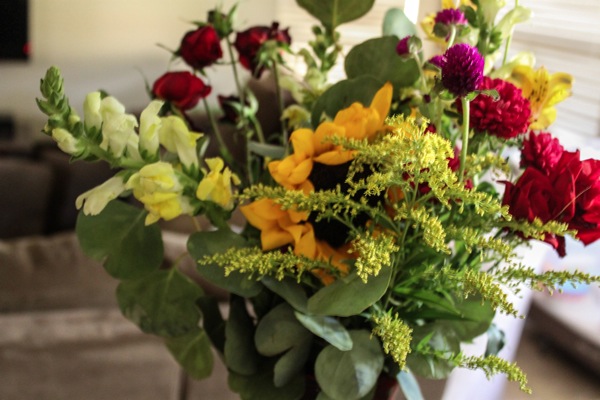 It was a great morning with Liv -I feel like she grew so much in 4 days!- the usual breakfast, a trip to the library to get new books and CDs, a couple errands, and lunchtime picnic.
Oh, and an awesome snack/lunch idea.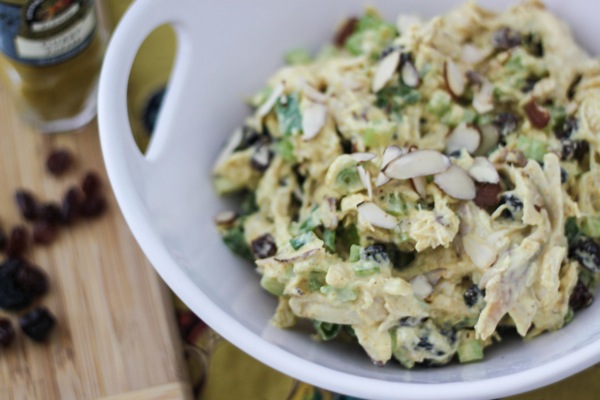 My salad was looking a little sad…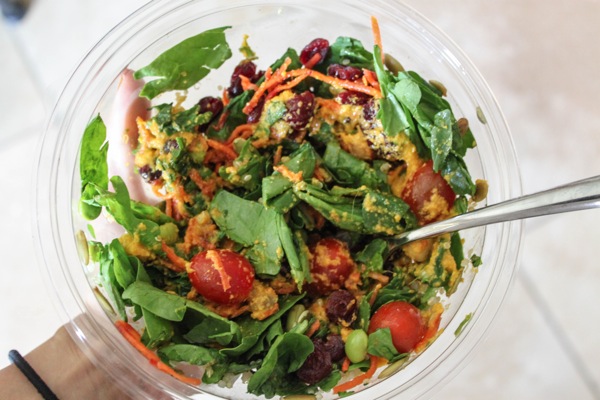 so I made it into a party. A curry party. You're all invited 😉
You know when you taste something at a restaurant and you have to go home and make it? That's how I feel about Beyond Bread's chicken curry salad. Except, it's been about 9 years and I haven't made it.. until now.
One of my favorite things about this chicken salad is the texture variation- dried fruit, onion, slivered almonds, with a bold curry flavor. It's always been a BB staple, but instead of trying to make it, I just (am lazy and) go down the street to buy it. 
My version is made with plain goat's milk yogurt and a little Veganaise, but feel free to use any type of yogurt-mayo ratio you like.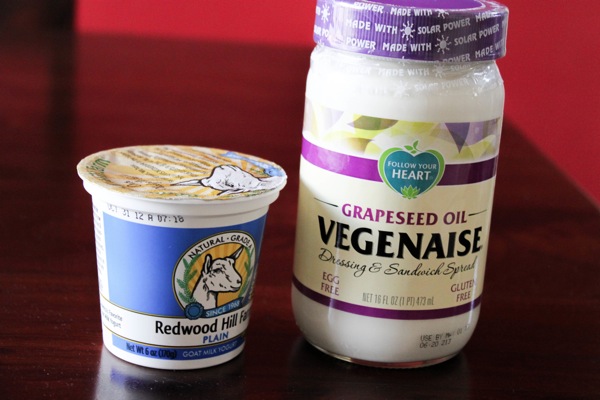 It's perfect for salad toppings, cracker toppings, and wraps for the next couple of days:
Curried chicken salad
(Gluten-free, veganizable)
Serves ?
Prep time: 10 minutes
Ingredients:
-2 large, baked chicken breasts, the meat from one rotisserie chicken, OR two cans of chickpeas, rinsed and drained. I used a rotisserie chicken, and it was about 3 C meat.
-6 oz plain yogurt of choice (I used goat's)
-1 heaping T mayo of choice (I used Veganaise)
-1 chopped fresh scallion
-2 minced celery ribs
-1/2 C raisins or dried cranberries
-1/4 C slivered almonds (plus more for garnish)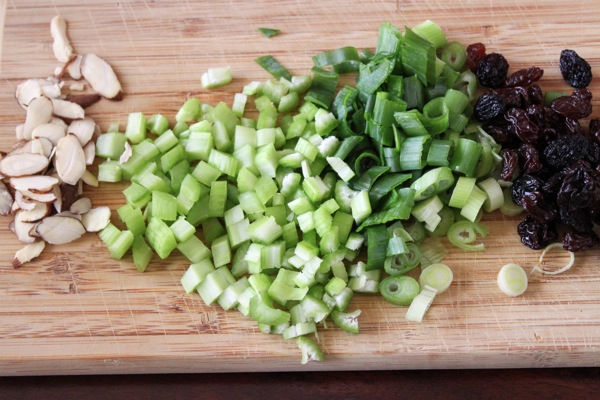 -1 t curry powder
-1/2 t tumeric
-1/2 t garlic powder
-1/4 t salt
-juice 1/4 lemon
-pinch of white pepper
1. In a large bowl, shred the chicken using your fingers, two forks or a stand mixer with the paddle attachment.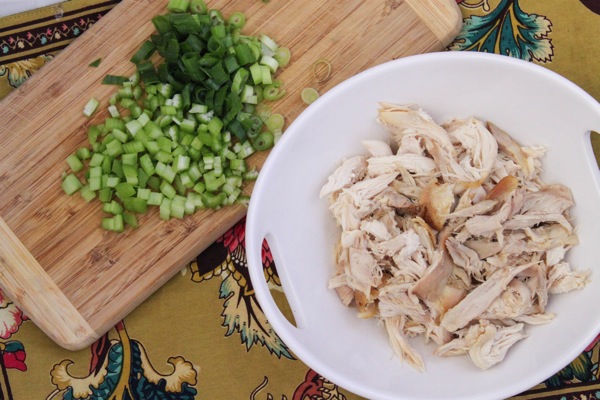 Feed a couple of weird-looking pieces to your dog, as she's a chicken fiend, trying to look as starving and pathetic as possible. If you're using chickpeas, just make sure they're washed and drained, ready to go.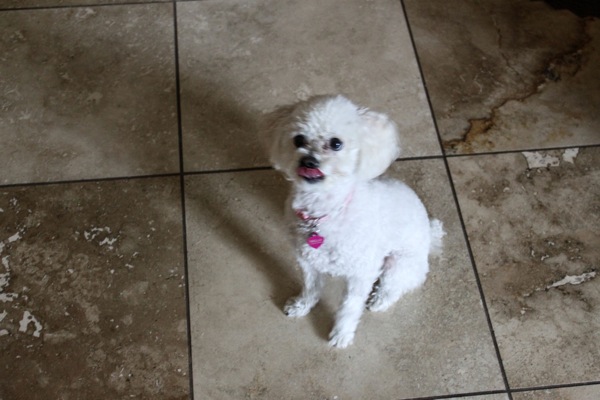 (Note: if you're using chickpeas in front of Bella, she'll beg for them, too. She loves chickpeas almost as much as chicken.) 
2. If you fed your dog a couple of scraps (chickpeas or chicken), wash your hands and back to business.
3. In another bowl, combine the yogurt, mayo, spices, lemon juice and stir well.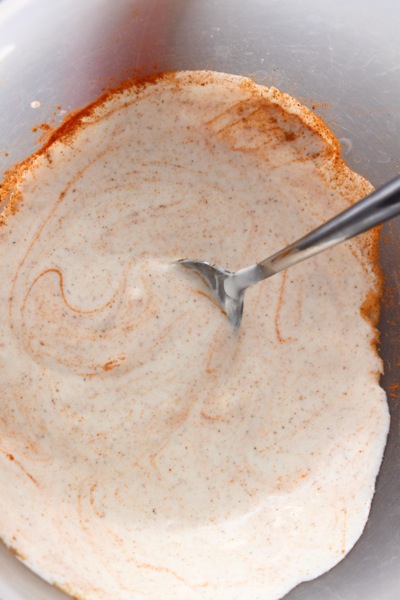 Add in the chicken, mix, dried fruit, almonds and onions.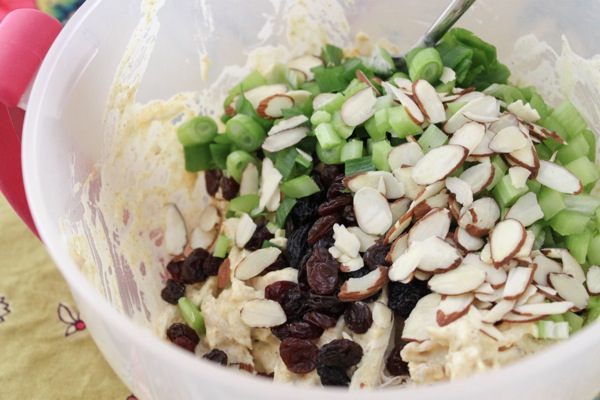 Mix and taste to adjust seasonings.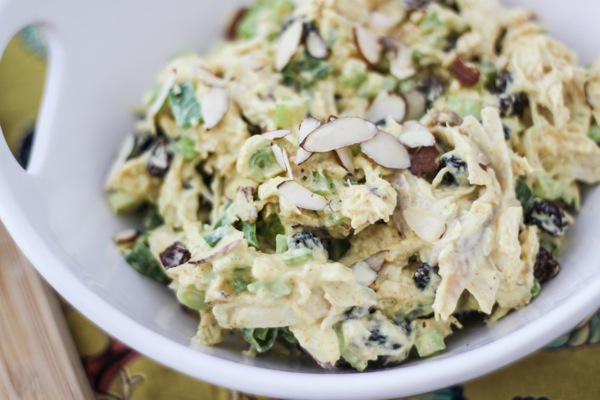 4. Store in a sealed container in the fridge for 3-4 days and enjoy as a quick snack or main lunch component.
Enjoy! <3