Christmas Brunch and Dinner Recipes
Anyone else feeling like "Whoa, it's Christmas almost here!" and frantically trying to get things done? It started to get ahead of me, and I took a second to slow the heck down. This season isn't as much fun if you spend it stressed and overwhelmed, so our gifts may be delivered a little bit late this year. Also, thank goodness for Amazon Christmas and Prime shipping.
While we're staying in San Diego for the holiday, it was a special treat to have a bit of family in town this weekend. My aunt, uncle and cousins were here, so we met up with them for an awesome meal at The Cottage, followed by seal-watching.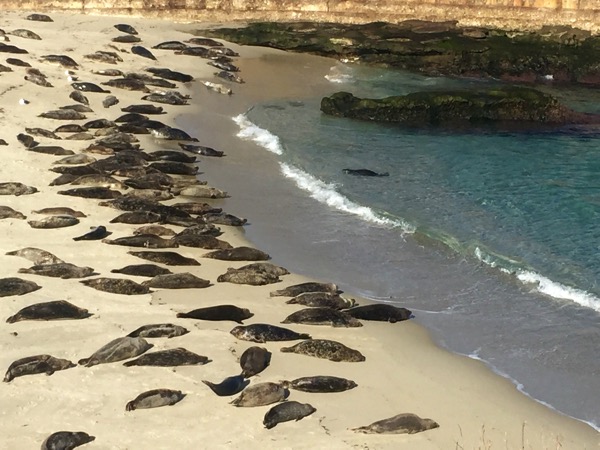 I was so happy they got to meet and snuggle miss P, and Livi was so excited to hang to with family. The funny thing is that my Uncle Steve looks a LOT like my dad, and they make the same silly faces, so she kept saying, "You're so funny, grandpa!" haha.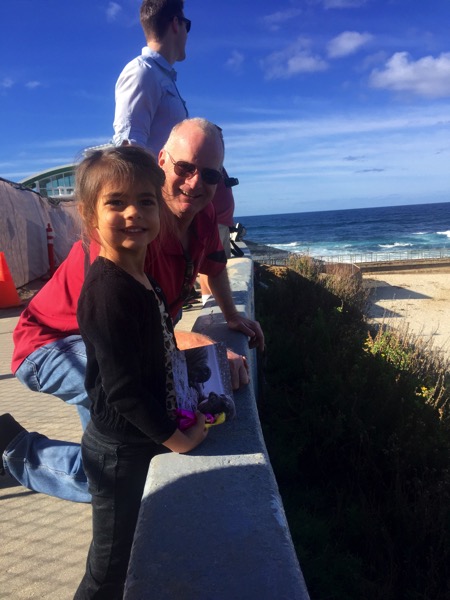 The rest of the weekend, we hung out around the house, got in a workout (I took half a BODYPUMP class and it nearly killed me), and also went on a small date. We were supposed to go to a friend's holiday party, and originally planned to bring P with us on the earlier side, wear her in the wrap, and peace out when we needed to. P wasn't having a good start to the night. When she was feeling much better, it was 2 hours after the party began, and Livi was having a blast making cupcakes with our babysitter, so we took sleeping P with us for a quick dinner at Indigo Grill.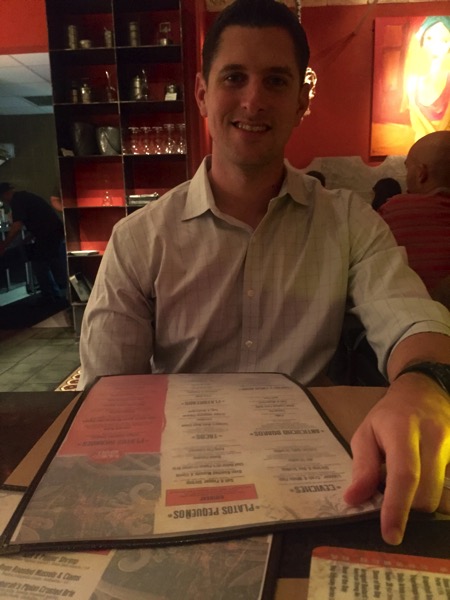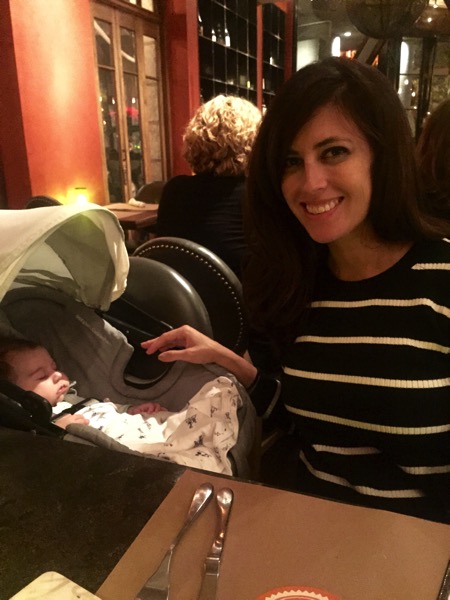 It was our first time dining there, and it was AMAZING— we'll definitely be back! They have a predominantly Mexican menu with some unexpected Asian twists. We started with the lobster and fish ceviche and I ordered my first cocktail in almost a year: a ginger and chile margarita.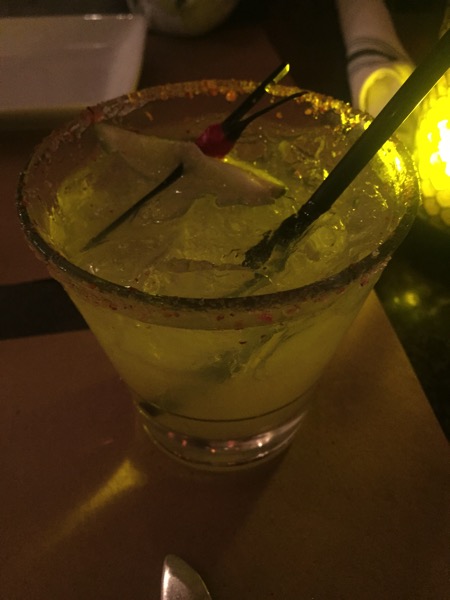 For my entree, I got a salad with sashimi, seaweed, pickled cucumbers, and a soy-ginger dressing.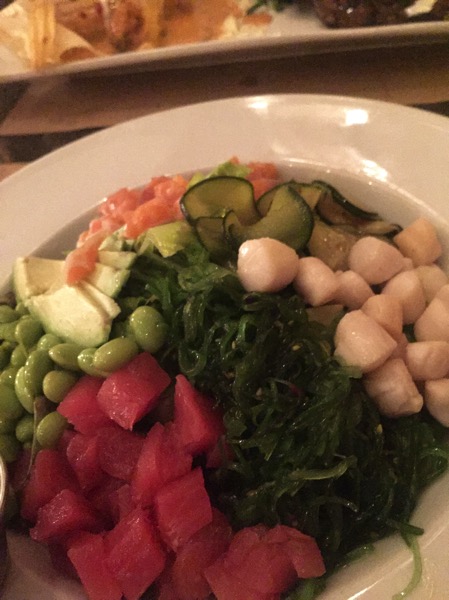 Aaaaand since I'm now able to eat dairy/eggs/whatever again (long story; I'll update the family page but in a nutshell, P is on an Rx formula now), we celebrated with my first REAL dessert in a very long time:
a pot of brownie with homemade peanut butter ice cream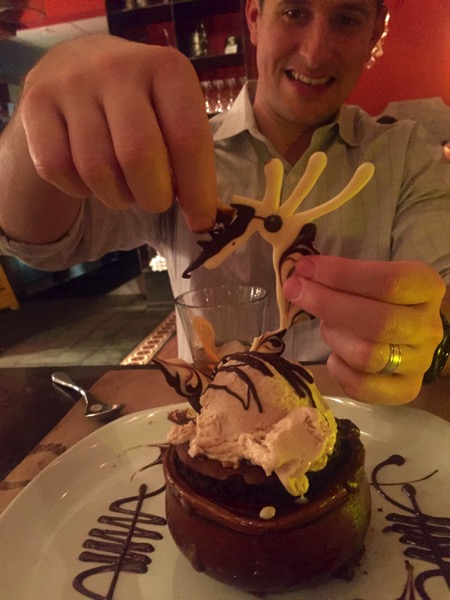 and this crazy chocolate design that was a bit top heavy. Don't worry, we took care of it. 😉
Speaking of dessert, here are the adorable Elf cupcakes Liv made: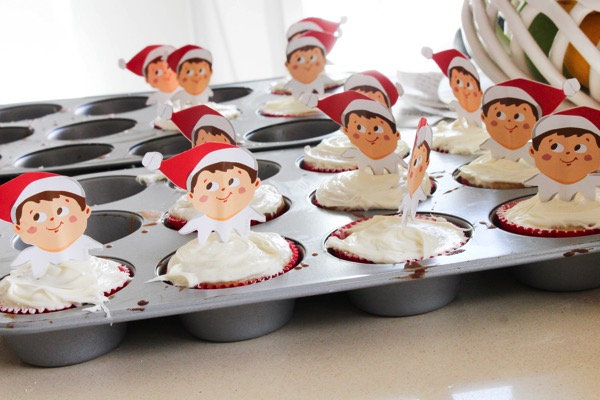 (my stepmom sent the supplies in an awesome care package)
She obviously gets her cupcake-eating philosophy from me.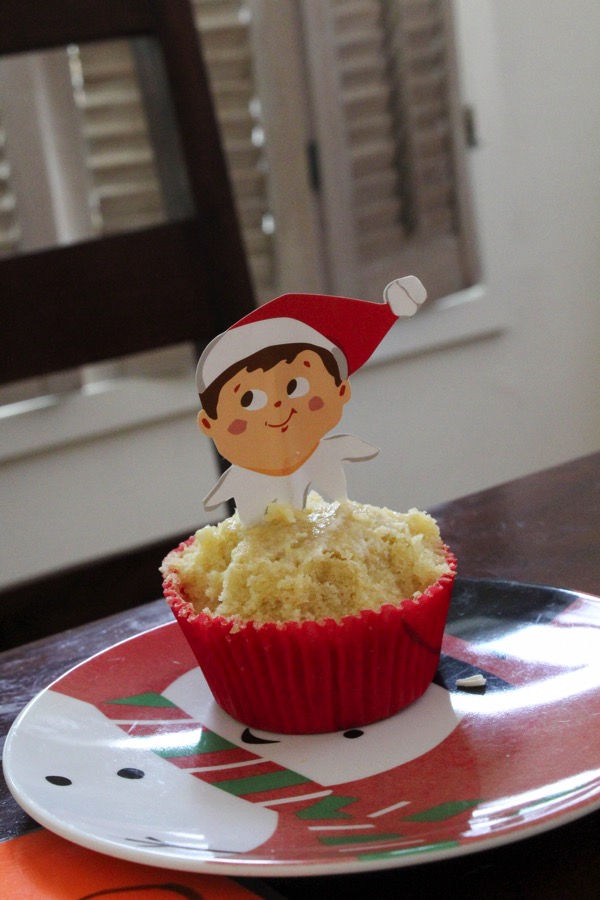 Frosting > cake.
Since we're going to be here this week, I'm excited to make a Christmas meal in our own kitchen. (Though, I'll never forget rolling out cinnamon roll dough in the base hotel last year!)
We'll probably do a similar breakfast to our Thanksgiving feast (plus the traditional cinnamon rolls), and our cousins + some friends are coming over later in the day for hanging out, snacks, and lunch/dinner.
What I'm Cooking for Christmas
Herbed turkey in the slow cooker
Artichoke dip and crackers
Mashed sweet potatoes
Autumn salad with apples, feta, spiced walnuts and balsamic dressing
Christmas cookies (Liv and I are going to have our baking pants on this week!)
Mulled wine (THE BEST)
and the Pilot's famous egg nog.
I'm going to make most of the meal in advance, let the slow cooker work its magic on the turkey, and just enjoy snacking and spending time with our friends throughout the day.
Holiday Recipe Ideas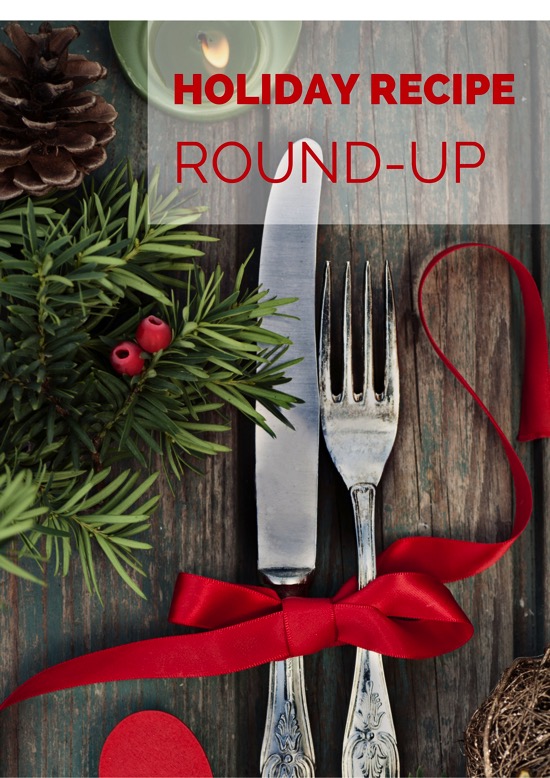 Breakfast
Nana's creme brûlée French toast
Holiday spice protein pancakes
Lunch/dinner
Mexican style! We always have enchiladas, rice and beans at my dad's house
Butternut squash and goat cheese lasagna with salad
Rosemary salmon with cranberry sauce (perfect to switch it up from turkey!)
Desserts
Pumpkin pie brownies (omg I need to make these again)
Chocolate peppermint bark cookies
Double chocolate Paleo gooey cake
Are you cooking this week? What's on the menu? What's your all-time favorite holiday dessert?
My nana makes a bomb chocolate pie, and I also love these magic cookie bars madre makes called Grammies. I always say I'm going to just have one or two each day and then I have 18239.
Have a great morning and I'll see ya later today!
xoxo
Gina
HOLIDAY WORKOUT QUICKIE: Holiday barre blast! A leg shaker with cardio blasts.