Does HIIT Make You Hangry?
Right about now, you'd usually see a post with Friday Faves, but today let's talk about HIIT training! It's one of my favorite ways to workout, but does HIIT make you hangry?
We are enjoying the week with our newest little family member, and looking forward to Halloweekend. Also, MY MOM COMES IN TODAY! We can't wait to see her.
My faves this week are easy to summarize: having P here, baby snuggles, seeing Liv again (even though she visited, I really, really missed her this week), sleeping in my own bed after leaving the hospital and eating normal food. (Why is all hospital food brown? Thank goodness for the Pilot's frequent hot bar runs, and to Whitters for bring snacks and kombucha.) I'm not hard to please. 😉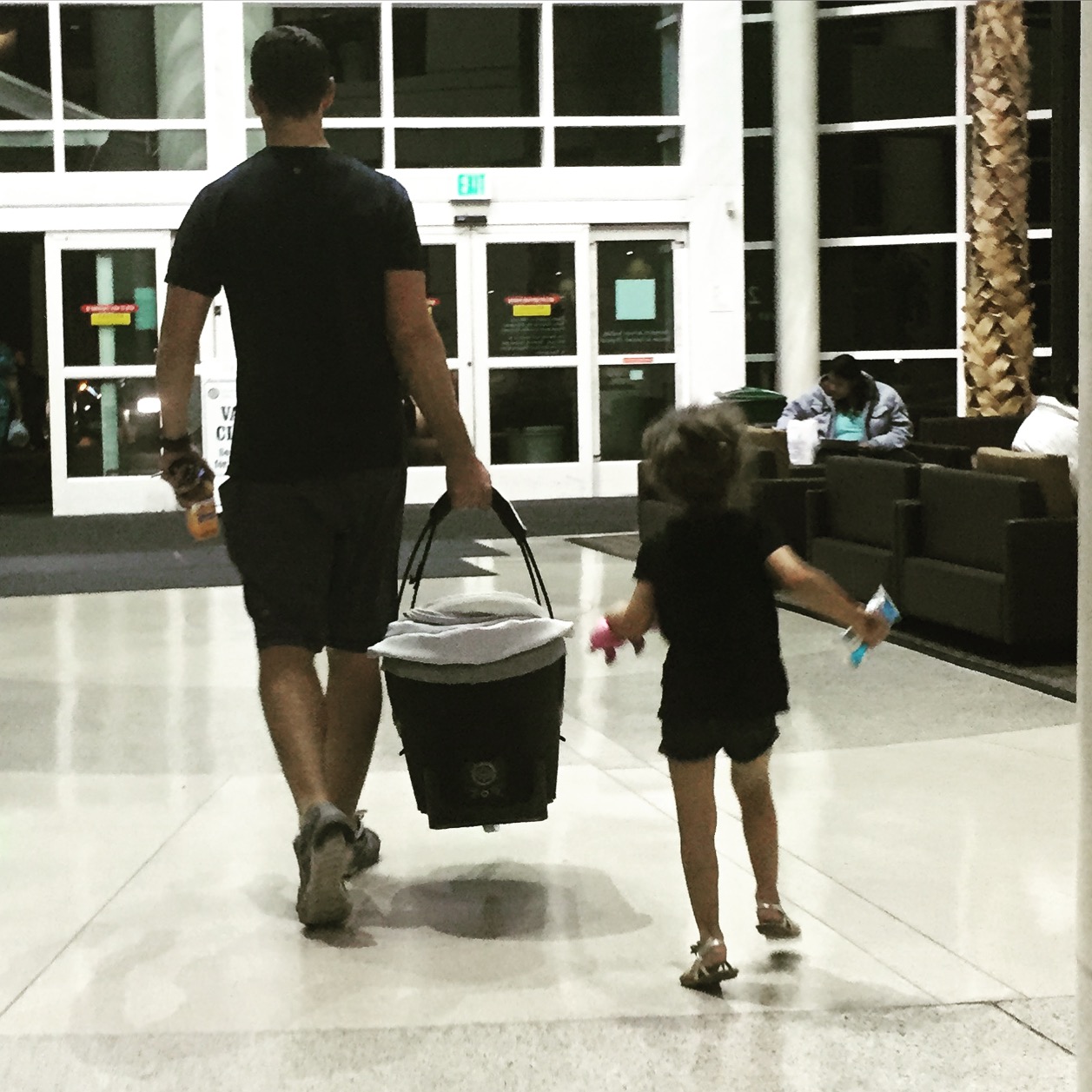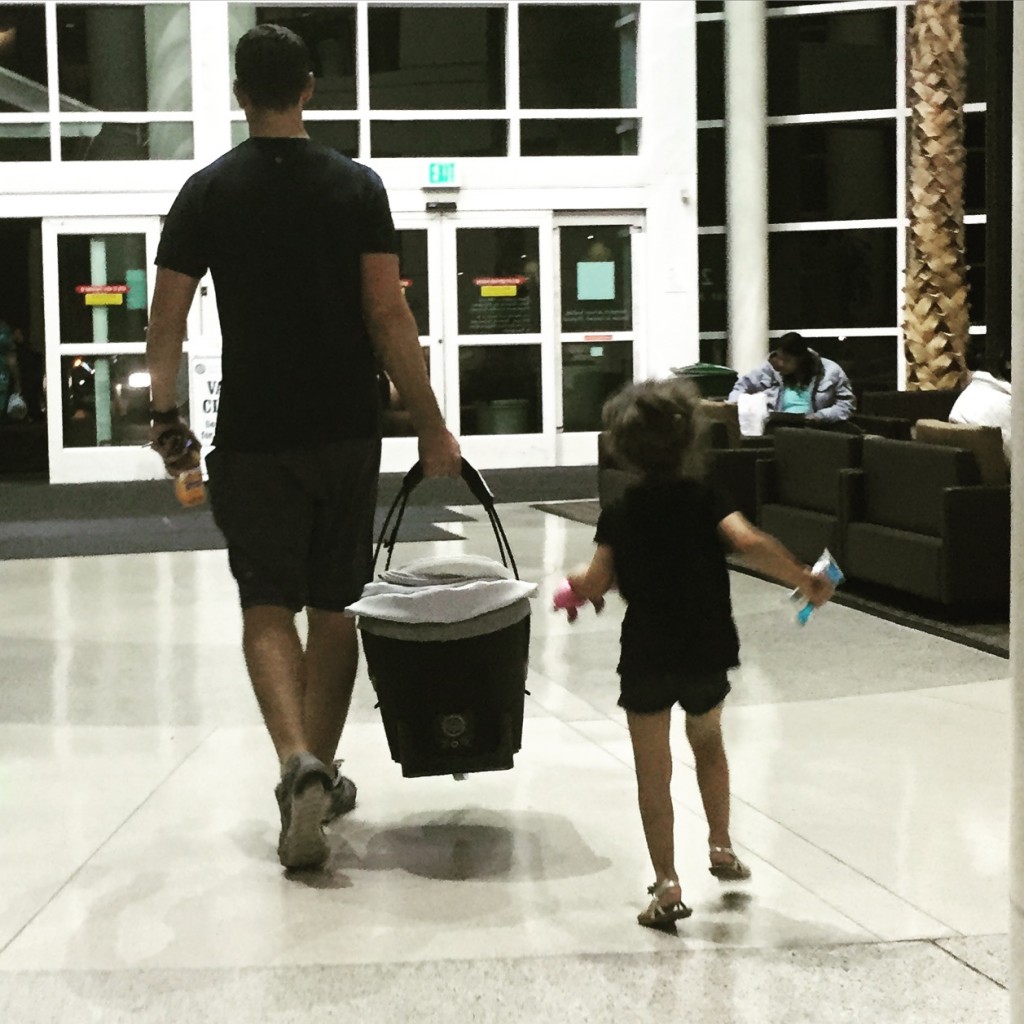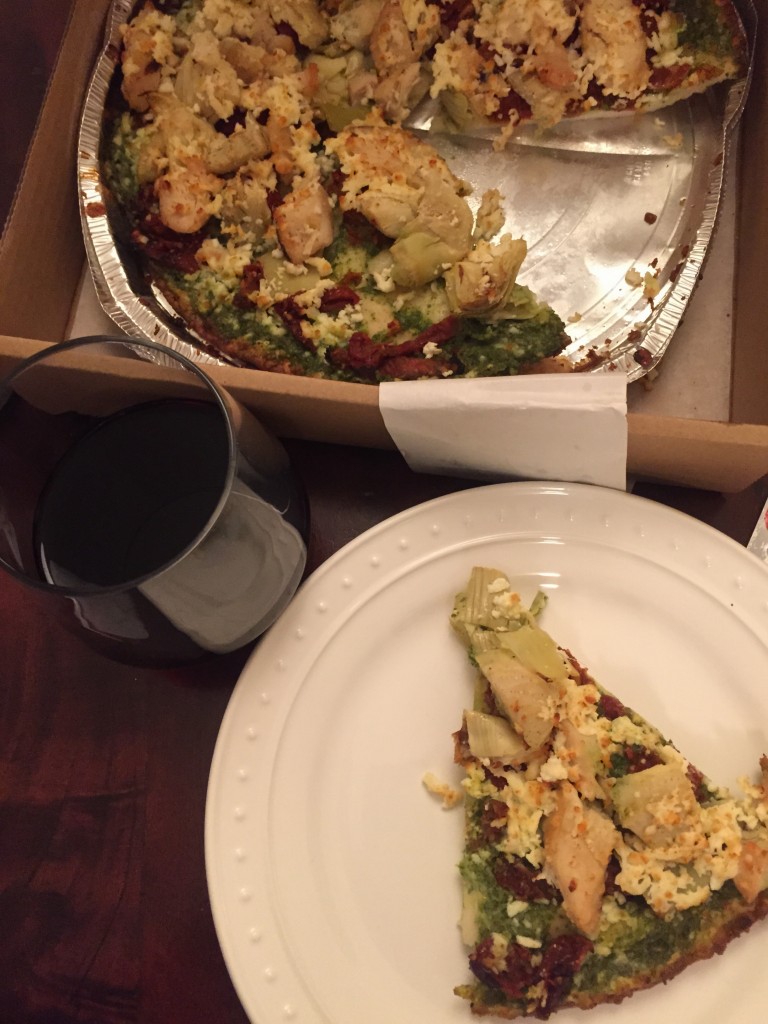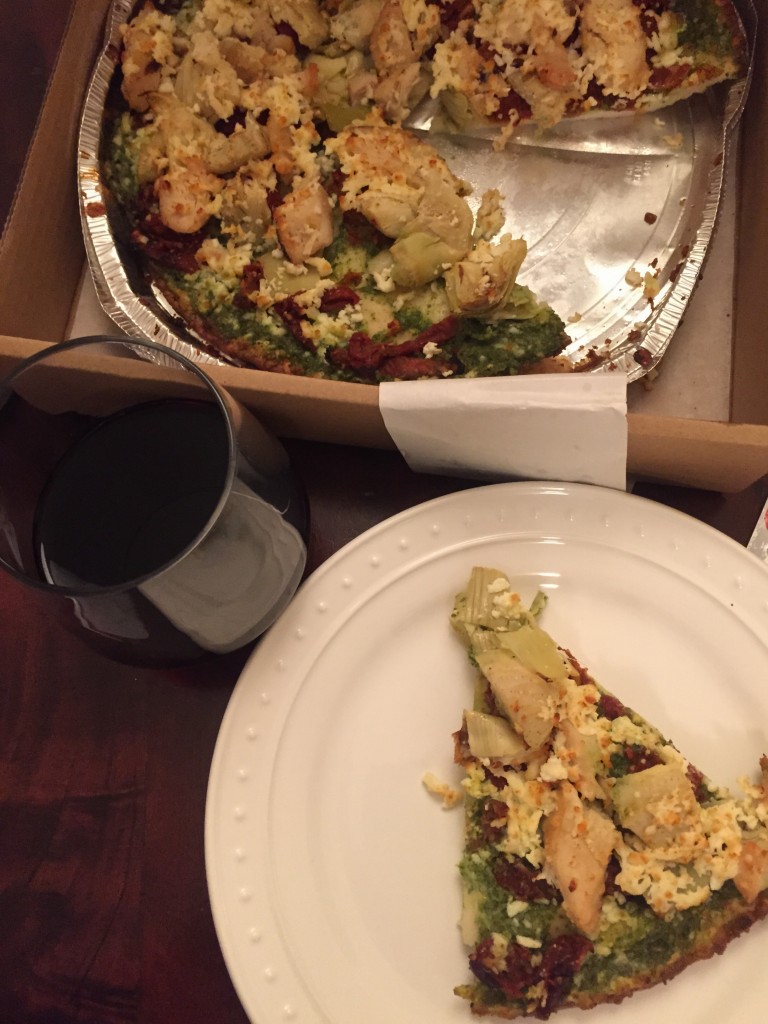 (Gluten-free pizza + the glass of wine I've waited 9 months to drink)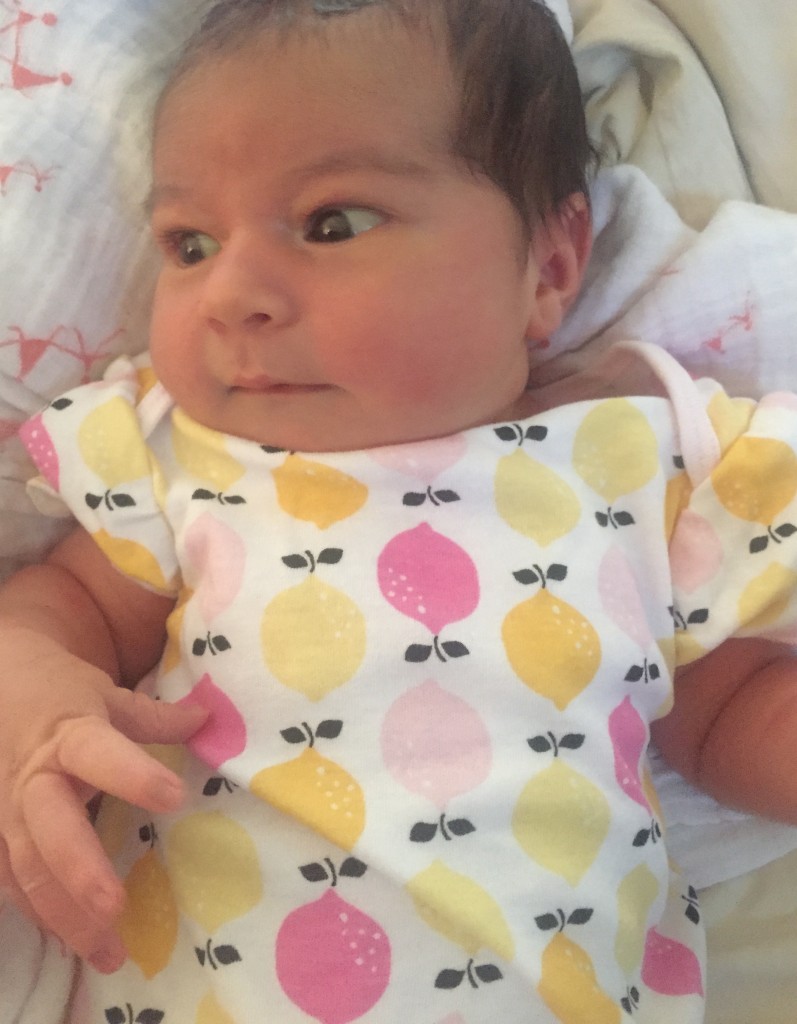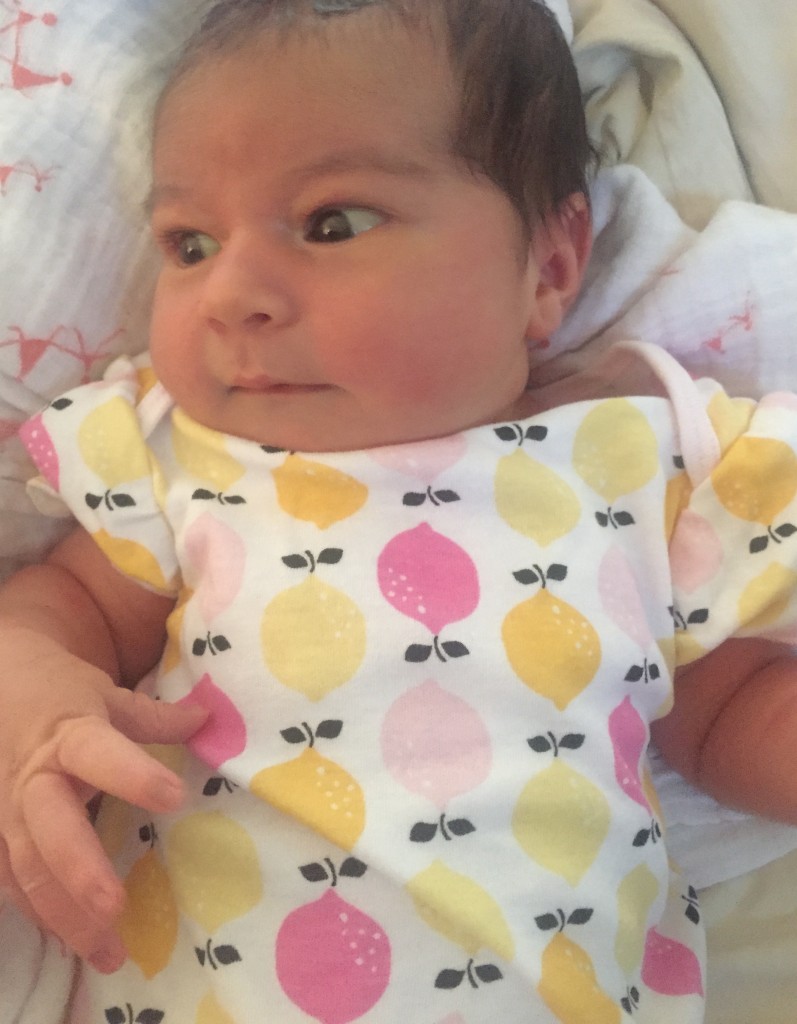 (Thank you, Julie for the sweet lemon onesie!)
Since my favorites are pretty simple this week, let's talk about HIIT!
Why I Love HIIT Workouts
As you guys know, I'm a huge fan of HIIT (High Intensity Interval Training). I love it soooooo much, I could write a book about it, and spent months immersing myself in the latest HIIT research and knowledge. It's a central component of my own routine, and I've always been fascinated about different HIIT strategies and why it works so well.
Here's what I love about HIIT
-The workouts are short, efficient and SWEATY. Just the way I like it. 🙂
-They're usually a lot less boring than traditional cardio. Intervals seem to fly by!
-You can lose fat while maintaining muscle.
-It's a great way to improve cardiovascular efficiency and fitness (run faster, jump higher).
aaaaand
-I feel like it's the best way to shake up a routine and get results from your work.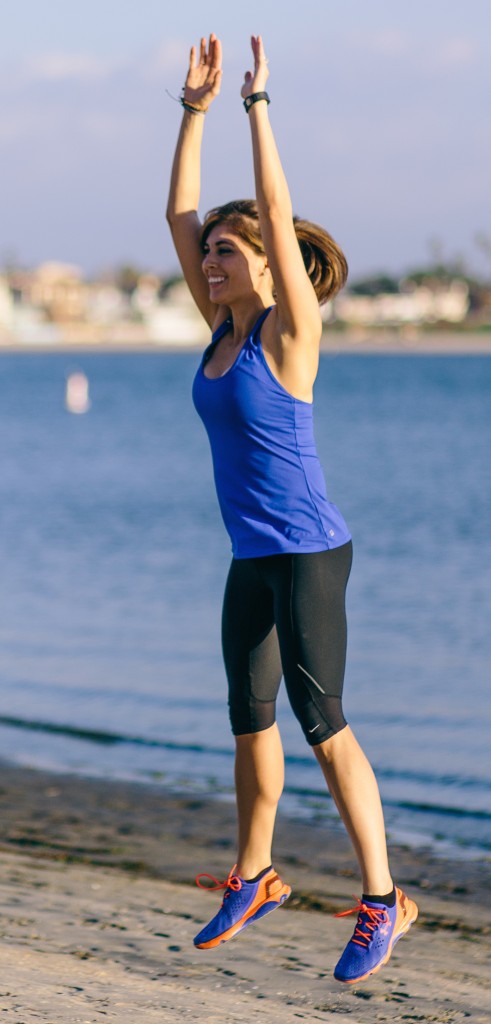 (Apparently really happy to be doing squat jumps haha)
Hangry After HIIT
I'm so happy that so many of you have fallen in love with HIIT, too, and I've actually received a few emails about what to do about the hanger (ferocious hunger) that can follow a HIIT sesh.
Please keep in mind that I'm not a medical doctor nor registered dietitian, so if you have any questions pertaining to your unique situation and needs, seek out the help or a doctor or RD in your area!
What the Research Says
After a super intense workout (whether it's HIIT, a long run, or a hard Orangetheory class), one of two things will usually happen:
1) my hunger is depleted or
2) there isn't enough food in the house to tame the beast.
As far as #1 goes, here's an interesting study through the International Journal of Obesity. They studied a group of 17 overweight male participants, and their caloric intake following a variety of workouts (resting, continuous moderate activity, high intensity intervals and very high intensity intervals). While they didn't find that their perceived appetite was any different, their caloric intake was less. The hunger-stimulating hormone ghrelin was suppressed, and their levels of blood glucose and bolo lactate were all increased; all of these factors would encourage a lower caloric intake.
For the times when I feel like there isn't enough food to feed me following a workout, the explanation could be increased EPOC (your oxygen consumption following exercise) and the fact that your body is working harder (burning calories) to bring your body back to its pre-workout state (lowering heart rate, tissue temperature, etc.)
Weight gain or loss is all about calories in vs. calories out, so the post-workout hunger could lead to potential weight gain even when you're following a solid training plan, which is why nutrition is so important.
What Can I Do to Fight Hanger After HIIT?
-Focus on hydration. It's easy to confuse hunger with thirst, so I like to make sure that I'm properly hydrated. My goal is 96oz of water each day.
-Eat nutrient-dense foods. Fueling with quality nutrition and a balance of macronutrients (carbs, protein and fats) makes me feel more satisfied.
-Make a giant smoothie. This is a great way to get in extra nutrition and also satisfies me, since it's usually a mix of fruit, protein powder, almond milk, almond butter or coconut oil and greens. Between the fiber and protein, I usually feel pretty happy and satisfied afterwards. Another option is a salad with a mix of greens, chopped veggies, protein (chicken, turkey, tempeh, hard-boiled eggs) and a serving of nuts.
-If I'm still hangry despite eating nutrient-dense foods and drinking plenty of water, I keep munching until I feel satisfied. I really feel like everything balances out, and if I have days where I consume more, there are also days where I'm not quite as hungry. If you find that nothing is helping, I strongly suggest talking to a doc, as hormone levels or deficiences can dramatically impact hunger levels.
So what do you think?
Do hard workouts or interval training make you hangry, or do they suppress your appetite? What's your favorite option when you find that you can't tame the beast?
Happy Friday and hope you have a very happy Halloween! Hope you have a safe and wonderful weekend. <3
xoxo
Gina