With all of the holiday gatherings, traveling and extra to-dos right around the corner, finding time to workout can be a little more scarce than usual. One of the things to remember is to focus on the quality of your training, use it as a time to destress and take a moment for yourself, choosing the activities you enjoy the most. One of my favorite holiday workout memories was a spin class here in Tucson -we were visiting from Valdosta at the time- and the instructor played remixes of holiday music for the class. It.was.amazeballs.
The holidays are the perfect time to get a little more creative with your workout routine to avoid burnout. One of my favorite things to do is find an at-home workout with minimal equipment to do while pastries bake, or at a hotel while we're on vacation.
Something a little like this:
I put this together as a 5-minute cardio quickie you can do ANYWHERE with just your body weight!
Here's a text version for my friends who are at work today.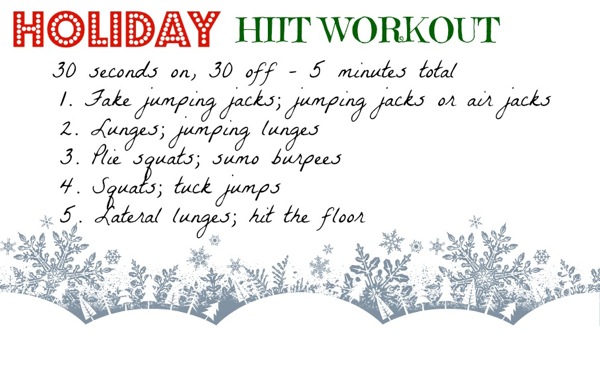 Some tips/notes:
-Modify as you need to and always talk to a doc before making any fitness changes

MY OTHER RECIPES
-This workout is based on the best research-based HIIT methods. Feel free to alter/modify as you need to!
-During the 30 seconds ON rounds: push yourself!!
-Feel free to repeat up to 4 times (for 5 total rounds), but I'd say the magic number is 3-4.
-For even more excitement, add these HIIT blasts in between a strength workout.
Hope you love it! Please leave a comment and let me know what you think <3
Off to teach.
xoxo
Gina
Just for fun: 31 kids who are too clever for their own good