Family: 36 week ultrasound + doula meeting
Friday was my last ultrasound appointment! Since we're pretty confident that two kiddos is our max, I really tried to take some time to savor the screen and watching our baby move -who is currently smashed up in there, so it's harder to determine what body part is which- and enjoy the experience. That is, until the tech told me that she's currently measuring 42 weeks for growth… off the charts!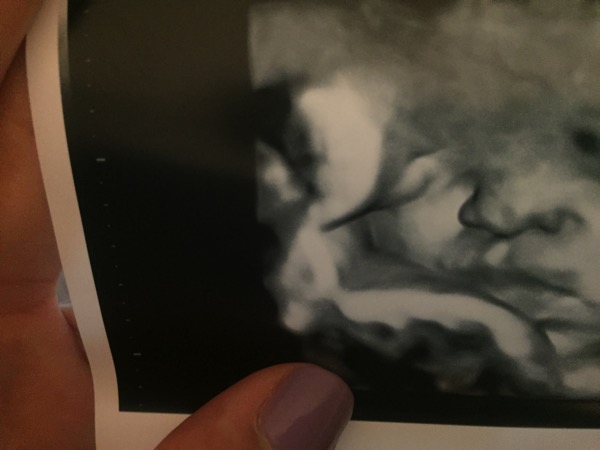 (Her lips!)
"But everything looks healthy, right?" (My #1 priority was knowing that she looked ok, especially the VSD)
"The doctor will be coming in to talk to you, but from what I can tell, yes."
The doctor came in, and proceeded to say, "You have a 10-pounder on the way. Maybe bigger."
I was just like, "Ohhh ok, but how does the VSD look?"
He told me that it was still there, but extremely small, and then went back to say that the baby is huge, they might need to induce me, etc etc. I was just relieved to hear that she look healthy and growing, and I could sense the doctor's trepidation at my lack of concern for the fact that the baby is "omg so big." The only semi-downer about the situation: the birth center is 100% out and I'll be delivering in Labor and Delivery at the hospital. I know I can still have a beautiful birth there, no matter how it occurs, but I was hoping for one true birth center experience. When we lived in Tucson, Tom wasn't totally comfortable with the birth center because while it was on hospital property, it was a two-minute drive. Here, the birth center is IN the hospital, but I'll be in Labor and Delivery since they'll be continuously monitoring the baby's heart rate and watching me since apparently I grow some big babies. 😉
I'm not sure if I've written about this, but I think my due date is off, which would make me almost 38 weeks instead of 37. I've been tracking my cycles for years, and I ovulate earlier than most. When I calculated my due date (using the online calculators and my conception//ovulation date), I got Oct 9. When they did my first ultrasound, they inputted October 16 based on the baby's size at that time. So, the baby could just come "early" (which could also mean on time), or baby could also be 10 lbs+. We shall see. I'm interested to see what the midwife says about everything today. My goal is to go into the labor process, armed with as much knowledge as possible and do the best I can, and be ready/flexible if we need to go to plan B. I just want her to get here safely.. and um, all of my parts to be intact afterwards haha.
Saturday, our doula came over, and was incredibly reassuring. She gave us an idea of what to expect for a birth in L&D, lists for what we need to do to prepare + postpartum care ideas, and talked/answered questions for 2 hours. She said baby will come when she's meant to come, which is true. I'm not going to let them induce me unless there's a medical reason, and if anything, I may ask to get my membranes stripped at 39 weeks. (I got them stripped with Liv, and while it wasn't a party, it certainly got the ball rolling.)
Has anyone else been in a similar situation? The doctor said growth estimates can be off by 15% in each direction, and I've head of women being told that their babies would be "too big" and went on to have perfectly normal-sized kiddos.
Either way, we're so excited she'll be here soon.
<3