28 week ultrasound update
Hi friends! Hope you had a wonderful weekend. Ours was a great time spent together, but Friday morning was a mix of positive and not-so-ideal news at my ultrasound appointment. I figured I'd share an update with you all since so many of you offered to send well wishes, prayers and happy placenta moving vibes to me. Thank you so much for all of your love for our family and this little beeb. It makes my heart so warm, and means a lot to us. <3
When the tech first began the ultrasound, she checked the baby's location (she's head down instead of transverse now, so that's awesome!) and the placenta right away to see how it was doing. She said that it looked far enough away that I likely wouldn't need an internal ultrasound (halle.freakin.llujah), and that everything looked healthy and beautiful. I instantly felt a huge sigh of relief, and couldn't wait to call or text the Pilot, who was at work for a meeting. I always love getting ultrasounds, and could have watched our baby dance on the screen all day. We checked out her spine, her brain, the chambers of her heart, her heart beat (a strong 141), the blood flow to the umbilical cord, and the tech took a variety of measurements. She was very sweet and gentle, and definitely took her time getting the measurements and letting me see our sweet growing baby.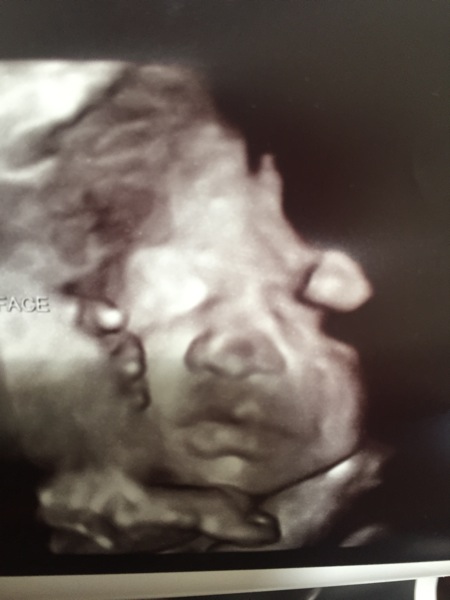 (She took this amazing 4d image! She was pressed up against me -that's what the darker spots are- but I was amazed at the detail!)
Then, she went back to the heart.
She took more measurements and a lot of image captures, and of course, didn't really tell me what was going on. I felt in my intuition that something wasn't quite right because the tech went from being super chatty to intensely focused and quiet.
The doctor came in to talk to me, and let me know that the placenta looked great and I was cleared to return to full activities and Orangetheory (though, let's be real, I'm not going to go back after 2 months off and at almost 30 weeks pregnant. I'll just wait until little miss is here to make my return). He then went on to say that our baby has Ventricular Septal Defect, or VSD, which is a mild heart defect. Essentially, the blood between the two lower chambers is supposed to be separated, and a small hole is currently allowing blood to flow from the left to right side. It can cause a heart mumur, but over time, could cause the heart and lungs to work harder and lead to cardiac issues. It's all dependent on the size of the hole. He said that sometimes this resolves on its own (and could even resolve itself before birth), and sometimes they need to go in and patch the small hole. The doctor assured me that this wasn't caused by anything I've done, and there's nothing we can really do to fix it. It's a matter of waiting, monitoring and taking necessary steps from there. I'm no longer a candidate for a birth center birth because the baby's heart will need to be continuously monitored, but will be able to deliver with a midwife and our doula in labor and delivery. The baby will need an echocardiogram shortly after birth, and it will need to be monitored until it either resolves itself or if they decide they need to patch the hole.
We feel very blessed that the baby is otherwise very healthy and everything seems to be going well so far. At the same time, it was a bit overwhelming and scary to receive this type of news, especially since I was alone at the appointment. I sat in the car and cried in the parking lot until I could call Tom and tell him what was going on. I also texted Katy, because I remembered that her daughter was diagnosed with the same condition and it has thankfully repaired itself. It hit me pretty hard how much I love this little baby already, and while worrying won't help anything, I couldn't help myself. Now I'm focused on remaining hopeful that it will resolve itself, researching the condition so I'm familiar with the terminology and potential outcomes, and giving thanks that in the grand scheme of things, it's something minor and can be fixed if needed. We have a fetal echocardiogram awaiting approval so we can get her heart checked by a specialist to determine the size and next steps we'll need to take.
Just wanted to share a little update with you all. Thank you again for all of your love and prayers and for being so wonderful.
xoxo
Gina and the familia