17 week belly pic: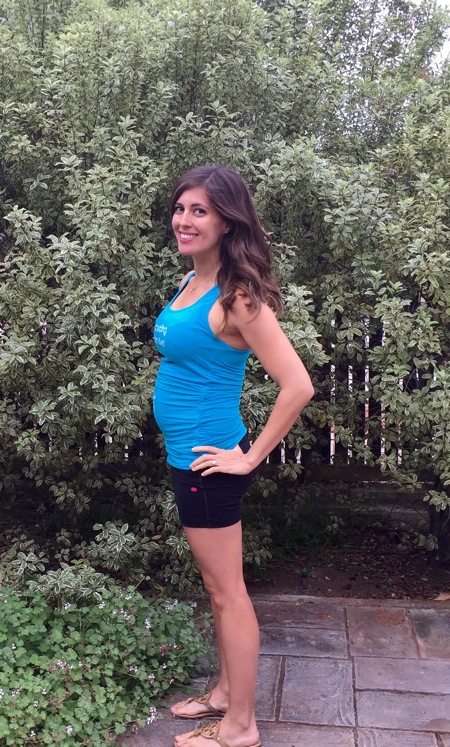 ("Cycling For Two" tank from my friends at For Two Fitness // Shorts c/o Pink Lotus)
Random thoughts and things I've noticed:
Choosing names is fun. We have one that we agreed on right away, so if baby is a girl, first name is GTG. Middle names are tough, though! Once again, I like all of the unique ones and Tom tends to go for the more traditional route.
If I start thinking about the fact that this is my last pregnancy (we both agreed that we'd have an equal adult-to-kid ratio), I want to cry. Even with all of the not-so-fun parts (morning sickness, being slightly horrified of getting the baby out all over again, missing wine, etc), it really is incredible. I'm fortunate to have had enjoyable pregnancies so far -which I know isn't always the case, and feel very thankful- and like being pregnant. There's something truly magical about having your little one growing inside of you, and not knowing what they'll look like or who they'll be, and praying that they'll be healthy and happy. Thinking about the newborn phase (and intense lack of sleep that comes with it) brings me back to reality.
I sometimes forget that I'm pregnant. Example: when the Pilot's beer makes googly eyes are me (before I remember, oh yeah you can't steal a sip like normal), and when I'm rolling around on the floor with Liv and realize I probably shouldn't do that. There are also the moments where my perception does not meet my reality. After teaching any fitness class, I feel energized and 100% like myself, then I turn the corner and meet belly in the mirror. Oh yeah. Things are not the same up in here.
Not sure about the double stroller. I think instead of getting a double stroller, we'll get a little kick board-type thing for the Orbit. Liv rarely rides in the stroller, and she's definitely over her running in the BOB days, so the double-BOB is definitely out. I'll probably just keep our BOB (my review is here) and take the baby for occasional runs while Liv is at preschool.
The second trimester energy blast is welcomed with open arms. After feeling so lethargic and not productive in the least, it feels really good to WANT to do things again, and to have the energy to do so. I've been working on crushing my to-do lists and blasting through work stuff, which I'm going to enjoy until I hit that third trimester slump.
Pregnancy dreams continue to blow my mind. I had one last night that I was delivering in this strange hospital, but got called into the room to sing "Deck the Halls" with a choir while Tom played the piano. I guess watching The Voice before bed got into my brain?
Emotions:
I've noticed that I've been more much emotional over the past couple of weeks. I'm still in a happy mood, but I cry more easily, sometimes over silly things. We're still nowhere near the great salad breakdown of 2011, but I'm sure a similar moment is just around the corner.
Cravings:
Refried beans. Give me all those frijoles.
Pizza. Always pizza. And sandwiches/wraps.
Soups. Any soup tastes wonderful, but I especially love chicken and veggie, tortilla, or tomato. I could eat soup and salad for every meal and be happy. At OBistro, I ordered the lobster bisque, not knowing it would be heavy on the dairy, and it ended up being this crazy creamy decadent wonder. It tasted like nacho cheese with lobster in a bowl? I've thought about it every day since.
Giant salads with protein, avocado and dressing. The classic never dies.
Chia pudding and goat's greek yogurt with berries and honey.
Acai bowls! These have always been a favorite, but they're especially glorious right now.
Same with smoothies. Anything cold tastes delicious. 🙂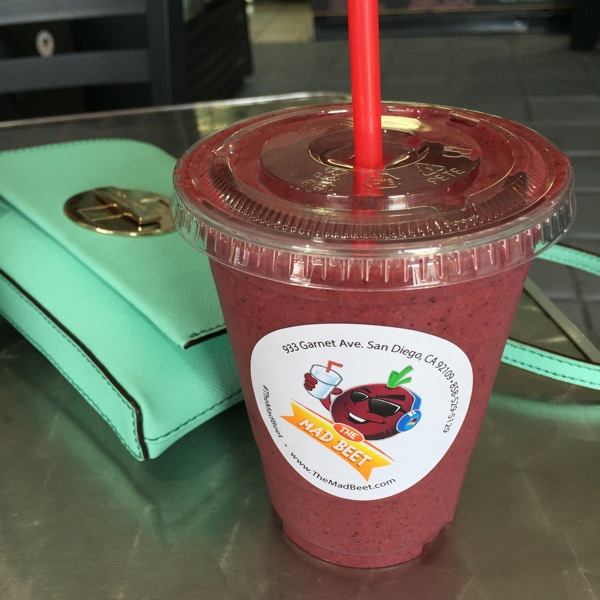 ("The Shakira" = berries, acai, honey + peanut butter)
Deli meat (pan-seared to heat) with cheese, mustard and pickles, rolled up. Delicious.
Aversions:
SCALLOPS. I can't even be near them.
Not too much else. I'm glad my eats have somewhat returned back to normal (you know, minus the new desire to eat melted nacho cheese + lobster). I don't feel as perpetually starving as I did during the first trimester, which is nice. I just always make sure to have a snack on hand if we end up somewhere and I'm hungry.
Workouts:
I've had to make some adjustments in the past couple of weeks as far as weights and intensity go. In orangetheory last week, I spent a lot of the time on the treadmill walking. I still ran for my push paces and sprints, but my base pace was a quick walk with incline. I definitely felt tired that night, so I listened to my body. I told myself to do what I could, and walk when I needed to, and still got an awesome workout. In BODYPUMP, I've had to decrease some of my weights. My squat weight is no longer two large plates; it's one large and one medium. Back weight is the same for now, and triceps and biceps have gone down from one big plate on each side to one medium and one tiny. The good news is that it still feels really great to teach, so fingers crossed I'll be able to keep up with things.
Belly button status: Liv said, "What is happening to your belly button?" and I told her, "The baby is growing, so my belly is getting bigger, and my belly button is flattening out." Her response, "Oh, that's too bad." haha
Weight gain: 9 lbs
Looking forward to:
Our ultrasound in two weeks! We'll find out for sure if baby is a boy or girl. I will definitely share the news as soon as we tell the fam.
Kicks and punches. My heart.
Our family-moon to Hawaii! We booked our trip this week and I can't wait to see Liv's face at a real luau, as she's kind of obsessed with hula dancers. We'll be in West Maui (but will have a rental car) if you have any ideas for that area. Mama's Fish House and Julia's Banana Bread are definitely happening. 🙂
xoxo,
Gina