Family: First Trimester Faves
I've been reunited with the Snoogle!!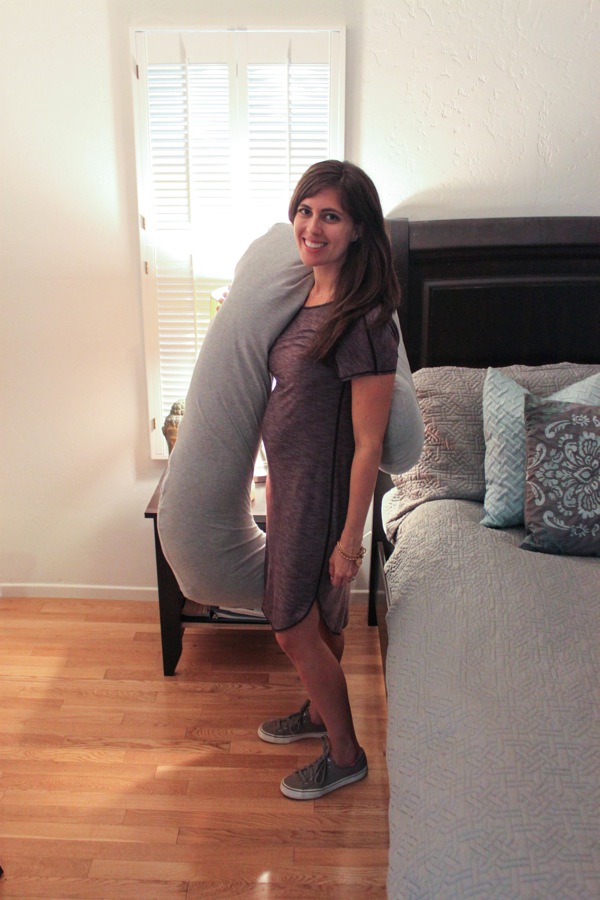 (Dat bump, tho.)
I brought it into my arms in a warm embrace, and sang it some Ed Sheeran.
Last time I was pregnant, I wrote about some of my first trimester faves. I thought I would share the latest, since they've changed a bit this time around.
Here are some of my favorite things from the first trimester: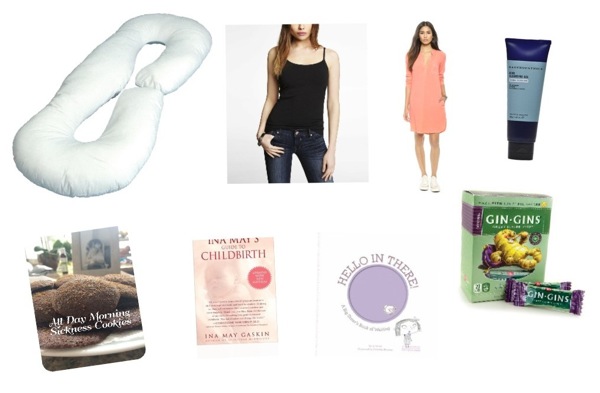 For comfort:
1) The Snoogle. My hips started to ache almost instantly, and I found a hard time getting comfortable while sleeping. Last time, the Snoogle was my lifesaver. I ended up giving it to a cousin who was in her third trimester and asked to borrow it, so I ordered a new one. It made sleep so much more comfortable. Tom jokes that "the barrier" is back. 😉
2) Cami tops with built-in bras. Underwires are the bane of my existence right now. To be honest, I've been wearing sports bras, or just a cami with a built-in bra whenever possible. (Of course, certain outfits require a "real bra" but if I can get away with another wire-free option, I'm going for it.) I love the camis at Express because they're inexpensive and come in a variety of colors. They're perfect for layering.
3) Comfy/tunic dresses and button-up shirts. Since I didn't have an official bump right away, and word wasn't really out, I've been wearing a lot of baggy comfy tops. I especially love this tunic dress, an old Banana dress (similar here), and flowy tanks and button-ups. They're great for the in-between stage where it isn't totally obvious.
For nausea:
Nausea was pretty rough the first 13 weeks. I felt like I was on the verge of getting sick all day, unless I was eating something. Some of the things that really helped:
4) Ginger chews. Ginger teas and candies helped dramatically with the nausea. I love the Gin-gins.
5) Morning sickness cookies. Whitney made these for me and surprised me with a giant batch and some other morning sickness remedies because she's the best. The recipe is on her blog here!
6) All the carbs. Bagels and pizza have healing powers.
7) Sparkling water. The bubbles helped to settle my stomach, and the occasional Zevia cream soda worked well, too.
Reads:
8) Ina May's book. It was kind of funny when the midwife asked me what I was reading, and I was like, "Uhhh… trashy fiction?" Back in the day, I would have been able to easily rattle off 5 pregnancy-related books. It's been nice to feel like I know what I need to know, and just refresh info here and again. One thing I was really looking forward to was going back into Ina May's Guide to Childbirth. The birth stories are so beautiful and touching, they make me cry every time. Each one is like a special treat to read.
9) For Liv. We've picked up some big sister-related books, and they've been awesome. This one, recommended by Kate on my Facbeook page, is her very favorite. The little flaps are so cute, and I Love how it shows the baby growing inside the mama's belly until it's born, and the big sister is holding her. So sweet.
For skincare:
10) My friend Ashley is an esthetician and last time I saw her, her skin somehow managed to look MORE amazing than it usually does. I had to know everything she was using. She recommended the Naturopathica line, and sent me some a couple of weeks later! I am obsessed. She said all of the ingredients are safe to use during pregnancy, and I've been loving the cleanser, Vitamin C serum, and calendula night cream.
The Honest Company (<— affiliate link; I have a bundle delivered each month and love their stuff) belly balm was going to be on this list, but I don't think it's working. I love the texture, the mild smell and the ingredients. BUT, I have TWO RED stretch marks on my belly. I saw them while getting dressed yesterday and whispered "mother of pearl" (or something very similar) when they taunted me in the mirror. I ordered some L'Occitane supple skin oil like I used last time. If it isn't broken… why did I try something different…?
Focusing on all of the lovely things about pregnancy instead of a couple of stretch marks, including longer, thicker hair. Yes. Good.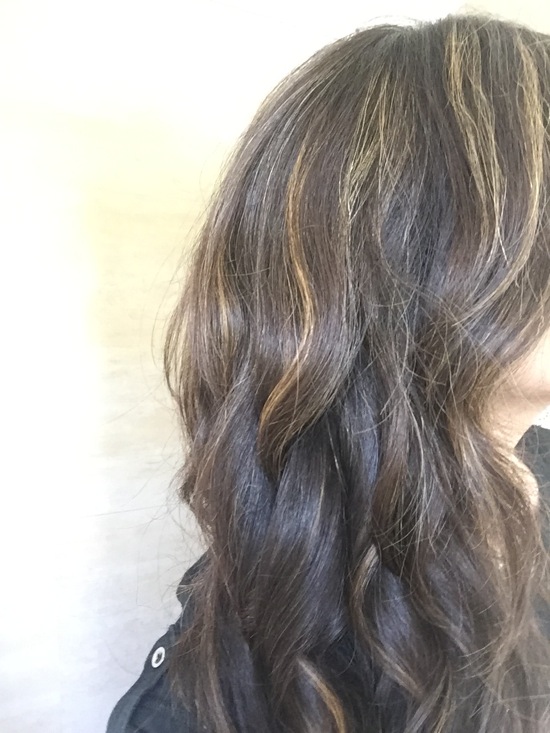 Mama friends: anything you loved during the first trimester? Morning sickness remedies to share? So thankful to be over that hump. 🙂
xoxo
G
More: