21 week belly shot: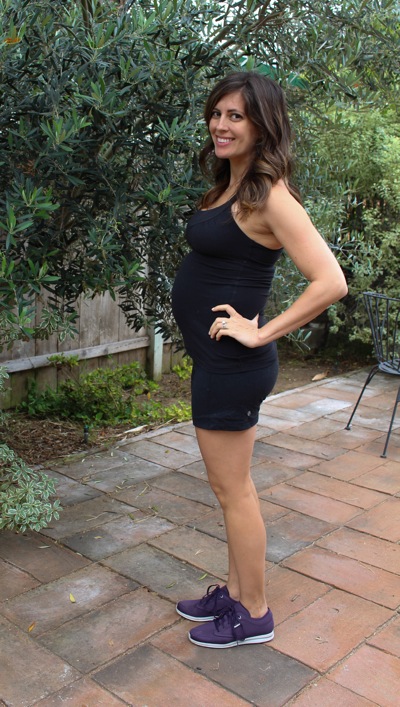 Random thoughts/things I noticed:
It's been fun to go back and see how things have changed from this pregnancy to my previous one. I rarely post bare belly pics on here -and I totally get it if you think pregnancy bellies are weird haha- and took these this past week. Turns out, I did the same thing around the same time last pregnancy. Still amazed by how different the frontal view is from the side view.
Front: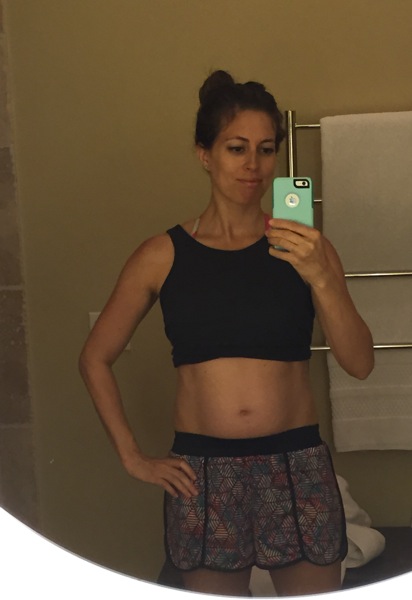 then BOOM!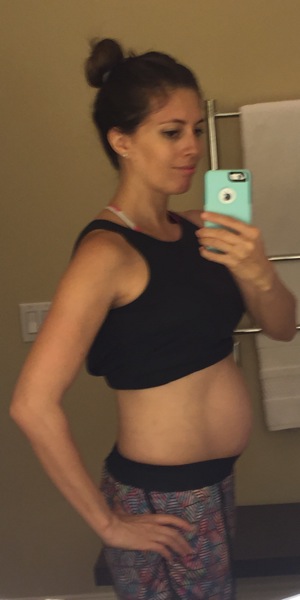 Watch out for that thing. 😉
-Baby is kicking and moving up a storm, and it's the best ever. If I could be pregnant and feel baby kicks all the time, that would be ok with me. (But then I think about the end result of being surrounded by angry newborns, and I'm good. haha) I've been drinking sparkling water and club soda throughout the day, and love to feel her dance around afterwards. I'm officially one of those pregnant ladies who is always touching and rubbing her belly. Baby will kick me, and I'll gently rub back to say "Hi." It's our little dance that continues throughout the day.
-I initially had some info here about chiropractors I had found in San Diego, and I was so excited about it, but the day after I wrote this post (the day after my adjustment), I was debilitatingly sore. I've talked to a few people about it, and apparently it's normal, but I was far more sore than I'd ever been. Thankfully, it was gone in about 4 days.
Awkward pregnancy moments:
I was getting dressed quickly to head to the gym, and I grabbed a baggy U of A tank top to wear while I walked on the treadmill. That is, it was ONCE baggy. I passed a gym mirror and noticed my belly was hanging out of the bottom of the tank top = accidental pregnancy half crop top. Not a style I recommend.
The server at the wedding. She was so sweet (and brought me extra gluten-free cornbread), and kept asking if I wanted wine, since they had magical glasses that kept refilling. I sipped my club soda and politely declined at least 4 times. She came back again, and I wanted to tell her that the smell of the wine alone was making me want to cry, but I said, "I would love to have some, but can't right now because I'm pregnant. Thank you so much, though!" She winked at me and filled my glass TO THE BRIM. Whyyyyyyy are you teasing me, lady?
Maybe it's the fact that my gym and teaching environment is different now, but I haven't even received a fraction of the weird comments that I got while I was pregnant with Liv. I feel like I was offended at least once a day, either by someone rubbing my belly and simultaneously asking if I was having twins, or someone walking by to tell me how "huge" I was. Maybe I'm not as sensitive to that type of thing, but it also hasn't happened at all. And now that I said that, I'll probably get a zinger this week haha.
Workout: Still teaching Zumba, Spin, Barre and BODYPUMP, and taking a break for OTF classes until my placenta moves up. I really miss it, but have been enjoying getting in activity through teaching and long treadmill walks. It's been pretty relaxing to read and walk, or meet up with a friend for a chat and stroll.
Weight gain: 14 lbs. (<– edited because the gym scale said 17 lbs, but the midwives scaled which I've been using the entire time said 14 lbs. I'm going with that one haha.) Like last time, I think I tend to gain more initially and it eventually tapers off.
Belly button status: Long gone. Still not quite pushing outie territory. The dark line down my belly also hasn't appeared yet, but will probably be showing its face again sometime soon.
Reading now:
The Womanly Art of Breastfeeding. I didn't emphasize breastfeeding reading much last time -I was way too scared about labor and trying to get prepared for that- so this time I'm switching my focus more towards preparing for after baby arrives. I'll still re-read some favorites about labor/birth, and brush up on our Bradley Method books and binder, but am really more concerned about getting breastfeeding knowledge and support, and making the transition a positive experience for Liv.
Excited for: our Hawaii trip, and making another day trip to Disney before baby arrives. Liv will also be coming with me to my next midwife appointment -flu season is over, so kids are allowed again- and I can't wait for her to hear the heartbeat with me.
xoxo
Gina