The baby is the size of a small cantaloupe right now! Cuhrazy.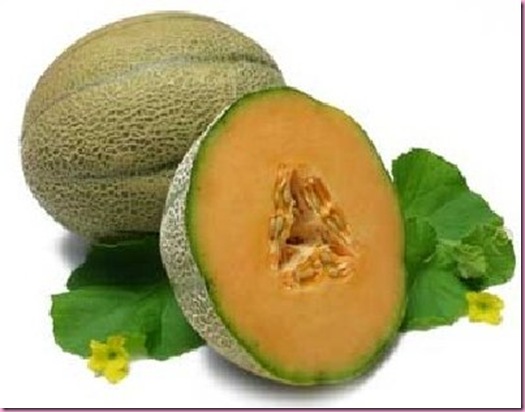 Source
It blows my mind that I'm halfway through the pregnancy!
That little lady is growing quickly, and I hope she continues to grow strong and healthy.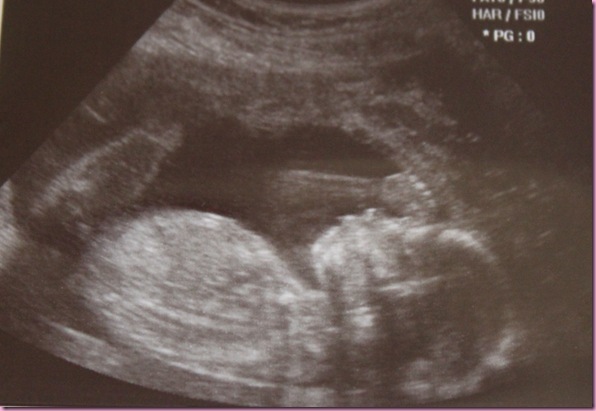 I'm pretty sure there's no denying the belly now, too.
[I think I say that every time I post an update. haha]
17 weeks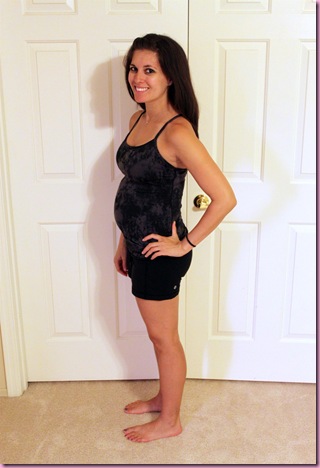 20 weeks
Tom said from the front, you can still kind of see my abs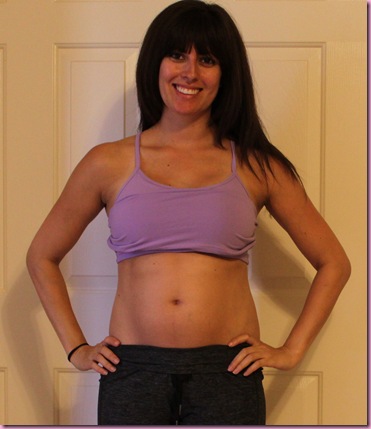 (I kissed him)
but not quite from the side.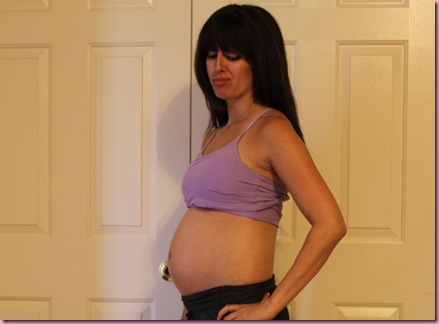 Having a sizeable, obvious baby belly has been good for many things:
1) Scratching. It itches!! I also like to rub it… all the time. Before I was pregnant, I wondered why pregnant women always had to be rubbing and touching their bellies. Now, I 100% understand. At any time of the day, you can find me scratching, rubbing, talking or singing to my belly 😉 I love that my amazing husband loves talking to the belly and rubbing it, too. I woke up in the middle of the night the other night, and he was rubbing my belly, half asleep. <3
2) Getting me busted for dipping into the almond butter jar.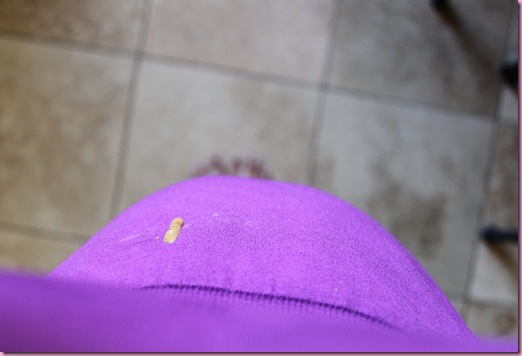 "What's on your shirt?"
Oops.
3) Sweet words of kindness and horror stories from random strangers. I've gotten to the point where I only listen to the good things and kind of block out the rest. Positive thinking leads to positive results, right?
One lady, whom I admire greatly (and is a rockstar mom), told me last night "Don't listen to all of the negative things people will tell you. I always had this feeling that I was destined to be a mom, and I love it more than anything in the world." These are the kinds of things I love to hear <3
4) Little kicks and bubbles that make my heart go into swoon overload. After I eat, I love to go lay on my side (the only time I like to lay on my side) and feel her move around. There isn't a ton of movement yet, but enough to make me extremely excited.
Notes from this week:
-My hips have never hurt like this in my life. Yesterday, they were miserable. The Snoogle has helped, but I'm way overdue for an acupuncture appointment.
-Other than the hip thing, all in all, I feel pretty fantastic. My energy levels are pretty normal until the end of the day, and around 9pm, I'm DONE. I'll disappear shortly after dinner to go upstairs and get ready for bed.. that is, if I don't fall asleep with Bella on the couch.
-My workouts have still been pretty "pregnancy normal" (normal with some modifications)- cardio almost every day, weights 2-3x a week, slacking on yoga but am committed to get back into it when we get back from Philly. If you guys would like, I can post some of the changes I've made, especially since back and stomach exercises are discouraged after the first trimester.
-I broke a bra last week.. while I was wearing it. Thank goodness I was in the mall when it happened, about 50 ft from Victoria's Secret. I bought one new one, in my new size, but am not sure how many I want to invest in, because it seems like things are always changing over here. How does pregnancy bra shopping work??
-Weight gained thus far: 12 lbs
Cravings:
-Fruit, smoothies, gluten-free pizza, beastly salads, fruit/veggie juice, shrimp, blocks of goat cheese and kind of random.. I've been wondering for about 3 days if they make gluten-free strawberry poptarts. I've had poptarts on the brain!
Fun baby purchases:
-Besides the goodies I showed ya last week when we announced it's a girl, we've also ordered the nursery bedding.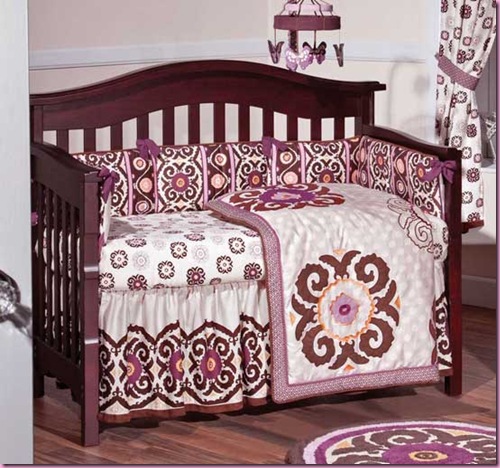 Source
Thanks for sticking with me over here on the Family page for the past 20 or so weeks 🙂 I've loved being able to blog about and share this adventure…about 20 more weeks and we'll get to meet the little lady <3