Favorite books about health and wellness
Hi friends! How's the morning going? I hope you're having a great day so far. We are off to the park with some friends, and I'm excited to catch a dance class later today.
For this morning, I thought we could talk about books! Specifically, health and wellness books. I feel like there are SO many out there, and it can be tricky to weed through the *junk* (sorry not sorry) and find the true treasures. I feel like there are always trends and hypes coming out, but there are many books that stand the test of time and offer sage advice that doesn't change as time goes on.
Here are some of the best books about health and wellness that I've personally read, plus what's on my "to-read" list.
Nutrition:

To be totally honest, this book is a bit extreme and a little freaky. I feel like with anything, you have to take it with a grain of salt.
I found this book absolutely fascinating, and often use it as a health resource. It provides valuable insights as to what's going on within our bodies, especially how everything is connected. It also includes proactive tips on a healthy diet and lifestyle. It's dry, it's enormous, but it's packed with information.
This is a book I read years ago, and it was a catalyst for my diet transformation. This is when I switched from diet foods, to whole, plant-based foods. ("Eat food. Not too much. Mostly plants.") There is a solid emphasis on choosing real foods, and Michael Pollan suggests that the more obsessed we become with nutrition, the less healthy we can become. He also describes the current Western diet and the science experiments that have overtaken grocery store shelves. The key is to look at food as a whole (aka something our ancestors would recognize), exercise moderation, and include fresh produce in our diet for nutrients and antioxidants.
This was a recent purchase, and while I won't be cooking everything in the cookbook (um, brains? WHAT.), I love the focus on whole foods that our ancestors would have enjoyed. It's very "slow food movement" and making everything from scratch: from butter, to yogurt, and fermenting vegetables. My great-grandparents lived until their mid and late 90s, and I think so much of it has to do with the fact that while they weren't eating "health foods," they ate real foods. They cooked beans and tortillas in lard, they ate real butter, and they had their own chickens running around the yard. It's great inspiration to go back to the old school way of living, and take the time to create your meal from start to finish. While the recipes are pretty "basic" (aka they're not fancy), they still include beautiful herbs and aromatics. It's a great recourse if you're looking to make more of your food at home.
I feel like some health books written by celebrities can be a little wacky… and this one pleasantly surprised me. Her message is moderate and body-loving, which is something I genuinely appreciate. I feel like it's an educational and motivational read, and while it's a lot of info, it's presented really well. I recommend this book if you're looking at a whole-body view of women's health.
This book was a huge eye-opener for me. At first, I didn't even know what the microbiome WAS, and next thing, I was super interested in the balance of the bacteria in my gut. This book is written by a gastroenterologist who encourages us to "live dirty and eat clean." She includes helpful information on restoring your internal balance, which in effect can positively affect healing and prevention of various diseases and ailments. If you have any type of digestive, hormonal, or autoimmune conditions, I think this can be a great resource to potentially aid in healing (with doc's approval and all that good stuff).
Fitness:

The older version of this book was an invaluable resource to me when I first started training clients, 8 years ago. I was just learning about muscle splits and how to effectively train my female clients, and constantly used this as a resource to keep my workouts fresh. I'd be like, "Ok, we're working chest, shoulders and triceps today" and look at this book to plan out the workout, making sure that we never did the same thing. Over time, it helped me become so familiar with strength training exercises, and helped to expand my horizon. I highly recommend this if you've been doing the same ol' thing in the gym and want some new strength ideas.
While the Big Book of Exercises is the "what," this book is the "how." It's all about HOW to train effectively and create a balanced and smart routine for yourself. It found it inspiring to push myself, and an important reminder to prioritize strength training for the health and physical benefits. It's a great one if you're looking to change the way you're training, or if you want to really emphasize weights in your routine.
I loved this book so much I wrote an entire post about it. I think that if you want to promote full body strength, flexibility, and stabilization, this is a must-read, especially if you don't want to go to physical therapy. (After going to PT for 8 months after P's birth and my surgeries, I feel like EVERYONE should go to PT.) This book takes your entire body, from head to toe, and describes methods you can utilize now to encourage optimal alignment and health. I highly, highly recommend it, and all of Katy Bowman's work because #obsessed.
HIIT It! <— I had to give this one a little shout out. This is the book I wrote all about High Intensity Interval Training, plus nutrition tips and recipes. I would love it if you added it to your real-life or virtual bookshelf. <3
Want to read…
Thinner, Leaner, Stronger. I just received this one from Amazon and am excited to dive in. I'm always excited to learn more about training methods, and to see if I can discover new ways to train or design my workouts for classes and the blog. I'll definitely let you know what I think!
Roar. The cover caught my interested and the reviews are pretty good, so this one is next on the list.
Yoga, meditation, mental wellbeing: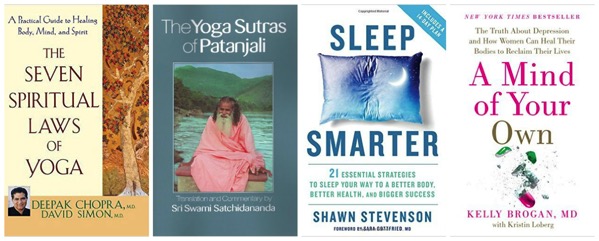 We read this one through yoga teacher training, and I think everyone should read it. He breaks down each day to include a specific purpose (for example, Friday is the Law of Detachment, so you focus on letting go of the things that don't serve you) and it's a great way to give your meditations and daily life a bit of extra guidance. It's a quick and inspiring read, and basically anything Deepak Chopra does is amazing so there ya go.
This is another yoga teacher training read. I feel like it's even more beneficial to take your time on this one, and if possible, discuss the sutras with a group. If you read it alone, I'd do up to 3 sutras at a time, and journal your thoughts and the significance of the sutras. It takes a while, but it's worth it.
Want to read…
Sleep Smarter. I LOVE Shaun Stevenson, so naturally, I'm interested in reading this book. I've always been a fan of sleep haha, so any excuse to push for more quality sleep is always a good thing. Sleep can dramatically impact our health and wellbeing, so it makes sense that we could focus on good sleep just as much as we focus on exercise and solid nutrition.
A Mind of Your Own. As someone who has experienced depression, this is definitely a book that calls to me. I'm always looking for ways to manage and balance my emotional wellbeing, and from the reviews, it seems like this is packed with helpful strategies. Might be another one to take with a grain of salt, but informative nonetheless.
You Have 4 Minutes to Change Your Life. I'm so thankful I've had the opportunity to meet Bex in real life, and she's just as fun, kind, bright and wise as you would think. I was going to download her new book, but think I'd rather have a physical copy. Ordering now…
So tell me, friends: what are your all-time favorite health and wellness books? Anything on your to-read list?
xoxo
Gina
More: my top 5 favorite books. This list is still pretty much the same!! Awesome comments and suggestions here, too.