Hi kids and pups.
I'm Dori from Dori's Shiny Blog. When Gina asked me if I wanted to write this week's Focus On post about Core Fusion, I said yes right away! Not only do I love The Fitnessista, I love Core Fusion. I credit this class for changing my body and my life at a time I really needed it. I also credit my experience doing the Core Fusion Challenge (class 4-5 times a week for a month – which was 18 months ago and I still haven't stopped) with helping me discover my love of exercise, giving me the desire to learn more about fitness and eventually leading to some amazing opportunities including appearing in a Core Fusion class on YogaVibes, being quoted in the NY Times and my weekly gig writing Dori's Quest for NBC New York's GO Healthy NY blog.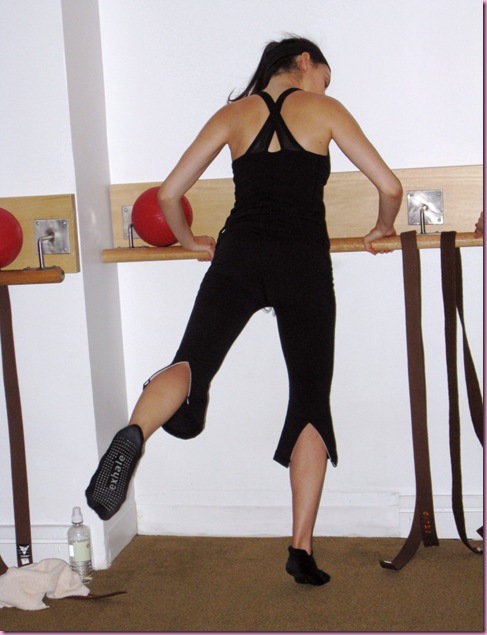 If I am able to fulfill my dream of landing a full-time fitness-related career, I will have Core Fusion to thank for setting those wheels in motion.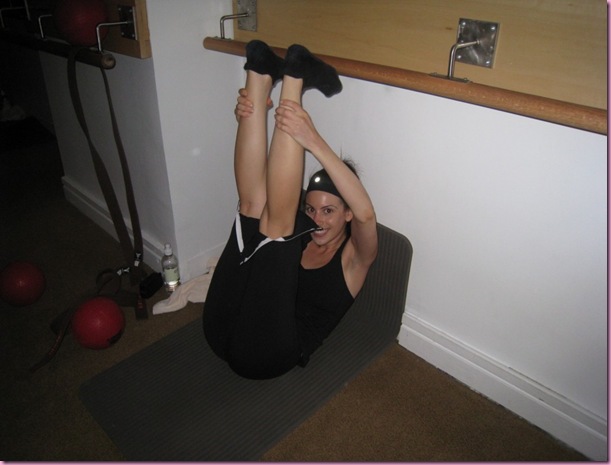 What is it: A full-body strengthening and toning class at exhale spa locations nationwide using small, isometric movements to work multiple muscle groups. Aside from the upper-body section, which uses light dumbbells, the only resistance you use in Core Fusion is your own body weight. The class generally starts with push-ups and planks before diving into the weights section – bicep curls, lat pull-downs, tricep kickbacks and many more. From there is the most intense portion, the thighs section, which involves low, pulsing plies, chair positions and squats. Glutes includes tiny leg lifts in varying positions to target the behind, and then there is a long abdominal section. The abdominal section consists of flat back and round back exercises under the barre, and then dives into Core Fusion's signature curl section. Imagine holding the top of a crunch for a very, very long time.
After each section is complete, your stretch that body part, which is said to help with the lengthening aspect and prevent bulkiness. I don't know if that is exactly true, but stretching is a good thing regardless!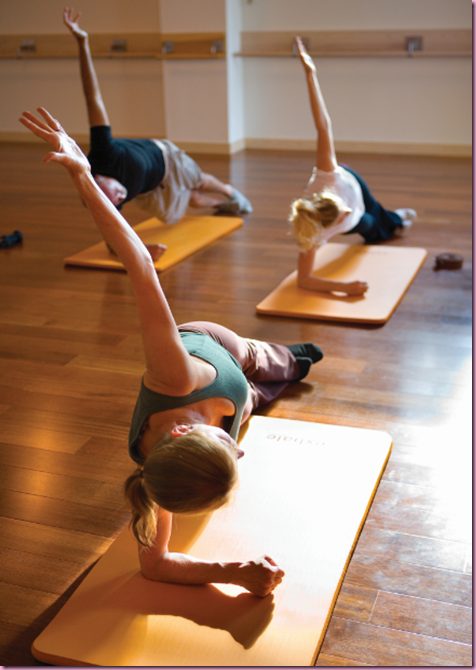 What to expect: Pain.
I kid. Sorta.
When the teacher first tells you to take light weights – no more than 3 pounds – you might scoff. But every person who ignores the advice has to drop down to lower weights. There will be countless reps and the light weights begin to feel VERY heavy. But the most intense pain comes from the thigh section. I am not going to lie: it burns. But it works.
Did I scare you? I promise the class is actually incredible. After you lose yourself in this hour, working your body to the extreme, the sense of peace and content you feel as you lay in savasana is like no other. The peace – and the pain – become addicting. I often crave the burn.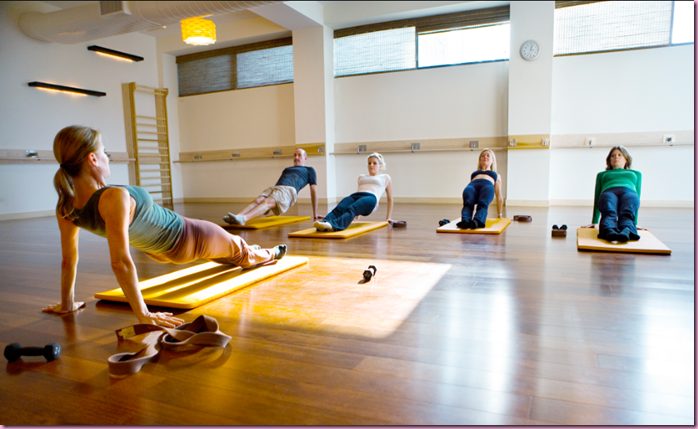 What to wear:
Any comfortable clothing that you would normally wear for yoga or exercise. I am typically adamantly against wearing cotton to work out, but in this class you might be able to get away with it as it is not generally a super-sweaty time.
Pros:
-Incredible full-body strengthening and stretching workout. You hit every major muscle group – arms, back, shoulders, chest, thighs (oh, the thighs), glutes and, of course, abs.
-You see improvement – and results – quickly. When I started Core Fusion, I always collapsed during the plank; within just two weeks, I was holding the plank for the entire 90-ish seconds. I started out using 2- and 3-pound weights; now I use 5 pounders. I was unable to do a single full-form push-up; now, I would never consider doing push-ups on my knees. My body is toned and I feel much more confident. And one boy even told me he could break a two-by-four on my ass. The ultimate compliment if you ask me.
-Adjustments– The teachers go through an intensive 16-week training program. As a result, most of them are fantastic when it comes to making individual corrections to ensure you are performing the exercise correctly. One minor adjustment and you feel the work in an entirely new – and more challenging – way. This also prevents injury from performing exercises incorrectly.
– Teachers – The teachers are generally awesome. They have incredible energy and enthusiasm for Core Fusion, and seem to truly believe in the workout and want to see their students improve. However, some are far better than others, and that can really determine how the class is. And the teachers are always happy to answer questions or provide assistance after class.
– At-home options – If you can't get to a studio, there are many wonderful Core Fusion DVDs as well as live streaming full-length classes on YogaVibes.
– Stress-relief – Whenever I am having a bad day or need to gain perspective on a problem, I take a Core Fusion class. Focusing on one task, working so hard on this one thing for an hour frees my mind from constant chatter, and after the peaceful savasana, I always feel better about my situation.
– Camaraderie – When you're experiencing both the pain and joy that comes with this class, you can't help but bond with others who feel the same way as you. It is hard making friends as an adult, but I made some truly wonderful friends through these classes.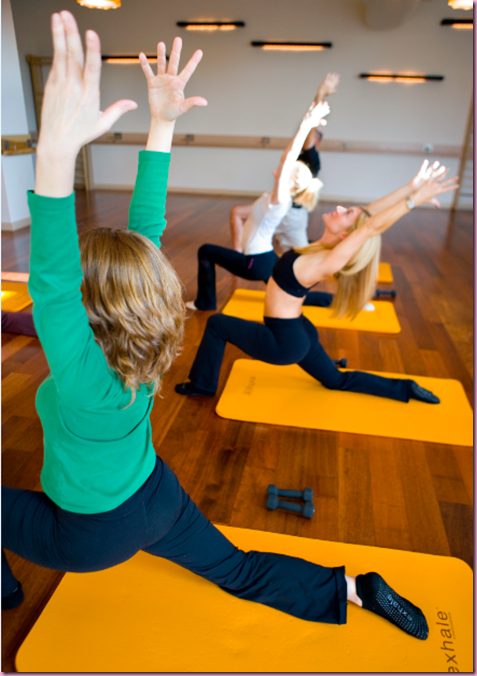 Cons:
– Lack of cardio- Students looking for a more cardiovascular intensive class might be disappointed with the "strength in stillness" aspect of Core Fusion. Some sections of class do raise the heart rate, but overall it is a pretty low-key (yet intense and challenging!) hour. The good news is that there are variations of Core Fusion that are hardcore cardio, such as Core Fusion Cardio, Core Fusion Boot Camp, Core Fusion Yoga and Core Fusion Sport. All of those classes will have your heart pumping and sweat dripping!
-Repetitive – The class follows the same basic structure: Upper Body, Thighs, Glutes, Abs. I happen to like knowing exactly what will be coming next in class. It helps me pace myself and gives me a sense of how much time has passed (being aware of time is one of my neuroses) but I know some people get a little tired of the same old routine.
– Price – Core Fusion is expensive. I strongly believe it is worth it for those who can afford it – the results are unbelievable – however, the high price tag alienates many people.
_______________________________________________________________________________________
Thank you so much for the amazing "Focus On" post, Dori!
Have you tried a Core Fusion class? What was your experience like?
If you don't have classes in your area, the DVDs are fantastic- I own a few and love them.
See ya later friends <3