I will never forget my first *real* water aerobics class.
The Pilot and I were at Canyon Ranch and we thought it would be a fun and "relaxing" end of the afternoon. The pool was filled with older yet vibrant ladies, bobbing in the water with their sun hats on to "Wooly Bully."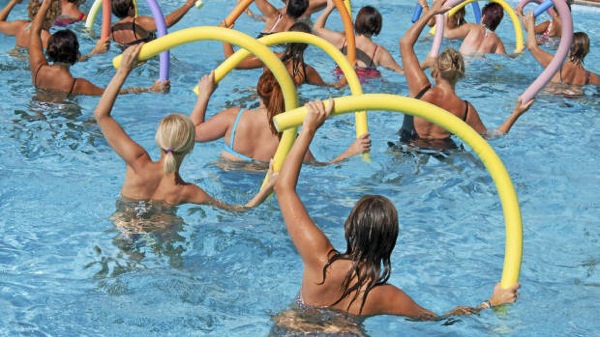 I thought to myself, "Perfect. This is going to be easy and fun."
Fun, yes.
Easy, no.
And the ladies crushed me.
At one point we were doing "rocking horse" across the pool, they're waiting at one end, and I'm frantically doggy-paddling to catch up. My head was halfway underwater and I'm like, "Oh man, just make it to the other end!"
The instructor was like, "We almost lost you today."
A few years later, when I started training to teach at the resort, I had to experience the full class schedule so I could eventually teach most of the classes. The second time I took water aerobics, I got the hang of it, and the third time, I really enjoyed it. It was nice to do the full workout without doggy-paddling for dear life. 😉
I eventually started teaching water aerobics and Aqua Zumba. Eventually, I really started to understand the mechanics and benefits of working out in the water.
Some of the great things about aqua fitness:
-It's extremely low-impact, which makes it ideal for those with sensitive joints, for beginners, or those building back their fitness after an injury
-You can achieve a cardio and strength workout in one spot, plus the water adds extra resistance
-For strength, you are working the concentric and the eccentric part of the movement at the same time. Since you have resistance both ways, if you're doing a biceps curl, you are also working your triceps.
-Being in the water can help to improve circulation as the heart pumps more efficiently
-You're in the pool! Even while you're working, there's still a bit of vacation/party vibe when you're in the water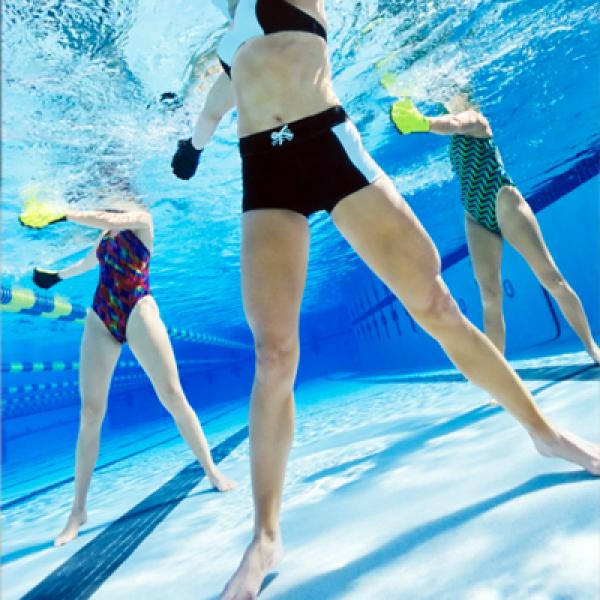 Some of my favorite water exercises:
Cardio:
Jogging suicide drills: jog through the water, and go 1/3 of the way out, then back to the wall. Next, go 2/3 of the way out and back to the wall. Finally, jog (swimming when it gets too deep) to the wall and back. When you jog in the water, keep your torso upright, lead with your hips and make sure that your whole foot touches the bottom of the pool.
Tuck jumps (you can do this without going under water. Just exhale, jump and bring your knees towards your chest, contracting your core.)
Hover jumping jacks and cross country skiing (the same as the original versions, but don't let your feet touch the floor! These are challenging variations and great for water Tabata drills. Go as hard as you can for 20 seconds, rest for 10 seconds and complete 8 rounds for 4 minutes total.)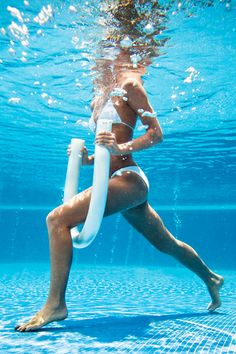 Strength with a pool noodle:
Bodyweight strength:
Wall pop-ups: Stand in front of the wall and place your hands on top in a diamond position (thumbs together and index fingers together). Bend your elbows, and as you exhale, jump up, straightening your arms almost completely (keep a small bend at the elbows). Complete as many as you can in 30 seconds.
Water pushes: keeping your arms under water and fingertips active, push the water away from you as quickly and forcefully as possible.
Have you tried a water aerobics class before? What did you think?? Any water exercises that you love?
Hope you have a wonderful morning and I'll see ya later today on the Family page!
xoxo
Gina
More Focus On posts: