Besides department stores, which will always be staples that I love, I'll go through store phases. I think it's just that I like knowing I can go into a certain store, find something I like, and then leave.
First it was Express (gotta love those mailer coupons)
then Banana and J Crew 
currently LOFT and Francesca's Collection (with a little H&M in there).
I did something very out of the ordinary for me this week: bought quite a few things from a store I haven't shopped at in years. Old Navy.
I have a weird history with Old Navy. When we first got one here in Tucson (I was in high school), I loved it. I worked throughout high school and really appreciated the low prices, along with the clothes at Forever 21. I realized that all of my clothes from both stores would quickly fall apart and moved on to Abercrombie land, where I eventually started working to take advantage of the sweet discount. Anyway, I never really went back to Old Navy. Shopping at any of the malls in Tucson can be a little bit of a rat race -over the weekends, a lot of people drive up from Mexico and buy, buy, buy- and just peering through the windows as I'd walk by, well, just the sight of the crowds would give me a panic attack.
Recently, a friend came over and was wearing a super cute top, so of course I asked where she got it.
Old Navy.
I checked the website to see if the shirt was available and was blown away by how many cute, affordable styles they had. ON seems to have changed a lot (and from what I've heard, the quality isn't fantastic but it's better than it used to be), or maybe I've just been missing out, because I picked up a few fall staples: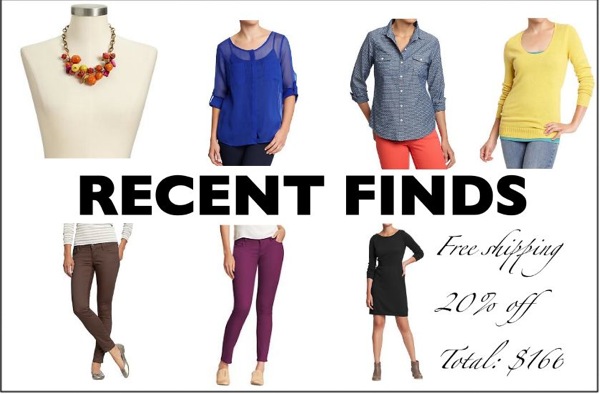 Not too bad, huh? 20% off, free shipping and $166 (including tax) for everything. We'll see how much of it fits/what I like when it gets here, but the good news is that I can brave the store and return/exchange if I need to.
It was fun crashing the party over here- I love to post about good shopping hauls every now and again 🙂
What's your current staple store? Find anything amazing lately?
xoxo
G
My clothes-buying strategy for Liv