Brown rice lasagna with autumn salad
Hey! Happy Indian Food day! How's your morning going??
So, last night was amazing!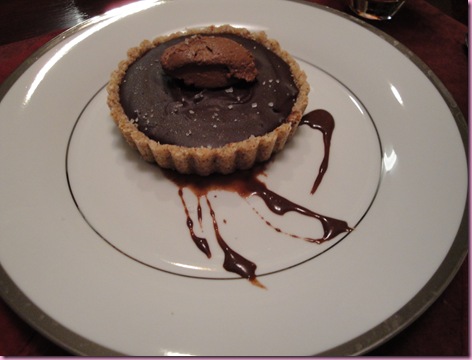 If you've been reading the bloggy for a while, ya'll know how much I adore dinner parties and usually have one each week. I LOVE having people over to wine and dine 😀 Since I was gone a month for school and then came back and went to Cali, I haven't been able to have a dinner party in over a month! Well, Girl's night is back 😉
For appetizers, we had:
Classic hummus and Mary's Crack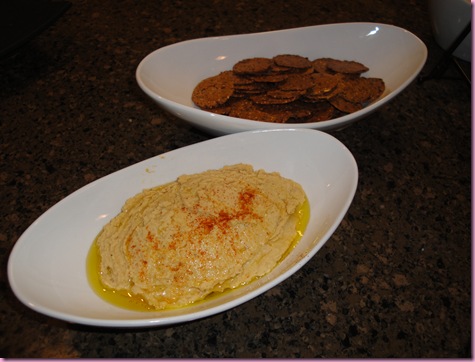 Carrots, bell pepper and cucumber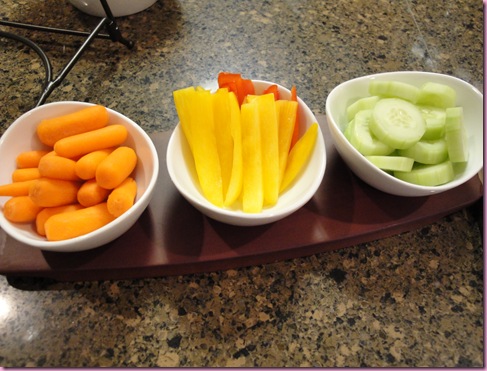 Herbed spicy olives (from the Publizzle deli), whole wheat pita and Garlic and artichoke spread (recipe in Eat, Drink and Be Vegan)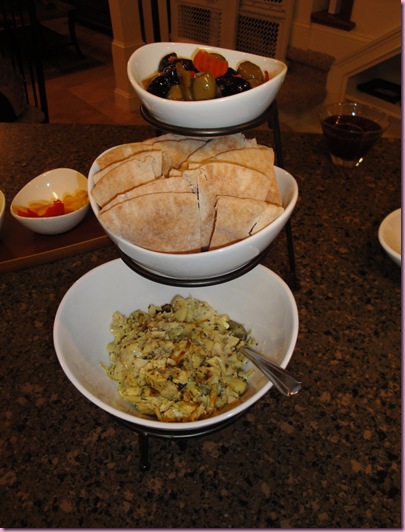 Cheese plate (with herbed Harvarti, goat Jack cheese, creamy Chervrie goat cheese and sliced persimmon)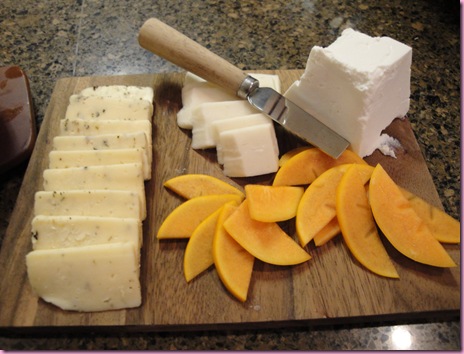 My appetizer plate: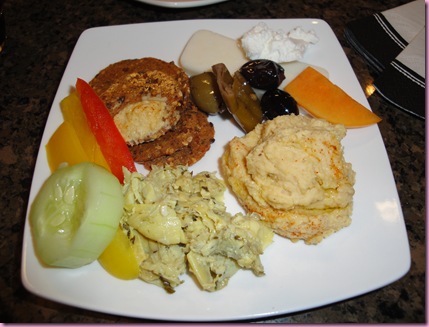 (x2)
For our dinner, we had:
Autumn salad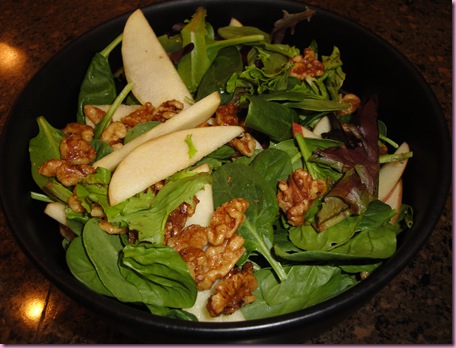 Mixed greens with sliced apples (with lemon juice so that apples wouldn't brown), candied walnuts:
Candied Walnuts

– 1 cup raw walnuts

-1 T cinnamon

-1/2 t sea salt

-1 t vanilla extract

-1 T maple powder (ground maple sugar)

-1/4 cup agave

Toss to coat and dehydrate on mesh screens at 115* for 24-36 hours

©2009 The Fitnessista

 
and balsamic vinaigrette.
Butternut squash and goat cheese lasagna: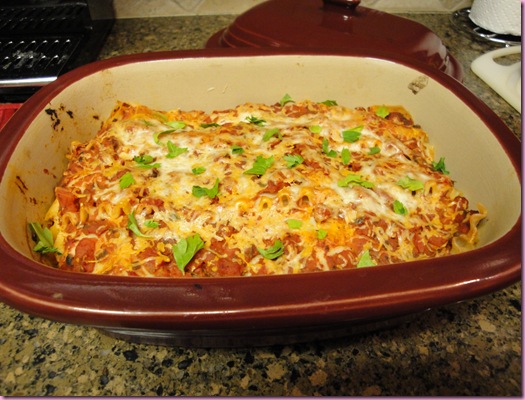 I followed this recipe from Cooking Light but changed a few things:
-used goat jack cheese instead of parmesean
-used brown rice lasagna pasta (which I was a little nervous about since I'd never used brown rice pasta before—it came out wonderfully)
-a mix of goat jack cheese and creamy goat cheese in lieu of the ricotta/egg mixture, as I wanted this meal to be cow-dairy free. I shredded 1/2 C goat jack cheese and stirred it into a bowl with an 8 oz Chevrie goat cheese, and added pepper, sea salt and a pinch of nutmeg.
– for the sauce, I did my sneaky almost-homemade sauce. I make this sauce from start to finish using only one 28-oz can of San Marzano (the best!) crushed tomatoes. Instead of doing an additional can of fire roasted crushed tomatoes (as the recipe calls for), I stir in a jar of organic marinara sauce –usually a basil and herb flavor- into the homemade sauce. It tastes amazing!
Check out all the layers: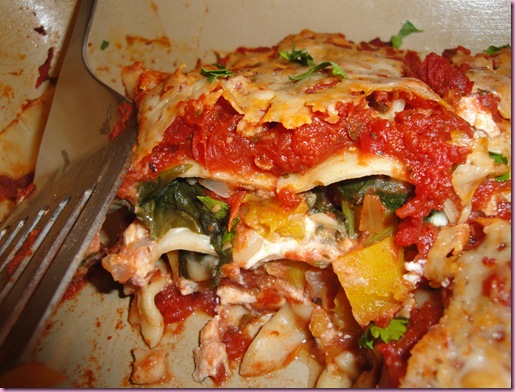 My plate: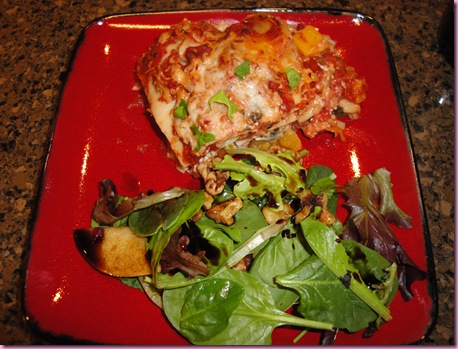 Then, the best part: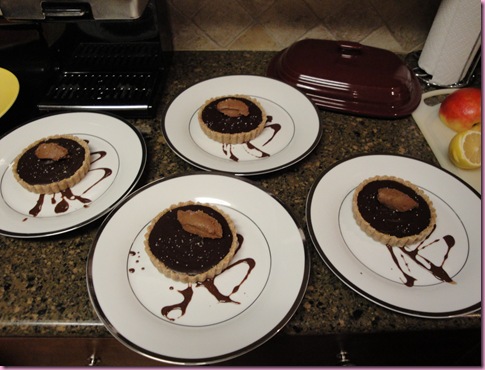 Raw Malted Chocolate Tarts with coconut-almond macaroon crust, chocolate mousse and Sicilian sea salt
I can't give this recipe away because it's on the menu at 105degrees –I received a sacred copy of the full menu and all of the recipes when I worked there in pastry- but take my word for it—it's face rocking delicious.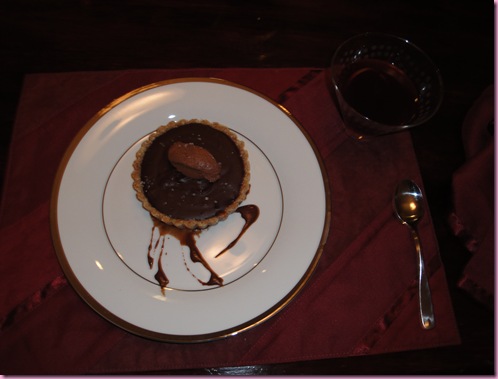 (all of us could only finish half of our tarts- we were getting full and those babies are RICH!)
And of course, we had an abundant amount of THESE: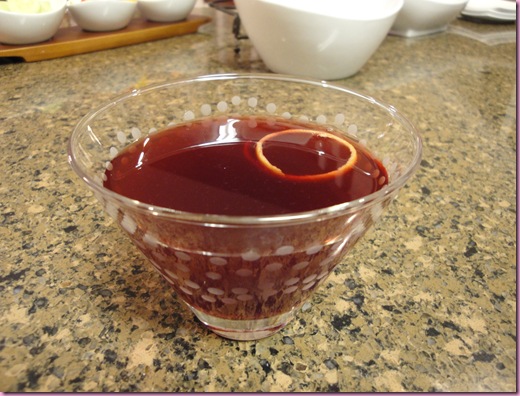 POMtinis!!!! Using this recipe 😀
Blasty with friends: Check.
Delicious food and drink: Check.
Gossip and shenanigans: Check, check.
I'd call it a successful evening 😉
Time to hit up the gym for legs with Ashley and Jeni then to PetSmart with the puppers.
See ya later with a fun interior decorating post!
xoxo,
Gina