Gleeful Night + Cookie Morning
Hiiiii 😀 How are ya? And HOW AWESOME was Glee last night?! Lurved. It made me so happy to see
I just finished this morning's Insanity workout with Ashley – today was cardio power and resistance. A lot of jumping, push-ups, sprinting and sweating like a beast. A lot of ya'll have asked me to do a full review of Insanity when I'm done and I was thinking of starting an Insanity page (at the top) to re-cap each workout and post the final review. That way, those of you who want to read all about it can, and those who just want my usual shenanigans, workout tips and food won't be cluttered with Insanity schtuff. What do you think??
Post-workout: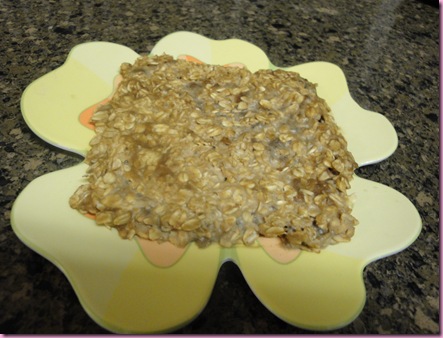 Bountiful bfast cookie 😀 (Holler to everyone who has been enjoying these lately! Thank you for the link love, too! <3)
-1/2 C oats
-1/2 scoop Sun Warrior
-heaping T almond butter
-almond milk
-1/2 T mesquite
-1/2 T chia
-cinnamon
-1/2 banana (I ate the other half before working out)
Some other recent eats:
Salad beast (with keys for size comparison- I use a serving bowl for my salad beasts)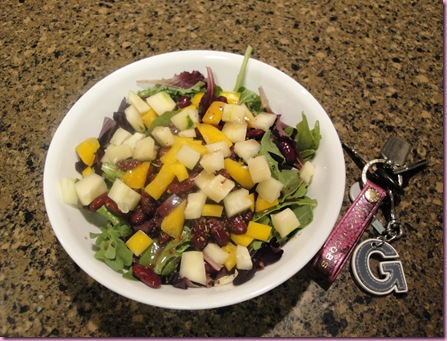 (Mixed greens, organic kidney beans, cucumber, bell pepper, Organicville balsamic)
Millet with AB and Polaner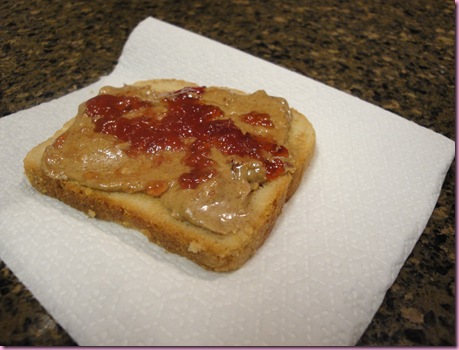 (x2 – it was muy delicioso)
And a demolished protein smoothie: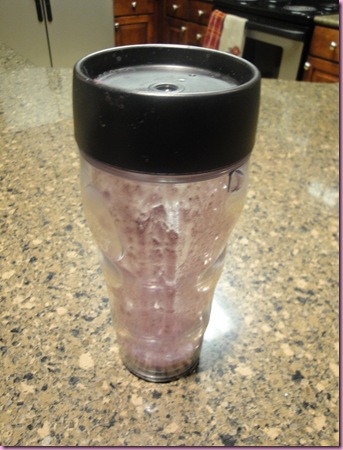 The plan for the day is:
-Farmer's Market
-Laying by the pool (SPF, of course) with Ashley
-Working on Zumba dances
-Creating some kind of slow cooker dinner to celebrate Indian Food Wednesday
Have a wonderful day <3
Gina
Roons for a Cause:  Thank you again (SO MUCH!) for all of your prayers, good vibes, and to those of you who donated to my aunt's relay page <3 You're all amazing. The winner of the batch of macaroons is Christy– send me an email and what flavor you'd like (blonde, cacao, chocolate almond butter, or super-roons) 🙂
Fitnessistas with Whole-grain buns in the oven: Here is a workout plan that I devised for a friend, who is just starting her second trimester. Feel free to give it a try, but definitely check with a doc FIRST to get the exercise go-ahead and before starting any new workouts. The idea is to  feel good and maintain what you're used to, not trying a bunch of new things for the first time (for example, if you're not already a runner, don't start running when you're pregnant). This friend is already very active, so it's a toned-down version of what she would usually do. Be safe and always wear a heart rate monitor.
It's a circuit-style workout- perform each exercise in that circuit (not the cardio) for 10-12 reps and then repeat each circuit twice for a total of three times. Use light weights- nothing strenuous or difficult, just enough so that you can feel it. And as always, if you don't feel well enough to work out, don't.
Fitnessista Bun in the Oven Workout

(Source)

Day 1: Upper body + 25 min cardio

Warm up 5 min. easy/moderate cardio of choice

Circuit 1:

Overhead press (3rd trimester, do this seated)

Dips (with bent legs)

Stability ball chest press (3rd trimester, do this standing with resistance bands or using the cable machine)

5 min cardio (hills—add in resistance every 30 seconds; watch your heart rate)

Circuit 2:

Bent-over rows (3rd trimester, do this on your hands and knees)

Good mornings (instead of using a barbell, hold a light flat weight against your chest)

Stability ball bicep curl (3rd trimester, do this seated on a bench if you need to)

5 min cardio (tempo work- start at a moderate speed and intensity and every 30 seconds, slightly pick up your pace—watch your heart rate)

Circuit 3:

Side laying lateral raise (instead of supporting your head with your arm and laying on the floor, you can hug a stability ball and bring your bottom knee, bent, up to support you)

Chest fly (instead of doing the fly laying down (avoid laying flat on your back), do this standing with resistance bands or on a stability ball)

10 minutes of cardio: 5 minutes at an easy/moderate intensity, 5 minutes cool down

Stretch.

 

Day 2: Cardio (20-45 min, depending on intensity and how you feel)– Steady state (about a level 5-6 intensity; wear your HRM)

 

Day 3: OFF (or walk/light yoga)

Day 4: Lower Body +25 min cardio

5 min warm-up (cardio of choice)

Circuit 1:

Lunge and lift (hold onto a chair for balance. If these are uncomfortable, just do the "lift" part)

Bosu calf raises (instead of holding weights, lightly touch a wall in front of you for support)

5 min cardio (steady state; moderate intensity)

Circuit 2:

Wall squats (hold in the squat position for 30-45 seconds)

Cable kickback (or you can use a resistance band)

15 minutes cardio: 10 minutes of hills, 5 minute cool down

Stretch.

 

Day 5: Cardio (30-45 min, depending on how you feel and intensity)

Day 6: Yoga (30 min to an hour, depending on the intensity)

Day 7: OFF