gluten-free Irish Soda Bread recipe
Hi friends! Hope you're having a wonderful week so far. We're on day 3 of "Operation Get The Girls to Stay in their Bed All Night" and it's going swimmingly. (<– aka it's a hot mess) I'll post an update soon, but for now, we don't have much of an update lol. I got up, took the Orangetheory Infinity class (it was so hard but so good) and am hanging out for a sec before I head to pick up P.
I'd love to hear what you're up to this week and what you have going on this weekend for St. Paddy's Day!
St. Patrick's Day is one of my favorite holidays. You get to listen to the best music – I blast traditional music and the Lord of the Dance soundtrack all day – and drink Lucky Irish Girl cocktails, watch a parade and some live music, eat delicious food, and call it a day. While our celebrations are a little less wild than they used to be, they're so much fun with the girls.
One of the most memorable St. Patrick's Day was when we were newly married and went to Savannah with the squadron. The lake was green, we hopped from restaurant to bar, and suddenly the power went out in the entire town. There was also a tornado watch at some point? While it did freak me out a bit in the moment, all of the guys were stoked because with the lost power, all of the bar tabs DISAPPEARED. (We gave them some cash the next day before heading out, but for that night, the guys felt like they won the lottery lol.)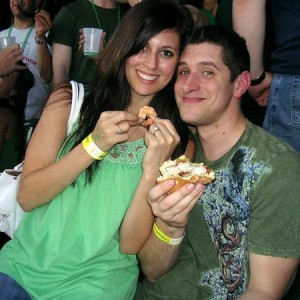 (So young. So rested. So "stressed out." lololololololol)
I also have fond St. Patrick's Day memories of dancing in the parade – I used to Irish Dance back in the day and still have a mean slip jig NBD – and the best part was Irish Soda Bread at the festival waiting for me. That hunk of soda bread was my reward for making it through about an hour of dancing in the street in those super soft-soled shoes.
I figured I'd make some soda bread using gluten-free flour we had on hand. I'm sure it would taste better with regular flour, but still worked beautifully!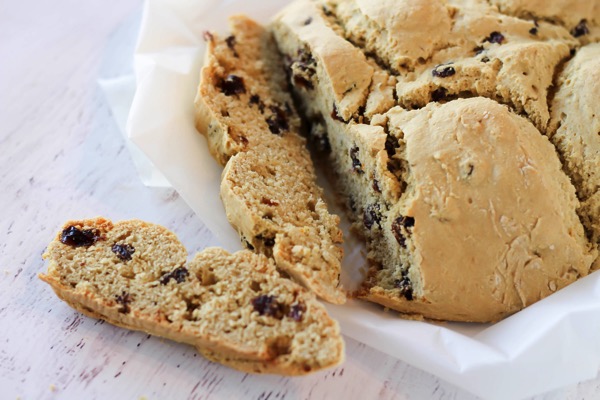 A heads up about soda bread: it is not like cake. It's not like a fluffy, yeasty bread. It's kind of dry… almost like a giant scone. So I have to tell you that if you're looking for something sweet and light, this probably isn't the recipe for you. Make this lemon cake instead and be very stoked about life.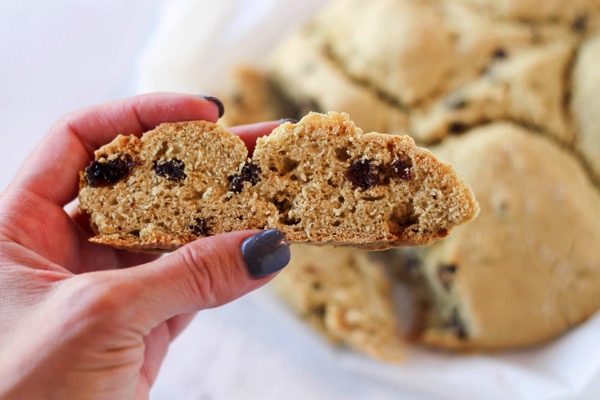 But if you're like me and you like soda bread because it pairs well with giant smear of Kerrygold butter and a cup of piping hot coffee, then definitely make this.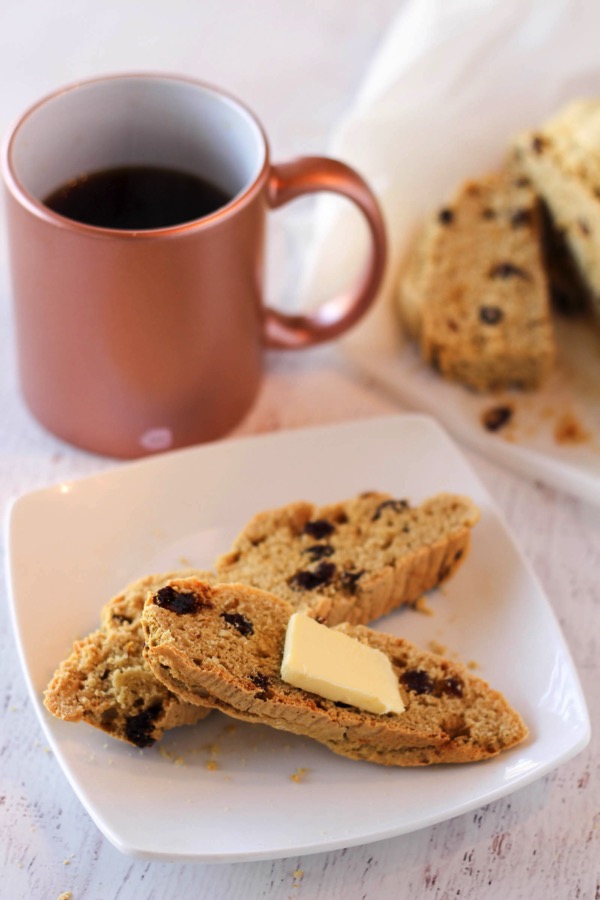 Here's the recipe if you'd like to give it a whirl!
Print
gluten-free Irish Soda Bread recipe
This soda bread recipe is gluten-free and is the perfect component for any St. Patrick's Day festivities!
Author:
Prep Time:

10 minutes

Cook Time:

30-35 minutes

Total Time:

11 minute

Yield:

1

large loaf

1

x
3 cups gluten-free flour blend + 1/2 cup for kneading
Pinch of salt
1/4 cup sugar
1 teaspoon baking soda
3/4 cup almond milk mixed with 1 tablespoon apple cider vinegar (this is your "buttermilk")
1 egg
3 tablespoons butter, cut into small pieces
The zest of one small orange
1 cup of raising
Instructions
Preheat the oven to 350 and line a cookie sheet with parchment paper.
In a mixing bowl, combine the flour, baking soda, sugar and salt.
Add the butter and mix completely.
Whisk the egg into the almond milk and ACV mixture and add to the flour mixture. The mixture will be very wet! Stir in the raisins and orange zest.
Place the extra 1/2 cup flour onto a cutting board and knead the dough with your hands, mixing the flour in. The dough is wet and sticky, so I found that coating my hands with the flour worked nicely.
Shape the dough into a large loaf and cut an X shape on top.
Place the loaf onto the parchment paper and bake for 30-35 minutes until golden brown and cooked through.
Serve immediately with lots of butter or coconut oil spread on top.
Any fun St. Patrick's Day celebrations on the horizon? We're celebrating Meg's baby shower this weekend and I.can't.wait.
xo
Gina
Some more of my fave festive recipes:
Salted Bailey's chocolate truffles