Halloween Rice Krispie Treats Recipe
Sharing some festive ways to enjoy rice crispies this Halloween season!
With the spookiest day of the year just around the corner, I can feel the excitement in the air. Halloween isn't just about costumes and pumpkins; it's a fun time to bake up some tasty treats!
Today, I'm sharing a delightful Halloween Rice Krispie Treats recipe—a perfect blend of gooey, crispy goodness that will surely add a touch of magic to your Halloween festivities. Rice crispies are one of my all-time favorite treats; they're gluten-free, SO delicious, easy to customize, and the kids love them.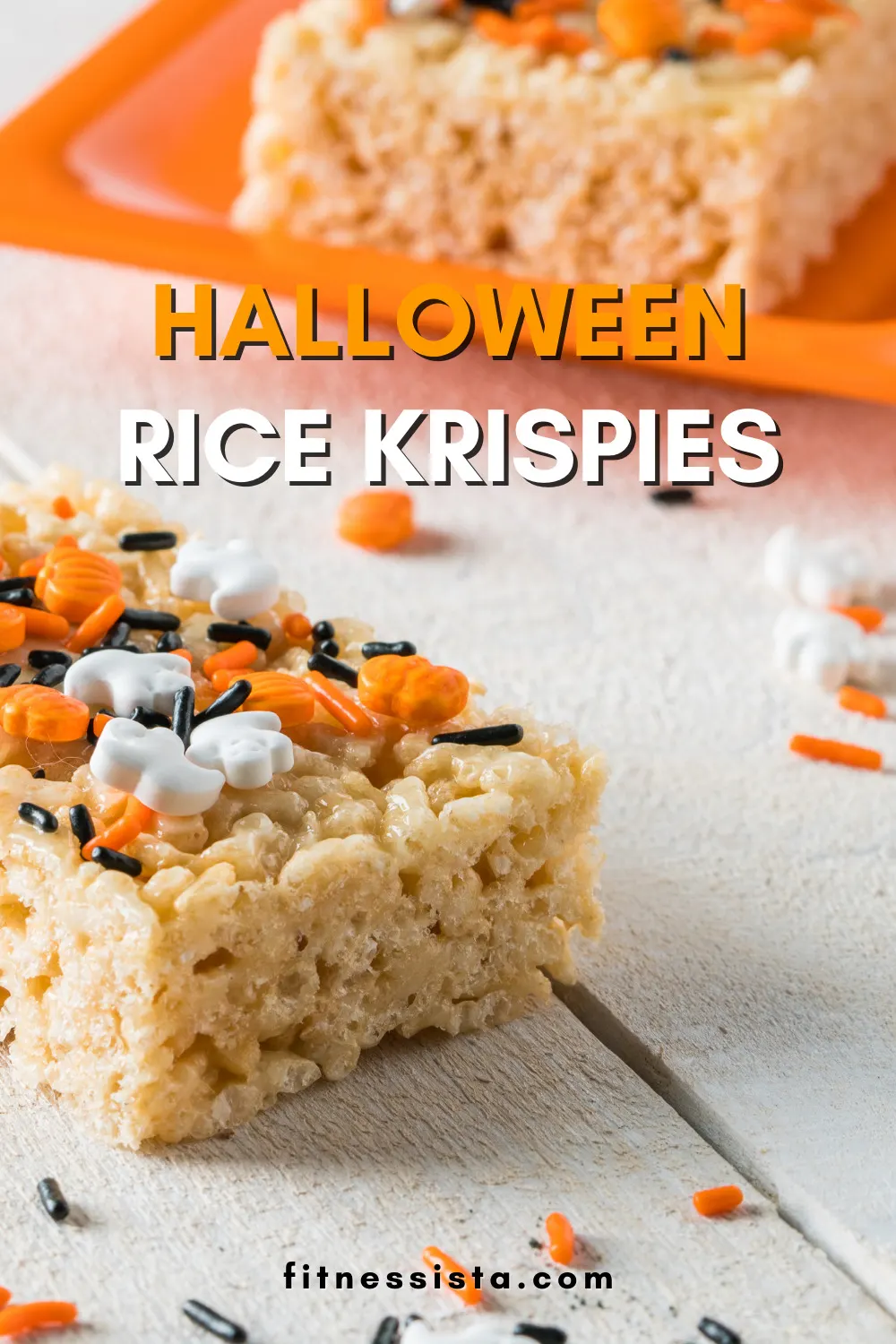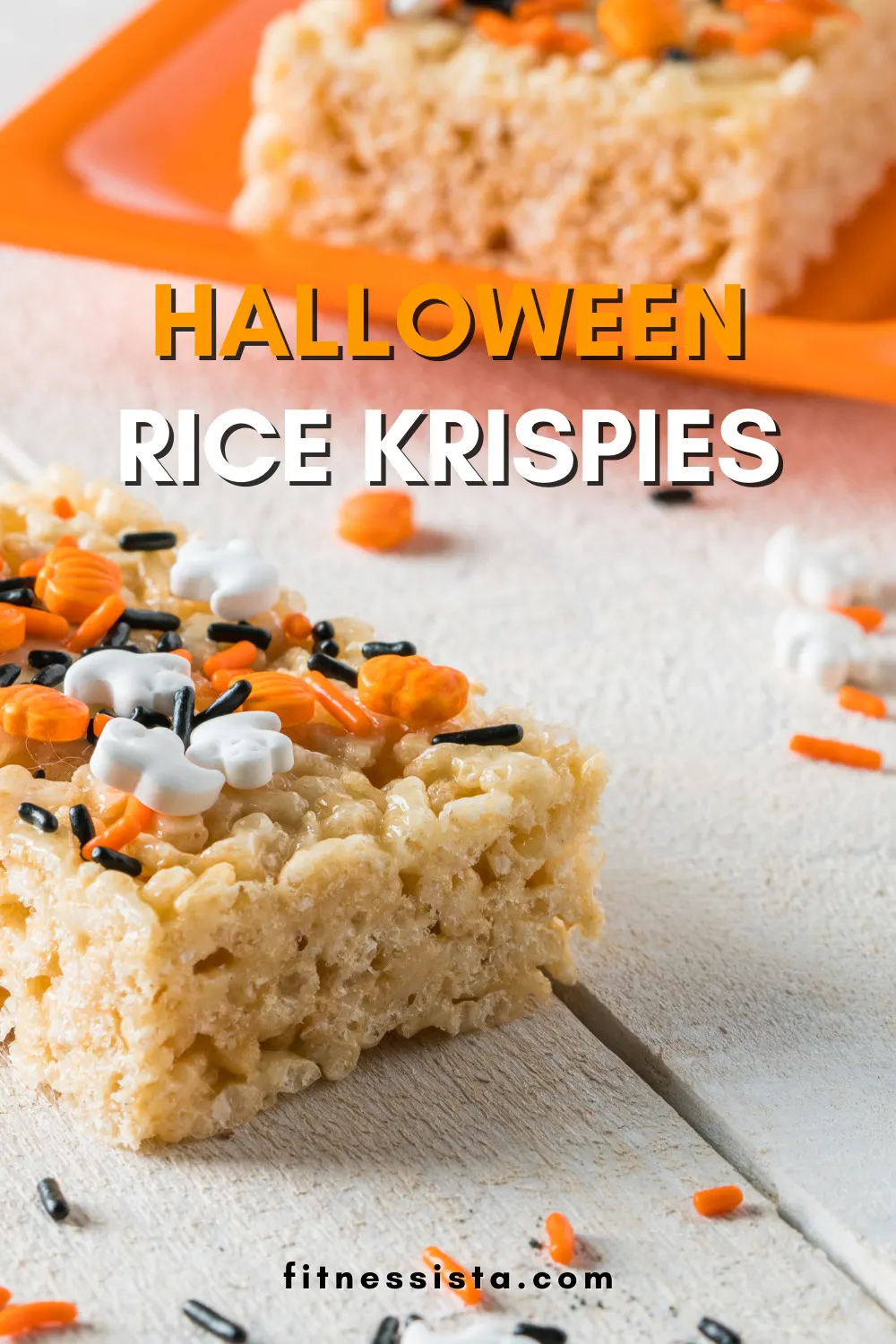 Halloween Rice Krispie Treats Ideas
Spooky Shapes and Silhouettes
Transform your ordinary Rice Krispie Treats into Halloween-themed shapes. Use cookie cutters to mold them into ghosts, bats, or pumpkins. The kids will love getting involved in this creative process. For an extra eerie touch, add black food coloring to the mix.
How-to: Shape the freshly made Rice Krispie mixture with cookie cutters. Enhance the details with a piping bag filled with different colored icing.
Monster Mashup Madness
Unleash your imagination by turning your Rice Krispie Treats into a parade of friendly monsters. Use candy eyes, colorful icing, and various candies to create a variety of goofy, spooky, or silly monsters. It's a fun way to get creative and like a little art project for the kiddos.
How-to: Decorate each treat with candy eyes, colored icing for features, and candies for added texture. Make each monster unique for a vibrant and playful Halloween treat.
Haunted Graveyard Delight
Take your Halloween Rice Krispie Treats to the next level by turning them into a haunted graveyard scene. Use crushed chocolate cookies for "dirt," gummy worms for added spookiness, and small tombstone-shaped cookies for decoration.
How-to: Assemble the graveyard by placing tombstone cookies and gummy worms on top of the Rice Krispie surface. Dust with crushed cookies for a graveyard-inspired look.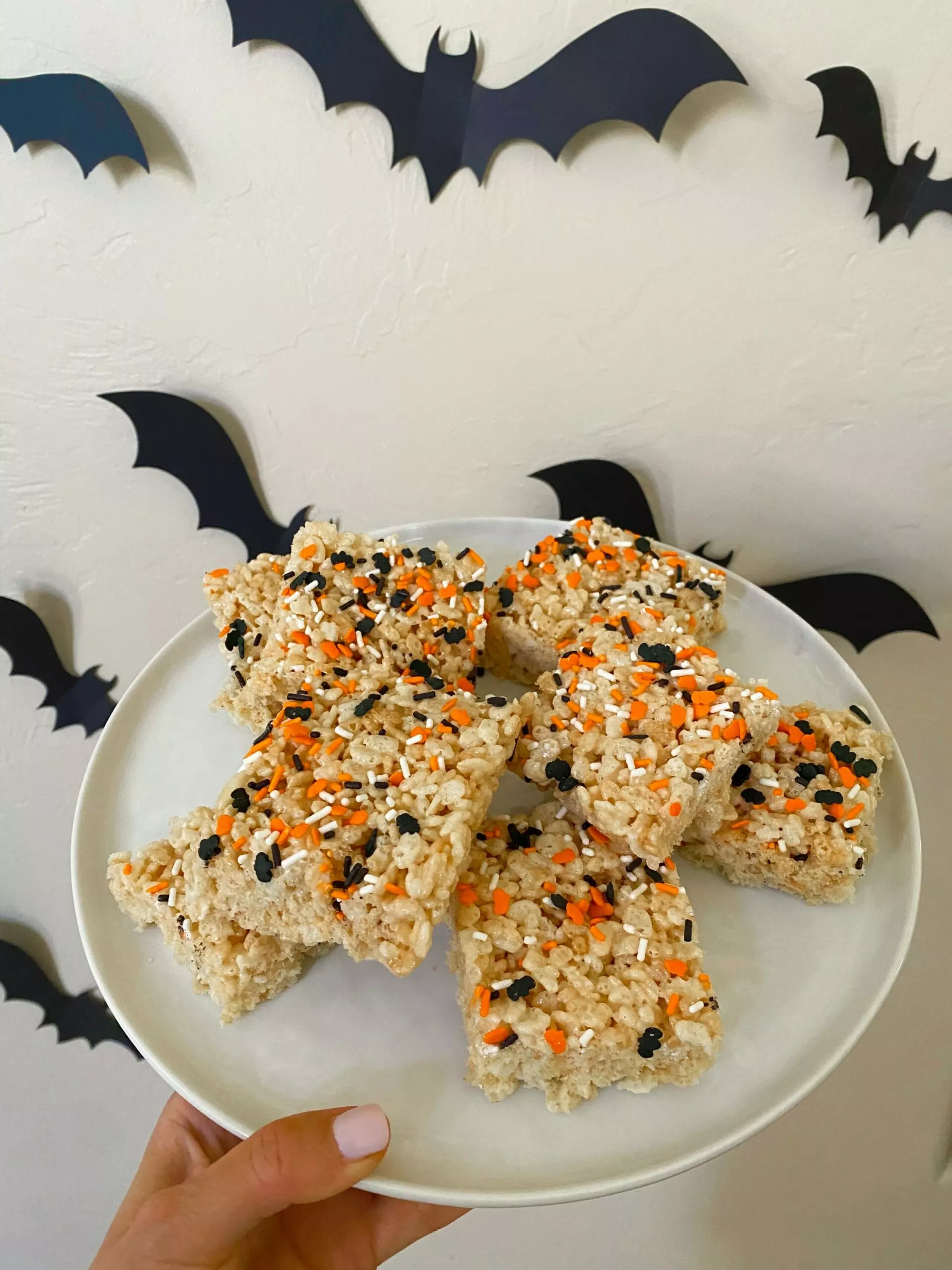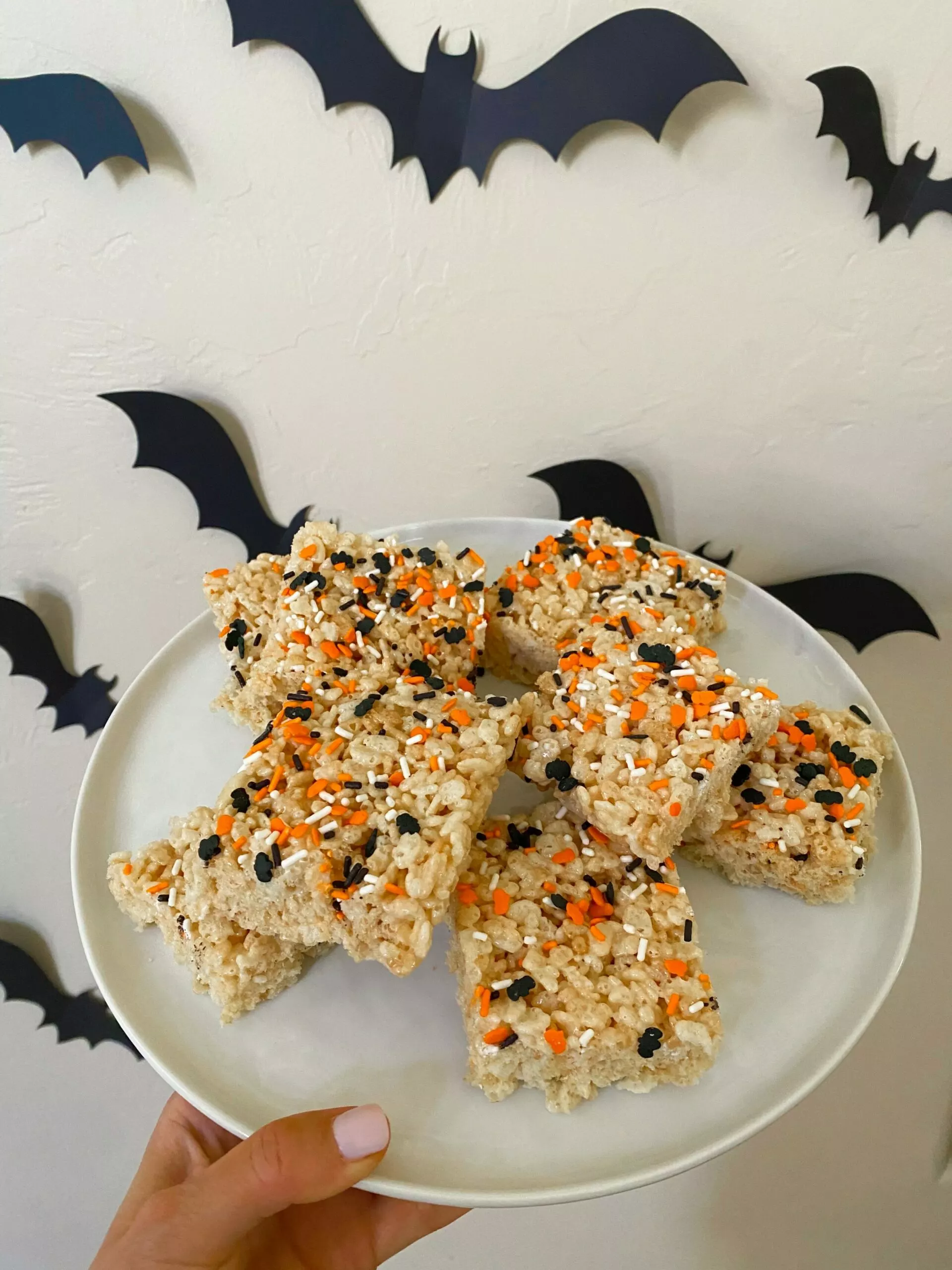 Halloween Rice Krispie Treats Recipe
Ingredients:
3 tablespoons unsalted butter
1 package (10 ounces) marshmallows
6 cups crispy rice cereal
Cooking spray
Food coloring (optional) – I like this food coloring. It's not as vibrant, but contains veggie-based color instead of artificial dye.
Candy eyes
Various Halloween candies and sprinkles for decorating. Candy corn and Halloween m&ms are great add-ins, too
Instructions
Step 1: Preparing the Base
Begin by melting 3 tablespoons of unsalted butter in a large pot on medium heat. Add the marshmallows and stir well until fully melted. If you're feeling extra festive, add a few drops of food coloring to the mixture. This gives your treats a Halloween-themed hue.
Stir in the crispy rice cereal until well-coated. Feel free to add in any sprinkles or candy here, too.
Step 2: Shaping the Treats
Press the mixture into a greased and wax paper-lined pan. Use a spatula or your hands (sprayed with cooking spray to prevent sticking) to evenly spread and flatten the mixture.
Step 3: Decorating with Creativity
Once the base has set, decorate your treats with candy eyes, sprinkles, and a variety of Halloween candies. Feel free to experiment with different shapes and designs.
Step 4: Cutting and Displaying
Allow your treats to cool completely before cutting them into desired shapes. Place them on a Halloween-themed platter or wrap them individually in wax paper for easy sharing.
Step 6: Dive In and Enjoy!
The best part of any recipe! Rice crispie treats also freeze well, so you can freeze in container, separating layers with wax paper. Keep at room temperature for an hour or so before serving.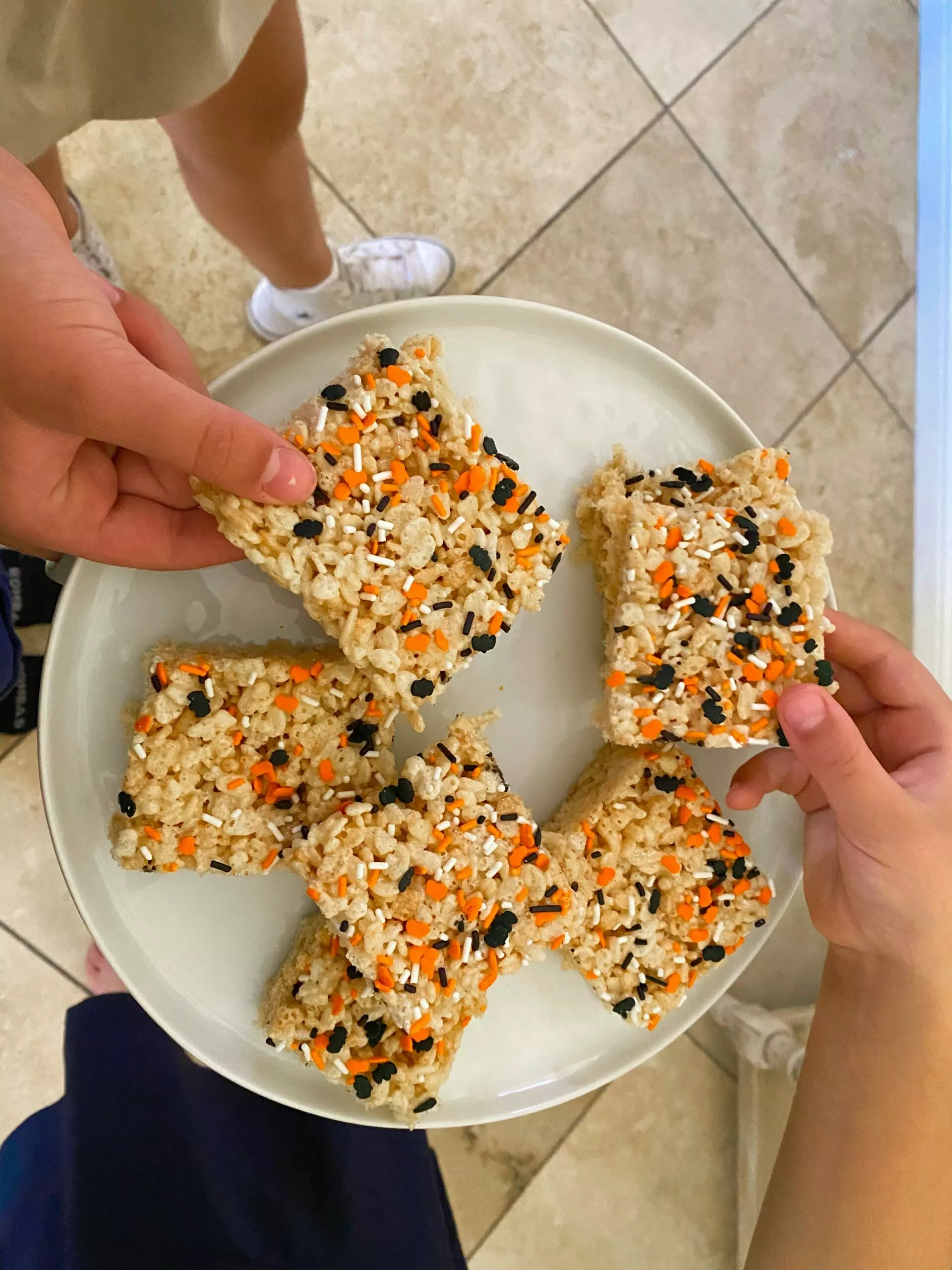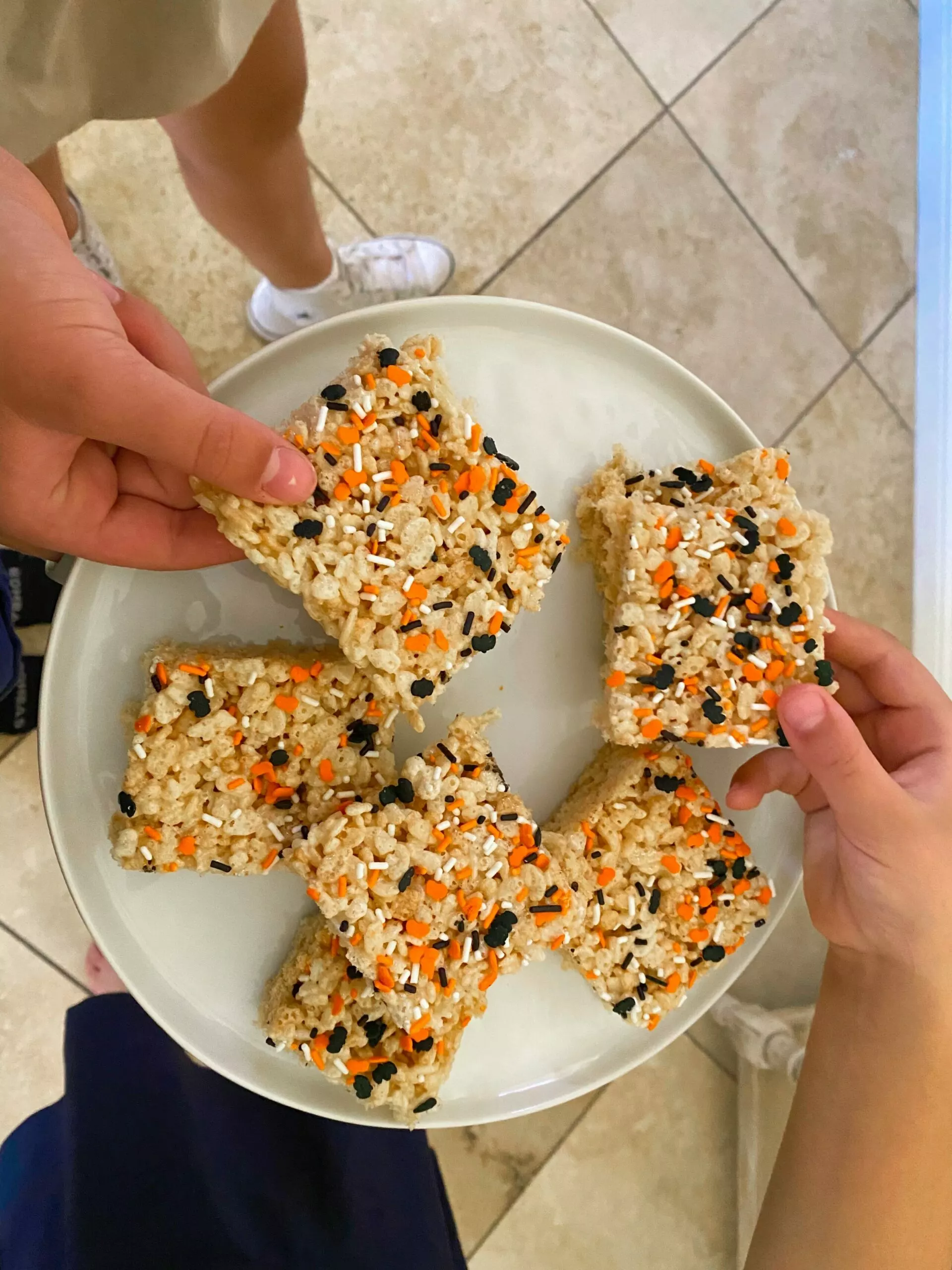 Note: This post may contain affiliate links, and a portion of your purchase may go to supporting this blog.
Remember, the key to a successful Halloween treat-making session is to have fun and embrace the imperfections. They're so fun to make with the kids and a great way to create memorable moments together.
Looking for more Halloween inspiration?
Check out these Halloween costumes with a baby or get creative with a DIY sushi Halloween costume. If you're looking for pumpkin recipes, I've got you, boo.
Flourless pumpkin chocolate chip bars
Happy Halloween baking, friends!
xo
Gina