One of Liv's favorite phrases right now is "Happy Birthday to you."
Except she skips the "birthday" part and really puts some emphasis on the "you."
"Happy to YOUUUUUUU!"
She says it whenever she thinks it's appropriate, usually when there's some type of candle or fire (she said "happy birthday" to a pizza oven at a restaurant recently) or a cake or cupcake. At the mall last week, we got some bling for her Crocs. One is a cupcake, since she loves to point to it and say "happy to you."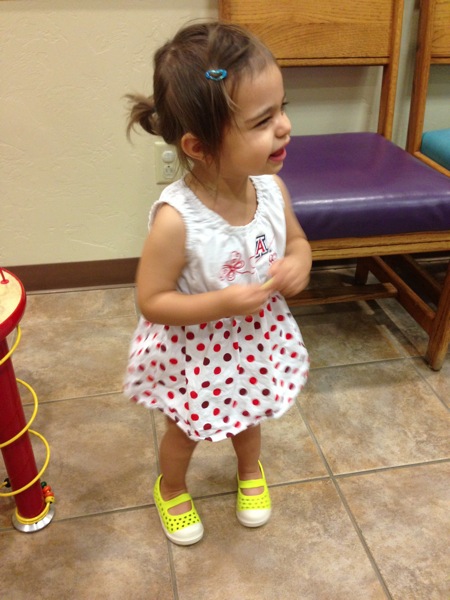 It's so crazy to think we're already at the 1.5 year mark.
Where is my little bald babbling squishy newborn? In her place is a vivacious, talking, running, dancing little lovebug. Every day is so much fun, even the "not so fun" ones 😉 Today we had our first official public meltdown, which is half my fault since I tried to do a quick Costco run before nap time. She got sick of riding in the cart, but it was time to pay so I told her I needed to hold her, and she started shrieking "walk! WALK! WAAAALLLLKKK!" and then let out the 5-second silent scream before the high-pitched one erupted. Good times, good times. Just an hour before that, I was thinking about how staying home with Liv feels like a lovely vacation since we'd gone on a nice walk and story time with friends. Things change by the second, that's for sure haha.
It always makes me laugh to myself because I'll often hear "Enjoy every moment! It's over before you know it."
Over? It just seems to just keep getting better and better <3
Here are some of the things Oliv is doing right now:
-Jumping. She learned how to do it this past weekend! So while she's dancing, she'll stop and add in a few hops for good measure.
-Talking in 2-3 word sentences. It all started a couple of months ago when she started to say "Minnie Mouse" and has grown to "Where did nana go?" It's pretty incredible to have conversations with her and feel like she really understands. I can ask her to do something, like pick up a toy or throw something in the trash, and she gets it.
-She LOVES Minnie Mouse… her strong love for Elmo is rivaled by the rodent in the polka dot dress. I can't wait to take her to Disneyland and meet her– she loved meeting Elmo at Sea World.
-She knows pretty much all of the body parts (even the harder ones like "eyebrow," "elbow," and "chin") and we're working on counting, ABCs and colors. I think that her classes at MyGym, story time at the library, Kindermusik and fun hanging out with her nanas has taught her so much. She really is a little sponge and I feel like she learns new things every day.
Current likes:
-Shoes
-Trying to pour the dog food out of the dog's bowls
-Swimming (she could swim all day) and bubble baths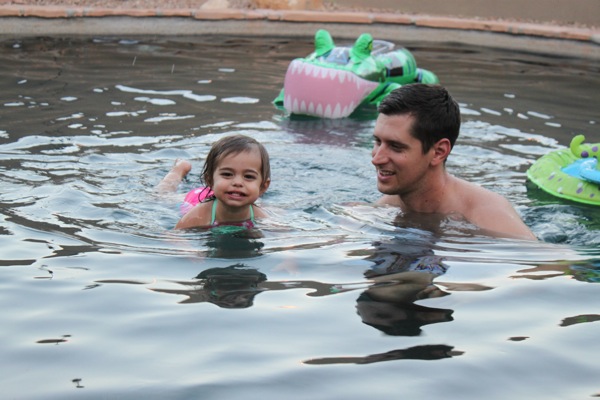 -Dunkin' Donuts munchkins (especially the chocolate ones)
-Books (Eric Carle and books with flaps/activities hold her attention)
-Baby dolls… always babies.
-Pretending to sneeze
-Omelets with salsa (she calls it "spicy egg")
-Picking herbs and watering the garden with me
-Coloring and painting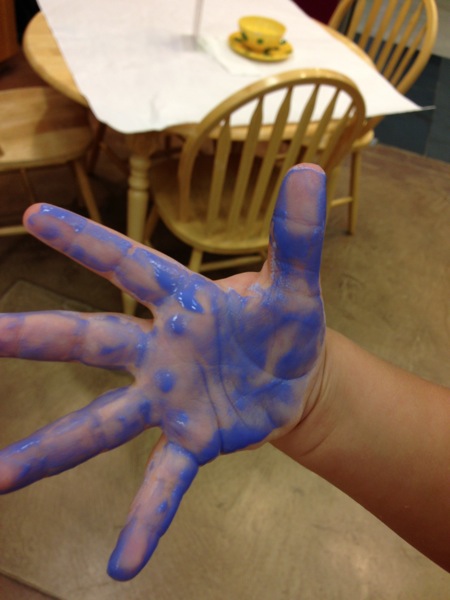 Dislikes:
-Ponytails and hair clips
-Stuffed animals that move or make strange noises
-Getting her hair washed
-Being told "no, thank you." Oh man.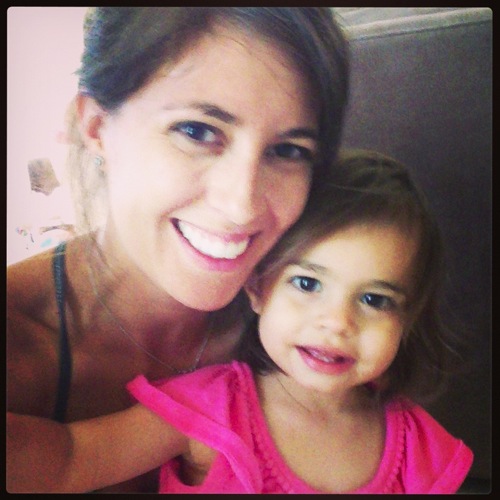 Happy to YOUUUUUU, my amazing girl. I feel so blessed that I was chosen to be your mama.
Here's to another incredible half year 🙂