Healthy Strawberry Crumble with Coconut Whip
Do I have a spring recipe for youuuuuuu.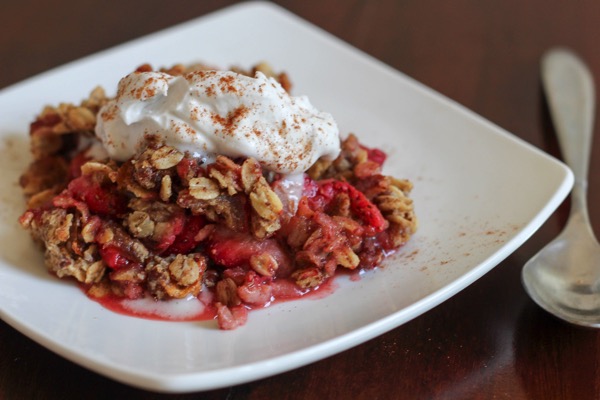 We have had an awesome week so far, despite the fact that P is spitting up probably more than she's ever been and Liv is insistent on waking me up in the middle of the night because she lost a toy. MADRE IS HERE! Something about having her around is so wonderful, and we've all enjoyed spending time with her and catching up.
When I got her plane tickets, I accidentally chose March 26 instead of February 26 as the return date. Accidentally.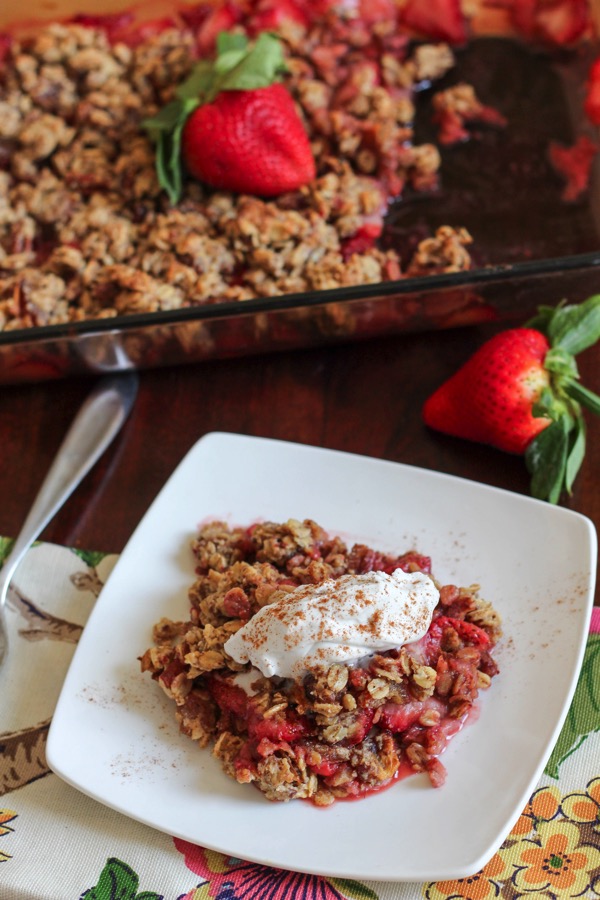 Every time she's here I keep praying she'll just decide to stay forever, or that we'll get to live in Tucson again sometime soon. In the meantime, we're loving every visit. It's also nice to have another taste tester around during the day… you know, so whole casserole dishes of dessert don't mysteriously disappear before another human gets the chance to try it.
Here is an AMAZING new crumble recipe, which is the quintessential spring dessert.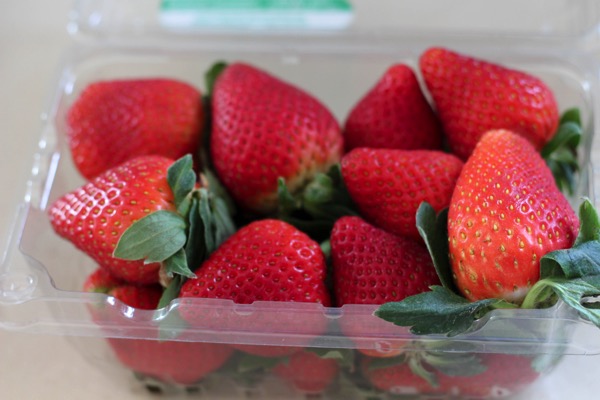 This one has a fun twist, because the topping was inspired by these delicious cookies. Brittany sent us a batch after P was born and I've been obsessed with them ever since.
The crumble is lightly sweetened, and topped with whipped coconut milk. For the coconut whip, all you have to do is put a can of full-fat coconut milk in the fridge (at least overnight so the layers can separate),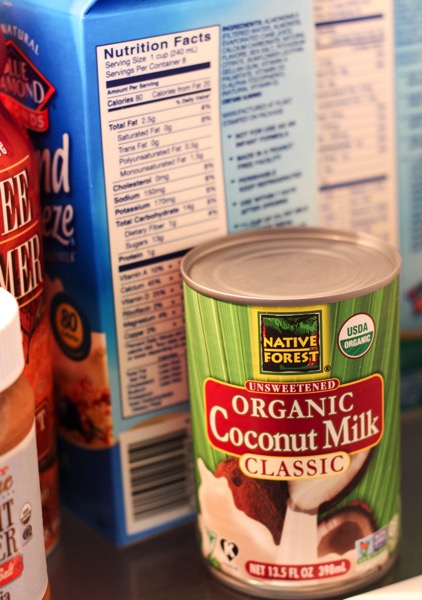 and when you're ready to whip it, just remove the top layer. Let it set for a couple of minutes at room temperature to soften, then whip it good.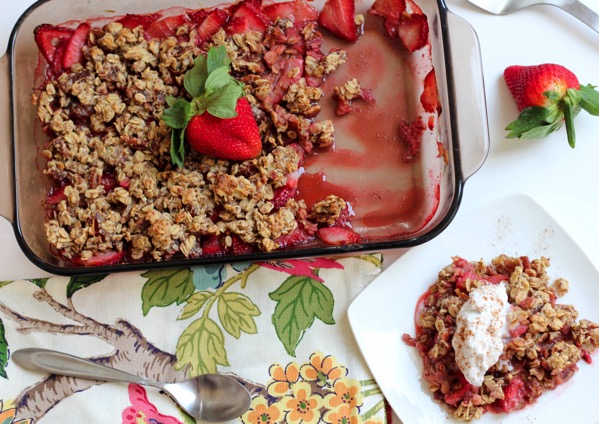 It's the perfect topping for this dessert.
Here's the recipe if you'd like to give it a whirl!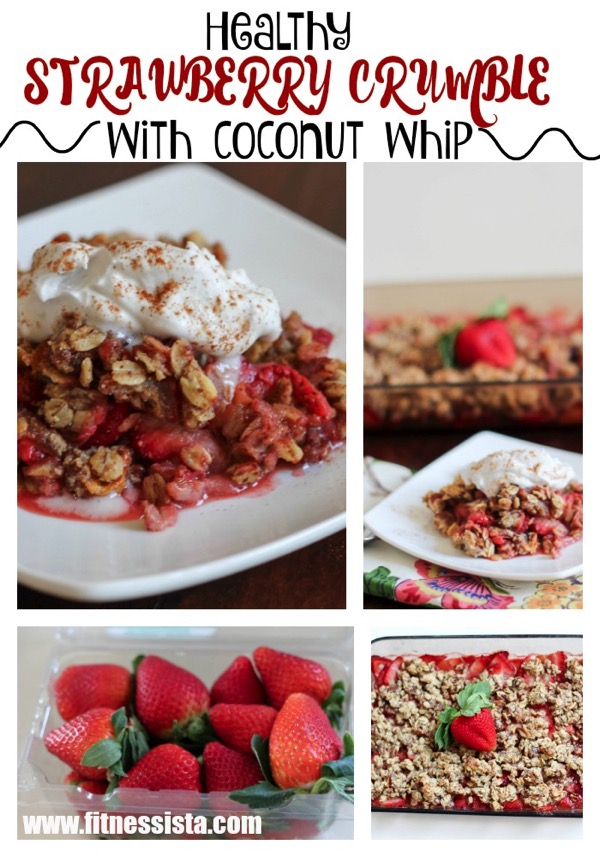 Healthy strawberry crumble with coconut whip
A delicious and healthy crumble variation, lightly sweetened, and topped with satisfying coconut whip.
Prep Time:

10

Total Time:

10 minutes

Yield:

6

1

x
For the strawberry layer
1 pint

of strawberries, washed, stems removed, and thinly sliced
Juice of

1

lemon
Pinch of sea salt

1 teaspoon

coconut sugar
For the crumble topping
1 cup

old fashioned oats (use certified gluten-free for a gluten-free recipe)

1/2 cup

almond meal

1/4 cup

chopped medjool dates

1/4 cup

pure maple syrup

2 tablespoons

melted butter or vegan butter
Pinch of sea salt

1/2 teaspoon

cinnamon

1/4 cup

chopped pecans

1/4 teaspoon

vanilla
For the coconut whip
1

can of full-fat coconut milk (in the can), refrigerated overnight
Instructions
1. Preheat the oven to 350 and spray a standard baking dish with nonstick spray, or grease with olive oil.
2. Combine the strawberries, lemon juice, coconut sugar and salt in a large bowl. Spread the strawberry layer evenly on the bottom of the baking dish.
3. In the same large bowl, combine the oats, almond meal, dates, maple syrup, butter, pecans, cinnamon and vanilla. Evenly distribute the crumble on top of the strawberry layer.
4. Bake for 25-30 minutes until bubbly and golden brown. Remove the crumble from the oven, and prepare the coconut whip.
5. Remove the hardened top layer of coconut milk from the can, and place into a medium bowl. Let set for a few minutes until soft enough to whip with a small whisk, or whisk attachment on the mixer.
5. Top the crumble with the coconut whip just before serving.
Notes
This is also delicious eaten straight out of the refrigerator the next day… if there's any left.
Let me know if you try it out! What's your favorite seasonal dessert? Have you tried whipped coconut milk before?
xoxo
Gina